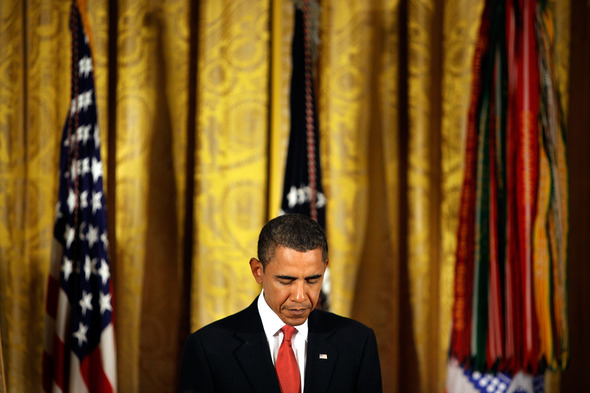 Of course, some hard-headed realists amongst us --- and not only the right-wingers and Republicans in that company --- will be skeptical.  Some will even be sneering.  And I don't mean to suggest such a reaction is utterly indefensible.  This year's Nobel Peace Prize isn't an abomination, like the 1973 prize to Henry Kissinger and Le Duc Tho.  But by even the most charitable of interpretations, it is premature, and, depending upon unforeseeable future decisions and future events, it might well prove to have been entirely misguided.  President Obama's achievements are still out there waiting to be achieved.  Some have called them aspirational;  they could, with equal justice, be called theoretical.
It's clear enough that this prize is at least as much an anti-Nobel for George W. Bush as a Nobel for Barack Obama (the same could be said, at least in part, about Al Gore's prize in 2007, but Gore had more concrete achievements to his credit).  The Nobel Committee can't punish, it can only reward, so it sometimes chooses to punish indirectly by way of its rewards.  The harm done to the world, and to America's reputation in the world, by the Bush presidency is almost beyond reckoning.  Obama gets points for simply not being Bush.  But there's more to it than that.  He also gets points for implicitly and explicitly repudiating the most egregious things Bush stood for.  For embodying a different stance toward the world, a different notion of how a superpower should behave in the world.  For being, self-evidently, a thoughtful and civilized man.
And the United States gets points for electing him.  This Nobel Prize is, in some ways, enlightened world opinion's way of saying, "Welcome back, America.  You've been missed."  Winning that reaction is an achievement in itself, and not a negligible one.
The suggestion proffered by some that the president should decline the prize is silly;  declining the prize would be a boorish insult to the Nobel Committee, and would, arguably, suggest greater narcissism than accepting it ("Who does he think he is, Jean-Paul Sartre?").  Obama's statement at the White House this morning was a model of elegant modesty (whether feigned or not) and gracious deflection.
      
Like so many others (including, I suspect, Barack Obama), my first reaction this morning upon hearing the news was straightforward incredulity.  But my second reaction, following almost immediately upon the first, was patriotic pride.  The incredulity was absolutely justified, but --- just maybe --- the pride also has a legitimate claim.
(Photo: Getty/Chip Somodevilla)