The Unbearable Stupidity of Authoritarianism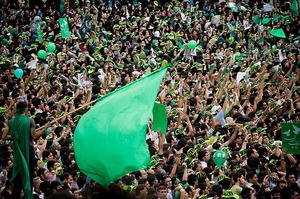 This morning, reading
this
, I was struck all over again by how extraordinarily maladroit autocrats usually are.  In the last few months, we've witnessed elections in Zimbabwe, Iran, and now Afghanistan, and in each case the heavy-handedness on display has been staggering.  Can't these people at least show a little finesse when they're practicing ballot-box fraud?  If they weren't so eager to prove themselves beloved by their people, if they were only willing to commit their thefts with a marginally lighter touch, the evidence against them wouldn't be so cut-and-dried, and their defenders wouldn't be forced to look so much like poltroons and toadies and fools.
Perhaps it comes with the psychological territory: ruling with an iron fist and stealing with a prestidigitator's dexterity may not go, as it were, hand in hand.  Requiring absolute obedience while permitting a mocked-up 48 percent opposition vote may trigger a level of internal emotional conflict that's impossible for someone of a coercive temperament to reconcile.
And I suppose in a way we should be grateful.  At least, given their political klutziness, we don't merely suspect the worst, we're able to know it with absolute certainty.  Iran is not a republic, not even a republic with an Islamic slant;  Zimbabwe's parliamentary system is a sham;  and the United States has not succeeded in introducing democracy, even democracy of an attenuated, tribal nature, into Afghanistan.
Had Hamid Karzai choreographed himself into a run-off, and had he then arranged to win that run-off decisively but not quite overwhelmingly, we'd all be wasting our time debating the legitimacy of the election and the resultant regime.  But instead, it's like an old cowboy movie.  You can always tell who the bad guys are.  They wear their black hats on their sleeve.
Photo Credit: www.flickr.com/photos/worldeconomicforum/2296464253, http://www.flickr.com/photos/jeffmcneill/3629090335