Mending Broken Hearts at Sacramento's New Tent Village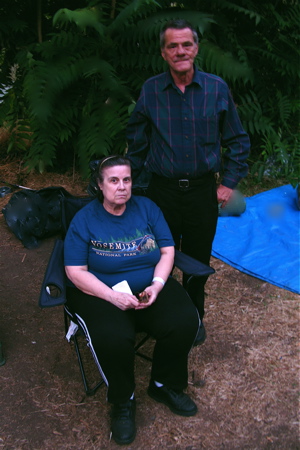 Elizabeth looks weary, pale, and drawn, gently wringing her hands, toying with the hospital admittance bracelet still encircling her wrist. Slumped in the kind of canvas camping chair that makes any other sitting position a feat of strenuous exertion, Elizabeth closely watches Charles, her husband of forty-one years, as he bashes around inside the donated tent, arranging their borrowed bedding. Their 5-piece set of matching maroon luggage might not all fit inside, but the couple will have a roof-of-sorts for the night, sleeping side-by-side as two of the country's newest homeless citizens.

I met Charles Zimmerman at a Sacramento City Council meeting Tuesday evening, where a dozen or more homeless advocates had turned out to lobby the local government. Charles struck a marked contrast to other speakers from the SafeGround movement, a coalition of homeless individuals and non-profit organizations lobbying for Sacramento: 1.) to amend the anti-camping ordinance used as legal grounds for most homeless arrests and 2.) to establish a patch of public property as a campsite of last-resort for those with nowhere else to go. SafeGround established its purpose with vigor and urgency during the struggle to sustain the city's notorious "Tent City." Such homeless encampments have existed in Sacramento throughout its history, but the Oprah effect made this Tent City a highly-publicized embarrassment. Sacramento swept Tent City of residents and bulldozed the site in April.
The hundreds of homeless who called Tent City home didn't simply evaporate. They dispersed. Retreated from public view. Crept beyond range of public radar. Small groupings stay constantly on the move, rarely sleeping in the same wooded area, abandoned warehouse, or vacant lot for two nights in a row. More than 24 hours in one place would put them in violation of the city's anti-camping ordinance, giving police grounds for arrest, and risking seizure of their precious meager possessions.
But in the past few weeks, a strong-willed and resilient group of former Tent City residents has decided to defy the government policy they say criminalizes homelessness. The group has steeled themselves to fight a fierce battle for the rights of their downtrodden, demeaned, and largely misunderstood brethren, deploying weapons of their peaceful and peculiar conflict: tents, sleeping bags, fold-out cots, one well-worn camping stove, two port-a-potties, and, of course, a lawyer.
Since the end of August, local attorney and homeless advocate Mark Merin has granted open permission--aside from a drugs and alcohol 0 tolerance requirement--for the homeless to camp on a vacant lot he owns at 1221 C Street in downtown Sacramento. As expected, regular police raids on the new Tent Village--including two middle-of-the-night sweeps arresting everyone for violating the city's anti-camping ordinance--have dwindled its population from about fifty a few weeks ago, to a couple dozen stalwart rebels today.
Merin recently negotiated a nearly half-million dollar settlement from the county to resolve a class action lawsuit filed on behalf of a group of homeless who'd had their possessions confiscated, and is expected use recent arrests to challenge the anti-camping ordinance. Meanwhile, the city government and Tent Village's next-door neighbors have each filed suit against Merin, charging him with creating a public nuisance.
Organizers acknowledge the Tent Village site is unfeasible as a long-term solution, most particularly because the size makes it insufficient to fulfill current community needs. But now that Mayor Kevin Johnson has announced the county will have no funding available for emergency shelters this winter, the ongoing controversy and prominent base of operations helps keep SafeGround's cause at the forefront of public policy discussions.
Luckily for SafeGround, it only takes about 15 minutes of brisk walking to get from Tent Village to City Hall. Wearing their trademark fluorescent green SafeGround T-shirts at the City Council meeting on Tuesday, vociferously intense activists took impassioned 2-minute turns at the podium. Contrasted with the motley array of homeless who preceded him, the mild-mannered Charles Zimmerman, sharply groomed and wearing dark blue polyester dress pants and wrinkle-free plaid collared shirt, sparked a shift in the atmosphere as he tentatively approached the microphone. Within the first few of his soft-spoken words, it felt like Charles had the whole room holding its collective breath.
"My name is Charles Zimmerman. I am a retired 22-year veteran of the US Armed Forces. I was laid off last year. We lost our home. My wife and I both just had heart attacks. And now we're homeless." Charles told of rejection by all the homeless shelters because of the couple's age (62) and/or poor health. By contrast, the campers of SafeGround welcomed Charles and Elizabeth to Tent Village. He spoke of these wonderful people he had just met, who lacked homes, but not boundless kindness and generosity.
On our way back to the campsite, Charles related a more extended version of his journey into homelessness. Since retiring from the military in the early 90s, Charles has worked operating heavy machinery, usually grading construction sites in preparation for large commercial real estate developments. Clearly there's not much demand for that these days.
After he was laid off in June 2008, Charles and Elizabeth quickly recognized that few employers in Tustin, California had any jobs available. Those that were hiring did not consider 62-year-olds the most attractive candidates. Unable to find work, savings depleted, with no money for mortgage payments, the bank foreclosed on the Zimmerman's house in March. The couple moved into the spare bedroom of some friends, who were struggling through their own recession woes and needed help paying bills.
Then Charles landed a job. Not any ordinary everyday job either. Charles landed his dream job--working on a ranch, training horses--something he'd grown up doing on his family's farm in Colorado. When he was a kid, Charles could rope a galloping horse as effortlessly as others his age could make a trash can rim shot with a wadded ball of paper.
The last of their money could only buy them bus tickets as far as Sacramento, but a friend who was planning a drive up to the Pacific Northwest said he could route through the capital city and pick them up at the Greyhound station. When the friend wasn't awaiting their arrival, they assumed there was some mundane delay. After a few hours, they realized that so-called friend wasn't coming.
Feeling hopeless, helpless, worried, and a little scared, pangs of tightness began to radiate through Charles's chest as he sat amidst their stacked luggage at the Greyhound Station. When tightness turned into sharp pain, Elizabeth--with 17 years of experience as a certified nurse's aide--recognized her husband was suffering a heart attack. By the time paramedics arrived, Elizabeth had begun to feel her own heart entering an agony more severe than the emotional trauma of watching her husband in medical crisis. The emotional/physical impact of crashing into such a profound fathom of despair from such a high peak of elation and anticipation had the effect of sparking nearly simultaneous heart attacks.
As a 22-year military veteran, Charles--and Elizabeth as his dependent--should both have access to care through the VA system. He was an Army Ranger, retired with the rank of sergeant major. He did two tours in Vietnam, one which left him with a deeply dimpled cheek where a bullet ripped into his face. He also served in Persian Gulf War I, Panama, Granada, and Somalia, but his longest battle has been fought stateside for eighteen years, trying to get military bureaucracy to correct a paperwork snafu so he can collect his pension. Until they resolve the pension mess, he can't access VA services. His pro bono lawyer says it may all be worked out in six months, but Charles just kind of shrugs his shoulders at that.*
The Zimmerman's insurance coverage expired nine months after Charles lost his job, and by then they couldn't afford the kind of money premiums required. Hospitals can't turn away uninsured people in medical crisis, but recovering to full health from heart attack without any follow-up care greatly increases the probability that Charles and Elizabeth will end up in an emergency room again, if not worse. Physicians discharging a patient after a week's recovery from heart attack always give a pre-release briefing to outline a schedule for check ups, but those attending Charles did not even suggest that he could benefit from any follow-on exams, assumedly realizing the luxury of such healthcare would not be readily available to one of his current means.
I'll admit it's difficult for me to write about this with any degree of dispassion. I'm trying hard to suppress simmering outrage that citizens in a nation as wealthy as ours do not have guaranteed access to quality healthcare unless they can pay for it. But if I open the door on that rant, this piece will be 25,000 words before I finish.
Even though I recognize the dim prospects Charles and Elizabeth have regarding their future healthcare, the idiotic optimist in me has to run through some unconventional suggestions for him, which Charles has clearly already explored thoroughly. "But how can you get a check up? How can you make sure you're recovering properly from your heart attack?," I continue in a stutter of outraged incredulity. Charles looks intently in my eyes, his brow slightly furrowed. "We can't," he replies softly.
When we arrive at Tent Village, a tired-looking and ashen-faced Elizabeth is visiting with some other residents sitting in a kind of camp common area--a handful of collapsable chairs positioned around the grill. I feel like a few of them eye me with suspicion, until I plop down in the dirt to sit cross-legged at Elizabeth's feet.
"Somehow we wound up homeless," she says after I explain the purpose of the Recession Roadtrip. "I never did think we'd end up like this." Like many whose lives have never been directly touched by homelessness, Elizabeth always kind of assumed that people end up out on the streets because of addictions, mental or behavioral problems, or simply because they choose the lifestyle. But in the Zimmerman's recession, life required little more than confluence of a couple varieties of bad luck to erase the roof over their heads.
"People just don't understand," Elizabeth tells me. "They can't believe it's as hard as it is to live like this, or as easy as it is to end up like this. People who've got nice homes, they don't think about those who have to live like this."
Elizabeth and Charles didn't think much about the people who live like this, until they ended up living among them, being fed by them, being given shelter and bedding by them, being guarded at night by them. At least three people have already come by asking if they need another sleeping bag or any help with the tent. "These people make you feel safe," Charles explains, gesturing around at the dozen or so residents cleaning up after dinner and arranging bedding in the rapidly darkening urban lot. "They're like a family. They take care of each other. Now they take care of us."
As the sun set, marking the beginning of the Zimmerman's first night of homelessness, Elizabeth didn't give much thought over to despair. "I think things are turning around for us. I feel it. Things will get better," she tells me before Charles and Carmen, one of the resident housemoms, each take one side to hoist her out of the chair and help her walk ten feet to their new temporary home.
It seems an amazing statement under the circumstances, until I start counting back the number of times Elizabeth and Charles mentioned being abandoned or ignored by friends during their spiral into homelessness. Rather than withdrawing, true friends draw closer to lend a helping hand in the most troubled times. The Zimmermans have temporarily lost their access to regular shelter, but they're both grateful to have discovered the real meaning of friendship at SafeGround's Tent Village.
*See update.
To donate money to SafeGround, make out checks to "Francis House/Safe Ground" and send to SafeGround c/o Francis House, 1422 C Street, Sacramento, CA 95814.