In Pursuit of Greenbacks in California's Emerald Triangle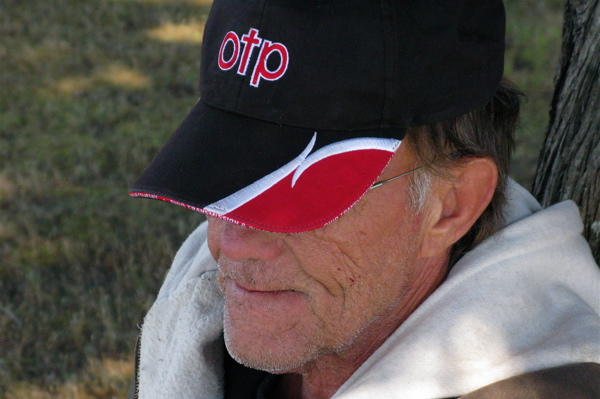 A friend in San Francisco had advised I would see real live hippies hitchhiking north on US-101 through redwood country this time of year--migrant agricultural workers of a peculiar variety. Of all those drawn to northern California's "Emerald Triangle" for the fall harvest of marijuana, the aged man I met in Eureka likely traveled the farthest, having just arrived on a Greyhound from South Carolina, fleeing depressed economic and mental states in pursuit of new opportunities in the cannabis trade.

When I first see "Pie-Dog," as he later asks to be identified ("long story"), he appears to be struggling with an excess of baggage. I make a couple of U-turns to observe his slow progress as he trudges a short distance dragging a small bag stacked on a large suitcase with wheels, then backtracks to grab an oversized backpack and bed roll. His clothes look clean and new, as does the big suitcase, but he's standing on the side of the road in Eureka with his destination scrawled on a tattered piece of cardboard. I sense a story.
Pie-Dog tells me he's headed into "the heart of the hippie triangle." It's a small community in the tri-county area of Humboldt, Mendocino, and Trinity, though I agree to not reveal precisely where. He has invested time and effort to get himself "on the inside" and does not want anything to disturb the fragile web of trust he has established.
Though California permits medicinal marijuana, producers exist in a legally gray area. The biggest headlines come when joint raids by local police and DEA net mass producers, whose crops far exceed even the most dillusionally generous interpretation of the law. But little guys get hit often enough to instill a self-protective atmosphere of suspicion against any outsiders, infiltrators, or spies. The paranoia induced by THC intake probably doesn't help.
This will be Pie-Dog's second harvest season in the Triangle. He spent last Fall making friends, and returns this year hoping those friendships will open doors to the business side of things. Though necessarily vague on details of his idea, I get the sense it has something to do with moving prime product to the East Coast and/or eventually getting a little plot of land to farm himself. All he'll really say about his business plans: "People tend to do anything they can when they need money."
Pie-Dog has worked as a flea market vendor for three decades. Such a career doesn't afford much luxury, but until the past couple of years, he could at least make a living selling salvaged antiques and various tchotchkes. Once the recession hit, however, he stopped seeing the legions who'd made a weekend hobby out of junk sale treasure-hunting. "It was like the yuppies were suddenly afraid they'd 'catch' the poor," he tells me.
"It got so bad, I got to feeling almost suicidal," Pie-Dog recalls about the summer of 2008, when he was working flea markets in the Carolinas, losing increasing amounts of money each weekend. He doesn't recall who first came up with the idea for a cannabusiness venture, him or his "older" friend. The moonshiner.
But it was his moonshiner friend in South Carolina who financed Pie-Dog's first harvest trip last Fall. "I think he was feeling bad for me."
With the moonshiner's seed money, Pie-Dog took a Greyhound out West, bought an old Trek bike, modified it for travel with front and rear baskets and a little trailer, and rode through the Triangle, "partying" his way into the insular communities. When I ask how old he is, he tells me: "Old enough."
He went back to the Carolinas after a few months in California, back to living with friends and family, working flea markets, and losing money.  Now that he has returned to California for another harvest season, "I'm home," he says with a smile.
Pie-Dog told me so many things, I expect I'd receive a perturbed phone call if I leave him simply portrayed as a down-on-his-luck wannabe drug dealer funded by an old-time moonshiner. In the interest of brevity, I can't recount our complete conversation, but should include a few more thoughts to add nuance to his character.
He wants to make sure I understand that he's not getting into the drug trade just for the profit potential. With some of the money he makes, Pie-Dog wants to fund some kind of music project (that I didn't take notes about because I wanted to steer him back to talking about the drug trade. Sorry, HM.)
He also believes the "practice of the agriculture of pot will enhance the growing of other plants," most particularly because the focus on "organics will help reduce the use of chemicals" overall.
When I ask about the recent California debate regarding legalizing and taxing marijuana to increase revenue in the near-bankrupt state, he says, "I think that's what they should have done 40 years ago. If I'm making money, I don't mind kicking back to the state."
"My only goal is to be happy," he says. "And right now I'm getting there."