Full Grown Boy Lost, in Las Vegas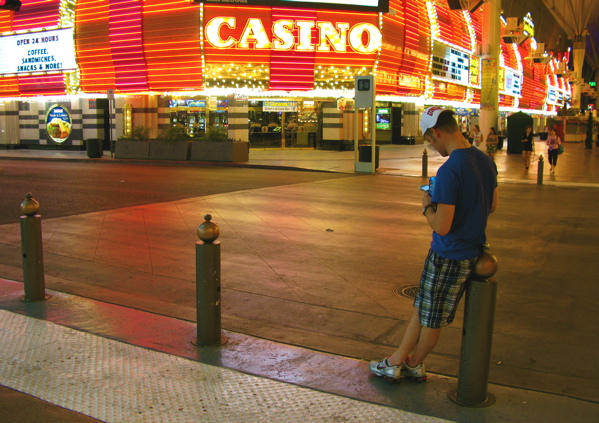 The online ad reads: "I am a 25 year old military boy recently discharged. I find myself in a bit of a financial bind due to the economy. I am 5'9", 165 muscular and buff. Dirty blond hair, blue eyes. I am looking for older gentlemen who are looking for a Massage or role play."
"You could say that was a one time thing," Jimmy* says when I ask about it, looking down to examine an invisible speck suddenly needing scratched off the back of his hand. "We could say that," I reply, "But it wouldn't actually be true, right?" Jimmy locks my gaze for a moment, drawing a quick breath before deflating into a long exhale, pulling his UNLV baseball cap down over his face with one hand while rubbing the back of his neck with the other. His head slowly rolls back and forth in a subconscious answer to my question, but I wait patiently for the thought to finally form words on his lips: "No. It wasn't just a one-time thing," he admits quietly.
Waiting late in the evening to meet Jimmy under the transcendently bright Freemont Street canopy, I'd had no idea what to expect. Watching him walk towards me with a big goofy smile on his face, I realized that I definitely had not expected him to appear so young, so small, so vulnerable, so innocent, so completely normal. With finely-boned features and a frenetic energy, he reminded me of a pixie dressed up as a typical American frat boy--baggy plaid Bermuda shorts, T-shirt, Nikes, backward baseball cap.
I'd discovered Jimmy's ad while trawling the Las Vegas Craigslist looking for a story, punching in search terms like unemployed, laid off, recession, and economy. It took me a full day--with one email, three phone calls, and at least a dozen text messages--to convince Jimmy to meet me for a drink, so I wasn't inclined to accept only what he "could say" about his life.
If I'd settled for the fictional version Jimmy initially proffered, we could have wrapped things up within an hour. I would have gotten a full night sleep, ready to rise early and write a piece recounting what he had told me. Instead, Jimmy and I talked until morning. Or rather, he talked while I mostly listened, having finally set aside my notebook somewhere around 2 or 3 am.
From a very early age, Jimmy developed the habit of fabricating aspects of his life, though not because he possesses a deceitful or cunning nature. No, he learned to shroud himself with a protective swath of fiction so he could avoid painful prying questions and stares of pity the reality of his life would elicit from outsiders.
Jimmy's mother, unable to afford his care, gave him up when he was three years old. He spent the next fifteen years living in a succession of more than two dozen foster homes. One set of parents adopted him when he was eight, but then gave him up again a few years later. The foster parents whose name he now bears wanted to adopt him during his teen years, but Jimmy would not agree. He had already suffered the rejection of his biological parents and one set of adoptive parents, and refused to give anyone a chance to do it again.
Jimmy joined the Navy straight out of high school, training to become a GSM--gas system turbine technician-mechanical--and serving two deployments in Iraq, one on the USS Yorktown as it fired the first missiles of the 2003 invasion.
Contrary to what his ad suggests, Jimmy left the military three years ago. Initially holding close the only geography that had ever felt like a home to him, Jimmy worked a variety of disposable jobs around Virginia Beach, VA until meeting a man he calls his "mentor." The wealthy real estate investor hired Jimmy as a personal assistant in 2008, taking him first to live in New Orleans for a few months, and then on to southern California.
When I ask if his relationship with the mentor had been something more than professional, he responds with an exaggerated gagging for an emphatic "no." The mentor believed Jimmy had a talent for sales, and wanted to teach him how to succeed in commercial real estate. That kind of opportunity could have guided Jimmy to a successful career, if it hadn't happened at a time when the real estate market was careening down a slope to rock bottom. Jimmy and his mentor parted ways earlier this year when his mentor "left California because the economy was shitty."
After his mentor left, Jimmy didn't know anyone in California. He recognized that even long-time residents couldn't find employment in the current economic environment, so he decided to move, imagining Las Vegas to be "the city of endless possibilities" and "the city of individuality," where people can be just as weird or outlandish as they wish, without fearing the ridicule or judgment of others.
His youthful good looks and outgoing personality helped him quickly land a gig as a "club promoter"--a kind of paid party boy hired to hype the massive good time tourists could have at his anointed nightspot. A job that sounded fun when he accepted it left him "shitty drunk six days a week," sleeping through daylight hours until the hangovers eased just in time to clean up and do it again. Jimmy didn't want to work for free drinks, but the paltry cut he got from the door made booze the most lucrative reward he was earning. So, he quit.
For two hard months, Jimmy looked for a new job in Vegas, finally landing a position in early August to sell cars at a Jeep, Chrysler, and Dodge dealer. "I'm a good salesman," he says with pride. "Talking is key to everything, and I'm a good talker." Jimmy is excited about his new job, even considering its potential as a long-term career, though he has yet to build up enough experience to earn a regular stream of income.
Jimmy understood when he accepted the job that it could take him many months to develop the skills needed to close deals on a regular basis. Since he only gets paid commission, Jimmy has to invest his time and effort perfecting the sales pitch before he can reliably expect to earn a paycheck. But he is committed to making the short-term sacrifice, hoping for that more distant reward.
Throughout this journey, people turning to family for help getting through hard times has been a recurring theme. Rachel Polston in South Carolina, Rosa Jurado in Arkansas, Kenneth Gregg in Oklahoma, Porsche Christiansen in Utah, David Walters and Laurel Sprague in New Mexico--all had turned to parents, in-laws, grandparents or other family for financial and emotional support. Of all the luxuries Jimmy has never possessed, that of family makes the most marked difference in his life.
 
Faced with mounting bills from his months unemployed and no prospect of immediate income from his new job, two weeks ago Jimmy posted the ad on Craigslist offering erotic massage for men. He had one brief foray into erotica during lean times right after he left the military a few years ago, but had sworn he wouldn't do it again--until he became strapped for cash.
"I love vagina," he clarifies for me, just in case his ad had given the impression that he prefers men. "I have never fucked a man, or been been fucked by a man. Will never. Ever. No," he continues on with some dramatic gagging to emphasize his disgust at the thought.
Though not sexually attracted to his own gender, the military got him accustomed to seeing naked men in close quarters, which somehow prepared him for the first time a stranger got undressed for him.
Jimmy charges $300 an hour for a variety of services--most often a simple "massage with a happy ending," he says. If a client has a fetish for spanking or role playing, Jimmy offers to dress up as a cop, doctor or S&M master. Asking whether or not anyone has asked him to play soldier/insurgent sends him reeling with laughter.
Jimmy got six or seven appointments from the ad I saw, which earned him about $2000--enough to get him through this month.
I ask him what it's like when he finishes one of his appointments: "I feel at times like I need to wash my entire body with bleach," he says, before stopping to say that's not quite right, since it implies he feels dirty or ashamed about what he has done. After re-considering for a few moments, he continues: "It makes me feel like I need to bang some random broad on my way home, just to make sure my manhood is still intact."
More than moral or legal considerations, the simple gross factor of helping strange men get off affects Jimmy more than anything else. "Everyone has to do what they have to do to survive," he asserts, even if that means he has to perform a little "rub-n-tug" for paying clients.
Jimmy has been putting in ten to twelve hours a day, six days a week at the car dealership, but has only closed three full deals in his month on the job. He feels right on the verge of breaking through with his newly polished sales acumen, but wonders how much erotic sidework he'll have to do before he is able to support himself off commissions from his day job.
"I've contemplated moving again," Jimmy mentions with a shrug, "But I don't know where, or to do what."
*Jimmy is not his real name.