Wind Power: New Shade of Green Dominates Iowa Landscape, Part 2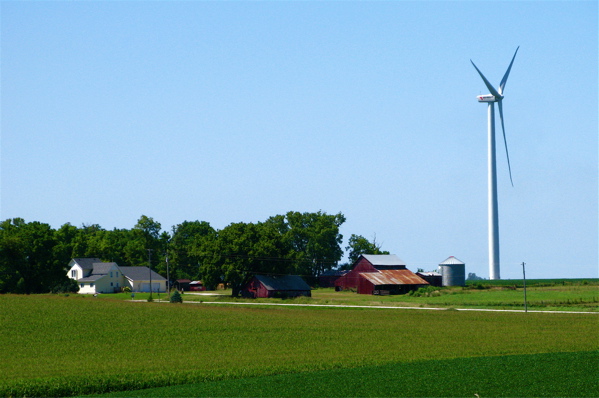 This is Part 2 in my two-part series about the growth of wind power in Iowa. Click here to read Part 1.Walnut, Iowa, has always drawn a regular stream of visitors coming to shop in the proliferation of antique stores lining its quaintly picturesque downtown streets. But in recent months, tourists have also been pulling off Highway 80 just to get a closer look at the 102 monstrously huge wind turbines towering over Walnut. The 263-foot stem of the steel flowers surpasses the height of the Statue of Liberty's torch, with the 126-foot rotor blades extending their topmost reach closer to the heavens.


Since June, Julia Byron has sold about 80 T-shirts and a couple hundred beer cozies labeling Walnut as the "Antique City" and "Wind Mill City," with a silk-screen graphic of the turbines. The T-shirts and cozies are being produced by a local couple's small business, KDC Printing, which can use the extra commerce after suffering a decline from the recession. The man who designed the graphic was one of the 300 temporary residents in town building the wind farm. He had joined the band of traveling construction gypsies moving from one wind power development site to another after losing his job in an automotive assembly plant in Michigan.
The construction crew brought on a few unemployed local boys, who have stayed on to follow the work to the next Iowa wind farm in progress. Those construction workers who took up residence in Walnut from August 2008 until April 2009 temporarily increased the small town's population by about 30 percent. Their dollars gave a quick infusion of cash to the local grocery stores, restaurants, bars, gas stations, hotels, and residents who rented them rooms.
For the 60 landowners who became wind farmers, the direct economic stimulus will be more lasting, which will ultimately have the secondary effect of supporting local businesses. Those who signed up to have their land surveyed for a possible wind turbine site earned $5 per acre in an initial payout from MidAmerican Energy, the largest utility company in Iowa and a subsidiary of Warren Buffet's Nebraska-based Berkshire Hathaway. If one's property was not chosen to host one of the 102 turbines now standing, Mid-American still pays $10 per acre annually just to reserve the option for future construction. Each turbine requires a half-acre of land, the use of which earns the owner an initial easement payment, plus a first year's rent of $3500, with a scheduled annual increase of 2 percent.  I haven't yet formed an opinion on whether the wind farmers' compensation seems appropriate when viewed in context with the profit MidAmerican can expect to gain, but I welcome readers to contribute their views below about that issue.
Leo and Jeanette Rechtenbach don't have a turbine on their own property, but do host the "met tower," which possesses all the meteorological instrumentation needed to determine wind speed and direction, acting as a computerized maestro conducting the entire farm's performance. The couple also earned a good sale price for nine acres Mid-American purchased for the substation.
The Rechtenbachs have lived in the 19th-century white farmhouse just south of downtown Walnut for 45 years. Pulling into their gravel driveway, a kind of cognitive dissonance that has ebbed and flowed all day returns when I see their classic red barn with the white trim and fence set against a backdrop of four wind turbines. The incongruous visual imagery makes me think of what would result if a Grant Wood painting morphed halfway into a sci-fi movie poster.
I feel like the unspoiled forests, cornfields, and undulating hills out the window of my own rural upbringing form an indelible part of my identity--as if the iron-rich red soil of southern Indiana permanently melded with the blood in my veins. Even if monstrous mechanical apparatus did not fill me with (admittedly irrational) dread, I don't think I could ever willingly accept an encroachment of modern machinery on the region's natural beauty. So my first question for Leo and Jeanette concerns their opinion on how growth of the wind power industry is rapidly transforming Iowa's landscape--including the view out their own window.
"We like it. We think it's neat. It's interesting," Jeanette says. "Some people say they're ugly," she adds, continuing on to describe them as "graceful" and other things I can't hear after Leo jumps in to add, "They're not ugly. They're clean. Clean energy. Good for the environment."
Jeanette liked Iowa's plan to develop wind farms when she first read about the idea in the Des Moines paper while visiting her sister there a couple of years ago. Leo thinks the first public discussion for the Walnut wind farm occurred in the Fall of 2007, but it feels longer ago to Jeanette. The couple goes back and forth debating whether or not they both attended that first meeting at the Volka legion hall. But they both agree, as Leo says: "We were one of the first ones to sign up."
A handful of residents objected early on in the process--arguing that the turbines would be loud and would destroy the natural beauty of Iowa's traditional landscape. But Leo says now that the farm has been built, "the only [ones] that don't like 'em are the ones that didn't get 'em."
"That's not true," Jeanette interjects. But Leo shrugs and keeps nodding his head at me with a tight-lipped mischievous smile as Jeanette playfully admonishes his manners.
Heading out to my car later, I can scarcely hear the swoosh and hum of turbines over an almost deafening natural racket of trilling wrens, the stridulating buzz of countless grasshoppers, and bleating goats in the barnyard. Pulling up to the one stop sign on Antique Street in the center of Walnut, I notice a decal stuck in the rear window of a sparkling new Ford F-150 in front of me. It reads: "Got Wind?"