This is Your State's Personality on Drugs
Yesterday, we looked at the relationship between drug use and the concentrations of certain kinds of jobs in states. We saw that cocaine is more likely to be used in states where lawyers make up a larger share of the workforce, while marijuana use is associated with states with higher concentrations of artists, scientists, architects, and educators.
Today, we turn to the relationships between drug use and personality. Psychologists define personality according to the five types - extraversion, agreeableness, conscientiousness, neuroticism, and openness-to-experience. A study by the psychologists Jason Rentfrow, Sam Gosling, and Jeff Potter has developed and analyzed data on the state-wide concentration of these five major personality types. Charlotta Mellander and I then worked with Rentfrow to examine the relationship between drug use and the state-wide concentration of personality types. The charts below graph the results.
Basically, drug use was positively and significantly associated with one personality type - openness-to-experience (.33**). It was negatively and significantly associated with three others - agreeableness (-.41**), conscientiousness (-.29*), and extraversion (.-52**).
Rentfrow explains our results this way.
I find it helpful to think about these regional differences as reflecting different psychosocial climates/scenes, and one question we can ask is what underlies these climates/scenes?

Openness, for example, is associated with curiosity and trying new things, so it would make sense that Open regions are places where more people have experimented/used drugs than places low in Openness.

Conscientiousness is associated with order, structure, caution, and obedience, so it would make sense that there would be less experimenting with drugs in places where there are large numbers of conscientious people.

Low levels of agreeableness are associated with aggression and antisocial behavior, so it's conceivable that places with large numbers of disagreeable people will also be places with comparatively high drug use.

The one dimension that is inconsistent with what I would expect is Extraversion. Hans Eysenck proposed that extraversion is driven by arousal. Whereas introverts have higher levels of internal arousal, which motivates them to avoid social contact because it generates more arousal, extraverts are low in internal arousal and seek out stimulating activities to increase their level of arousal (it's like introverts are anxious and avoid stimulation and extraverts are bored and seek it out). With that in mind, I was expecting to see that stimulants were more commonly used in places where Extraversion is high and that marijuana was used more in places with fewer extraverts. That's not what we've found, though.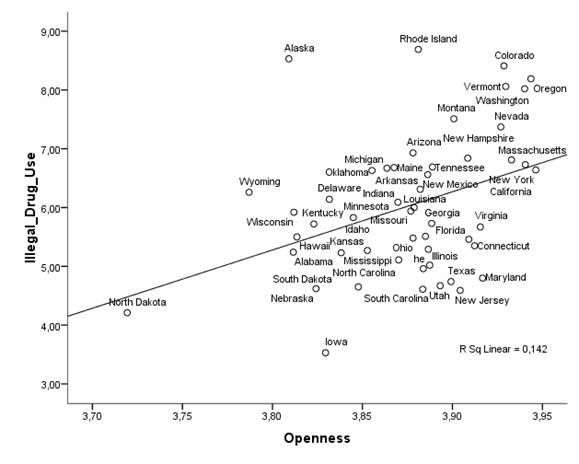 Correlation coefficient: .38**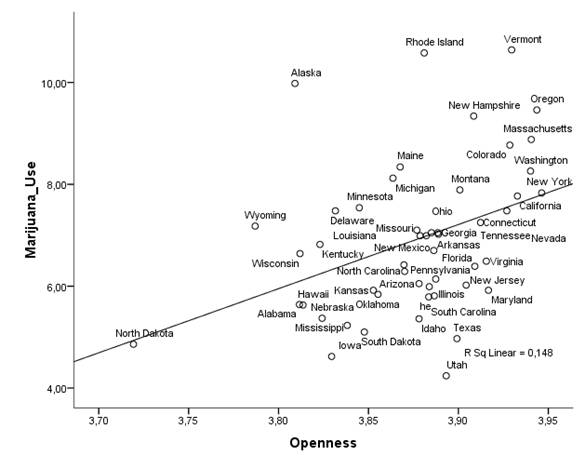 Correlation coefficient: .38**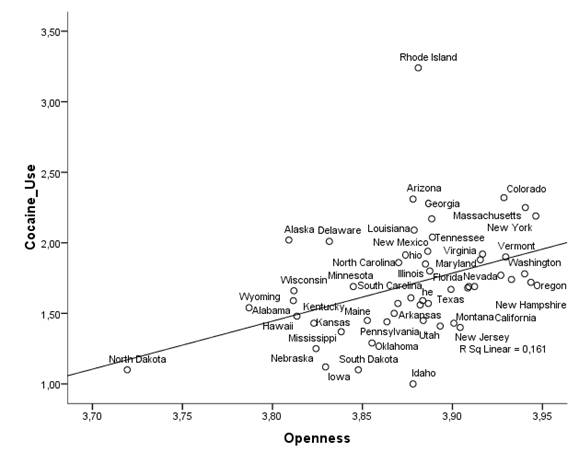 Correlation coefficient: .40**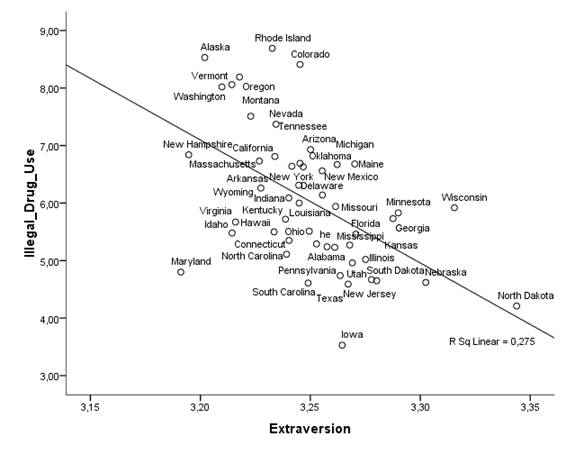 Correlation coefficient: -.52**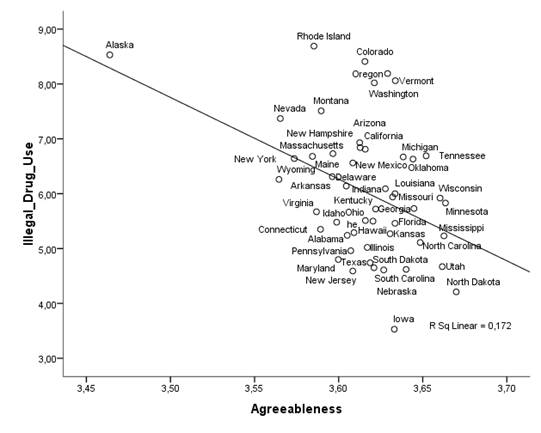 Correlation coefficient: -.41**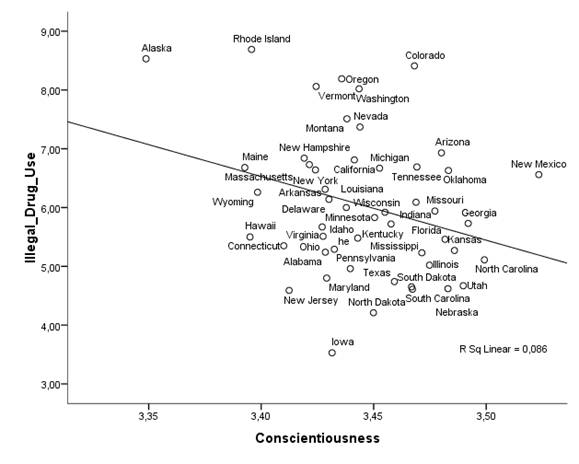 Correlation coefficient: -.29*
Note: * indicates statistical significance at the .05 level; ** indicates significance at the .01 level.