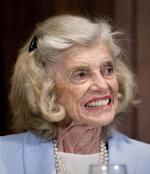 Add the "r-word" to the lexicon of words that may only be referenced by their initials. As Bob Johnson, President and CEO of the Massachusetts Special Olympics,
explained today
in an NPR tribute to Eunice Shriver, "the r-word, as we put it, has really become a bit of a pejorative ... our athletes are offended by the term that begins with "r," which I'm not going to repeat.  And suggested to us that a better term, a more acceptable term, would be that of intellectual disability."
The desire of people once labeled retarded to be described as intellectually disabled instead ought to be respected, of course.  It's true that the "r-word" is, as Johnson says, "a bit of a pejorative." In the schoolyards of my childhood, "retard" was a common insult.  My elementary school served one small, segregated group of special ed students (which included the only black child in the school), who were at best objects of curiousity and, at worst, targets of mockery. If the special ed students were intellectually disabled, many of the presumptively non-disabled were ignorant and emotionally stupefied.
Nomenclature can be a form of education or of raising consciousness, (which my elementary school classmates and I sorely needed), but must it become an obsession? When Bob Johnson references the "r-word," stressing his unwillingness to utter it, does he believe that people aren't saying the word "retarded" silently, to themselves? His squeamishness doesn't erase the word from our data banks, much less defang it. Instead, like other words we dare not say, the r-word is invested with brutal omnipotence. No longer a lowly word, it becomes an incantation.