Stress is a fundamental fact of life these days. But which parts of the country have the most stressed-out people?
The map below from the the
Gallup-Healthways Well-Being
survey shows the stress levels for each of the 50 states. The map reflects the fraction of survey respondents who said they experienced stress "during a lot of the day yesterday" between January and June 2009.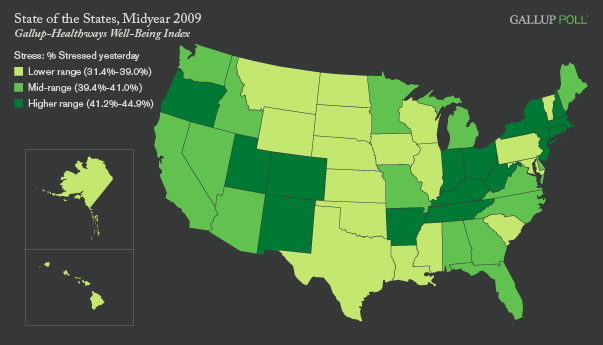 While people in Kentucky, West Virginia, and Colorado are more stressed out than their counterparts in Hawaii, North Dakota, and Iowa, what strikes me most is how many Americans across-the-board report substantial levels of stress - from a low of 31.4 percent in Hawaii to a high of 44.9 percent in Kentucky. In half of all states, four in 10 residents or more report experiencing stress "during a lot of the day."