Schmaycation: Summer 2009 Seeing Resurge of Classic American Roadtrip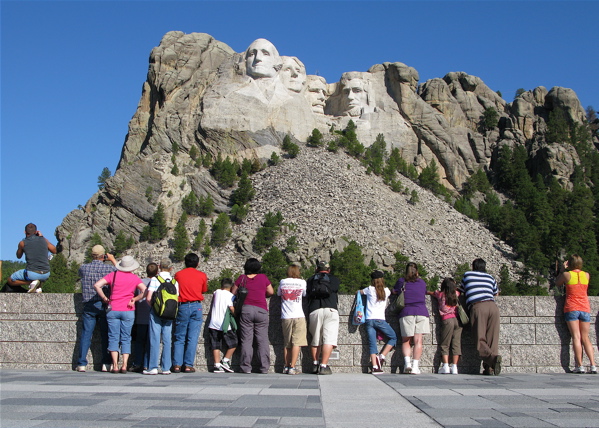 "Staycation" has become the prime buzzword of media reporting on recession travel this year, gaining such currency Merriam-Webster endowed it with official status by including it in the dictionary. I predict coverage will shift in the next month or so, however, once the media notices the classic American roadtrip has enjoyed a resurgence in popularity--and not just with writers, photographers, or reality show producers. Considering the economic environment, some of the early indicators are nothing short of dramatic.
The Recession Roadtrip now has brought me to South Dakota, one of a handful of states that hasn't endured much of a downturn in the recession. The drive west from Sioux Falls along I-90 feels like I've joined a caravan of fellow roadtrippers, though my sparsely-packed little red Prius looks out of place in the stream minivans and SUVs crammed with luggage and children, often with a travel trailer hitched to the back or a car-top carrier on the roof. Even though I only know the chorus to "Holiday Road," I can't stop singing it on perpetual loop. These are the moments I realize it's probably best I don't have company on this trip.
Tourism had a $2.42 billion impact on South Dakota's economy and employed almost 34,000 people in 2008, making it the state's second largest industry. National Geographic Traveler named the Black Hills in southwestern South Dakota the "Drive of a Lifetime" in 2009, but its distance from major population centers would make it too long a drive for a recession vacation, if the advance predictions about this summer were proving accurate. Thankfully for South Dakota, that doesn't appear to be the case. With this notion forming in my mind while scanning all the out-of-state license plates crowding I-90, I decide that after two months on the road seeking out those who have endured a dramatic change in their lives because of the recession, I wanted to act like a normal tourist for a couple of days.
First stop: Mitchell, SD. I had to see what they advertise as the "world's only" Corn Palace.  Constructed in 1892 in an attempt to encourage settlement by showcasing the richness of the area's fertile soil, various colors of corn-on-the-cob are the medium for murals covering the outside, with trim of thatched sorghum, rye, wild oats, and other grasses. The corny folk art contrasts wildly with the painted domes and minarets of the building's Moorish Revival architecture.  The Whalen family of Poughkeepsie, NY echoes my own silent thought: "How bizarre," words that would recur many times during my tour around South Dakota.
Most summers, the Whalens spend a couple of weeks in a rented beach house somewhere along the Eastern Seaboard.  Inspired by NBC's "Great American Roadtrip," the parents and three kids--ages 6, 8, and 12--decided they wanted to do something more enriching than just soak up sun and sea air this year. They plan to go as far as Yellowstone before turning back towards New York.
This journey marks their first real roadtrip, but it definitely won't be their last. Long hours driving in the car have already been spent looking at their map and discussing possible destinations next summer--thematic vacations, like a tour of Civil War battlefields or civil rights landmarks, are two options. "This roadtrip is making us realize that summer vacation can and should be something more than just relaxed family time," mom Melissa explains. "The kids--and us too--have been learning so much about the country, about Native Americans, about history and, you know, corn. We've decided we want to encourage that kind of learning, and squeeze in as many experiences like this before Chase (the oldest) goes off to college. We feel like we've already wasted so much time sitting on our butts at the beach that could have been put to better use."
Before hitting the road again, I ask a woman working the door how attendance has been this year. She reports that they anticipated business would be down because of the recession, but it has actually increased about 10% above average.
Rick Hustead, co-owner of Wall Drugs, has seen a similar rise in business. Wall Drugs actually hired 5% fewer seasonal employees for the summer, expecting that tourist traffic would be down, but July marked a 10% increase in business over the same month last year, which had its own strong performance despite high gas prices last summer. "So far, it has amazed us," Rick says.
In 1931, Rick's grandparents purchased the small pharmacy in Wall. Business exploded after Dorothy Hustead had the idea to advertise free ice water for those thirsty travelers driving across the hot prairie.  Wall Drug Store road signs now line the full length of I-90 in South Dakota, and can be found scattered across this country and in foreign ones. That simple drugstore has now expanded into a sprawling mega-plex of shops, restaurants, historical displays of South Dakota history, the country's largest privately-owned Western art collection, and various oddities like a mechanical roaring T-Rex head, mounted and stuffed wildlife, and a 12-foot tall fiberglass jackalope saddled up for kids to ride.  The eclectic development transformed Wall Drugs from its original iteration as a way station for roadtrippers en route elsewhere, to a planned destination for everyone passing through the area; 15 to 20,000 tourists typically visit the site every day during the summer months.  And, yes, they still offer free ice water.  It is as cold and refreshing as the cone of homemade butter pecan ice cream I indulge in before getting back into the Prius and heading for the Badlands.
The forest ranger manning the gate of Badlands National Park echoes the surprise I had been hearing about the number of people traveling this year. She reports their park attendance this summer has been about 20% above average--far exceeding expectations--and that the campgrounds have been regularly packed to capacity.
The primitive campground on Sage Creek doesn't have delineated campsites--or running water, modern facilities or RV hook-ups--but it seems almost crowded when I arrive there in the early evening.  One family, the Nuncio's of Brooklyn, New York, have been hopping around free campgrounds in national parks since early June. John Nuncio was laid off from his Wall Street job last Fall, and sought new employment for many luckless months. "Our options were to stay tied down in New York while I pounded away at an obviously futile job hunt, or to use this as an opportunity to explore the far reaches of this wonderful, beautiful country," John explains.
The Nuncios have actually leased their Brooklyn townhouse under a short-term furnished arrangement for nearly double the monthly mortgage, which helps subsidize their travel. Considering how expensive everything is in New York, John figures they're even saving money by roadtripping around the country. They usually camp in free sites, though occasionally splurge $15 for a commercial one with showers. The fresh fruits and vegetables they buy at roadside stands cost less than half of what they would pay at a grocery store in Brooklyn--and all the children swear it tastes better. The Nuncio kids had always turned their noses up at zucchini, but now love it speared on a stick and roasted over the fire. "I know so many are suffering because of unemployment, so I would never want to sound arrogant or insensitive by saying that this is the best thing that could have ever happened to us," John says, continuing in a feigned whisper, "But, seriously, I thank god I got laid off."
I sprawl on the ground on top of my sleeping bag reading with a flashlight after the sun goes down, until a tarantula crawls onto my book, sending me in a frenzied scurry back to the Prius. I leave the hatchback open to watch the meteor shower forecast for that night, but pass out with exhaustion before the show gets underway. I could have spent the night in deep sleep if packs of coyotes roaming the ridge above weren't so vocal.  Around 4 am, I finally close up the car to block out the sound of their incessantly frenetic yapping howls.
The sun has just begun to warm the sky when I next open my eyes. Splashing my face with water from melted ice in the cooler jolts away all dregs of sleep. Climbing into the front seat, I start driving, noshing handfuls of granola for breakfast.  I contemplate heading straight for Mt. Rushmore, but decide I can't leave without taking one short hike through the rugged natural beauty of the Badlands.  The wisdom of that choice becomes evident when I crest a ridgeline and see a herd of many dozen bison grazing the prairie grasses maybe a 100 yards away.  The bison don't notice my presence, but prairie dogs chirp with alarm at the appearance of this curious creature with a clicking black contraption. I return by the same route to get back to the car.
Pulling up to the gates of Mt. Rushmore an hour later, I ask the attendant how traffic has been this year. "Definitely up," she replies. She doesn't have a specific estimate of the increase, but knows it has been busier than previous summers. "And the people, they're coming from all over," she says, reporting that she recorded her first-ever license plate from Hawaii last week. The Hawaiian family told her that they usually travel abroad during the summer, but had decided the American economy needed their tourism dollars this year. So they shipped their car to the mainland for an eight-week roadtrip around the country.
For the Sheridans of Charlotte, North Carolina, the circumstances of the recession sparked a different kind of inspiration, leading them to embark on a cross-country roadtrip for the first time this year. "This is a time of national struggle, and national unity as a result," mom Becky explains. "I think that got us thinking more about what it means to be American, and wanting to view those monuments, memorials, and parks that are so much a part of our national culture. You might say we're on a journey to discover the meaning of our own American-ness, if that makes any sense."
My next stop is the as-yet-unfinished monument to Crazy Horse, the Oglala Lakota Sioux warrior who gained fame battling the US military after gold discovered in the Black Hills convinced the American government to seize riches buried beneath tribal lands. Begun 60 years ago, the privately-funded work has been carried out primarily by a single family--only Crazy Horse's head has been completed so far, though all of Mt Rushmore could fit into that colossal noggin. Polish-American sculptor Korczak Ziolkowski came to the Black Hills in the late 1940s at the invitation of Lakota Chief Standing Bear. Korczak died in 1982, but two of his sons carry on the work to his exact specifications.
Many tourists make Mt. Rushmore and the nearby Crazy Horse memorial a 1-2 stop, so it's not surprising that the latter also reports they've had an increase in traffic this summer.
Drawn by the allure of kitsch, I have to swing by Custer--another of the many small towns in the area that appear rendered from a theme park design for an Old West attraction. "Gold mine" where the kiddies can pan for flakes: check. Heavy wooden carved signs with deliberately jagged edges: check. Saloons: check. Cigar store Indian: check. A 20+-foot-tall bright pink Dino the dinosaur: what?
The Flintstone's Bedrock Village had lured me to Custer as if Betty and Wilma had mutated into cartoon sirens calling me from a bygone era. Even this somewhat faded remnant of the 1960s is enjoying a boom this year, with visitors to the theme park and campground around 10% more than usual for this time of year.
In addition to southwest South Dakota's natural beauty, national monuments, Old West heritage, and abundance of creatively bizarre tourist attractions (the Cosmos Mystery Spot, for example), the region has also been one of the nation's most fruitful sites for archeological excavation of dinosaur remains. So I head to the Black Hills Museum of Natural History in Hill City to see Stan and Sue, two nearly-complete T-Rex skeletons re-assembled as the one-room institution's main attraction. Again, I get the by-now expected answer--yes, we're surprised, but attendance has definitely been up.
I jump back in the car and race north so I can get to Deadwood in time for a re-enacted shootout on the streets of the former gold mining boom town. Since Deadwood labels itself a community of outlaws, I jaywalk my deviant self at every opportunity. After a night camping and a full day of hiking and running around in scorching heat, I do realize my more serious crime is probably the way I smell.
For that reason, I try to keep a good distance when talking to the Jansens, who have driven from Toledo, Ohio to take in the sights of South Dakota. Though they haven't personally suffered any particular consequences of the recession, the dominant woe of the economic environment had convinced them they couldn't afford to take a vacation this year.  But after working out a detailed budget that factored in cost-savings of camping and making their own food, they realized a 10-day roadtrip to South Dakota would run less than $600--with most of that money going into their gas tank. For any other kind of 10-day trip, they could pay at least that much just in hotel expenses.
Following a short street performance portraying the capture of Jack McCall, the "cowardly killer" of Wild Bill Hickok, I stop by the spot where Wild Bill played his last hand of poker before a bullet in the head took him down. After losing five dollars in the modern saloon's slot machines, I start hunting the buffalo burger I have been craving ever since I saw that herd of bison in the morning.
Though thoroughly exhausted, I take a few minutes to check my email in the lobby of the Franklin Hotel before heading up to bed. Caitlan Smith, an Atlantic editorial assistant, had sent me some relevant research, which reinforces my impression that what I had been learning all day represents more than just a micro-trend specific to South Dakota.
The National Park Service has only calculated its numbers up to the end of May, which do indicate a rise from last year, though largely due to the huge audience on the National Mall for Barack Obama's inauguration. Yellowstone, however, has reported that July represented an 11.4% increase in tourists from the same month last year, breaking the 1995 record for the most visitors in the month. Yellowstone is forecasting this year may surpass the annual visitation record, set in 2007. Campgrounds nationwide are also reporting an increase in bookings, though hotels are facing a decrease in business.
In sixty seconds of repose before sleep claims my consciousness, the words "staycation schmaycation" pop into my fuzzy mind. Despite the recession, people are still traveling this year. They're just doing things a little differently.