Recession Sparking New Era in Stand-Up Comedy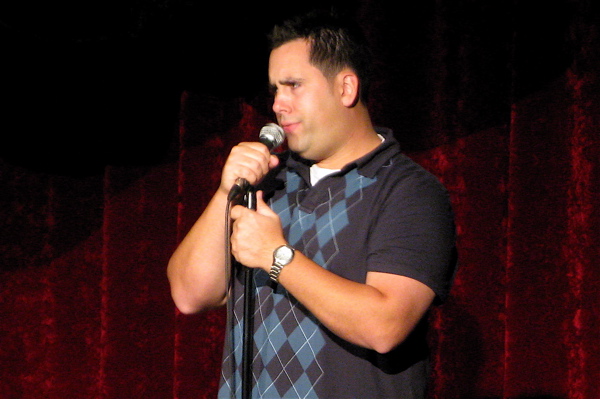 As proprietors of one of the oldest comedy clubs in the country, the Glazer family has experience negotiating economic minefields that have destroyed lesser characters in the entertainment industry over the past 35 years. While a number of other Kansas City clubs has altered format or simply shut down recently, Stanford and Sons has endured by adopting a creative new business model--a change that owner Craig Glazer suggests is marking a new era in the comedic profession and entertainment culture.
Before I meet Craig, one of the comedians on the night's roster tells me he could be described of as "more 'L.A.' than anyone in L.A." That had me confused until the 50-something club owner made an appearance in the blue "Green Room." Constantly on the move and talking non-stop in his cigarette-scarred rasp, Craig projects the kind of voluble hyperactivity of a real operator. His semi-pompidour hair, scruffy goatee, and heavy dark-framed glasses complete the portrait of a unique character--one somewhat crazy, very possibly shady, and inarguably brilliant.  One of my favorite types of people.
Craig regales me with tales about his past as a college student turned con artist ripping off drug dealers turned undercover cop--a life story chronicled in his memoir The King of Sting, now under development as a feature film. With digressions so interesting, I have to keep reminding myself to ask about how comedy is surviving the recession.
Even before the economic decline of the past couple of years, Craig says he had been steeled in survivor mode for most of the past decade. Crazy millennial fears struck an early hit against business in 2000. Then there was 9/11 in 2001, the invasion of Iraq in 2003--very somber national events causing a decline in consumer demand for light-hearted comedic entertainment. The recession has caused the most lingering downturn in business, but the difference now is that people still want to laugh. In fact, they need to laugh. They just can't afford to go out and spend too much money.
Despite this, Stanford and Sons Comedy Club has filled to near-capacity by the time lights dimmed for Friday's late performance. The size of the crowd resembles pre-recession levels--but the difference now is that most had gotten in for free.
Through contests, promotions, radio-giveaways, and 2-for-1 deals, Craig Glazer very liberally distributes free tickets these days. "I could just sell tickets," he explains. "But the three people who could afford them now wouldn't have any fun because they'd be watching the show in an empty room."
Revenue generated from a minority with $30 to spend on admission would not keep the club going, but if the room fills with people grateful and excited they got free tickets, the kitchen and bar stays busy.  That revenue would not be sufficient to sustain status quo operations, and that is why this evolution of the typical comedy club business model, which does not appear particularly unique to Stanford and Sons, may be having a far-reaching impact on the comedy profession itself.
Under the current circumstances, Craig says, "Big-name comedians are almost unemployable. I can't afford to book someone who charges $20,000 or more a week. This has forced club owners like me to try and discover the next big star."
Current economic circumstances make it unfeasible to pack a room with paying customers based simply on the big name draw of a celebrity comedian touring the club circuit. Breaking even would not be possible if Craig distributed free tickets AND paid tens of thousands for an appearance fee. Two to three thousand is about all the club can budget for a headliner, so consequently, Craig says, "very talented comedians are getting an opportunity."
"Celebrity" comedians may be feeling the pinch of recession, but--for lack of a better term--the "working class" of the profession is flourishing. "To use a baseball analogy," Craig explains, "I'm drawing triple leaguers like Josh Sneed. Will my customers laugh any less than they would at someone with name recognition? Will they notice a $20,000 difference in the quality of comedy? No, because he is just as talented. Just as funny." Josh is just more affordable because he hasn't had his own reality show, sitcom, or movie appearances.
A 32-year-old native of Cincinnati, Josh Sneed has been performing stand-up for eleven years. With such a subdued persona off-stage, Josh comes across as the computer guy he was for Procter and Gamble before he quit to devote himself full-time to comedy. Since leaving corporate life eight years ago, Josh has toured the club circuit steadily, had his own "Comedy Central Presents" special, and recently released a CD: "Unacceptable."
Josh has definitely noticed the change currently underway in the comedy business. "Now clubs are selling the idea of it being a good night out, rather than targeting a specific audience," he explains backstage as we're chatting in the blue "Green Room" while waiting for his headliner turn on the stage.
"I don't know if it's a recession-proof business exactly, but when times are bad, people still feel they want to laugh," he says. Josh knows that some comedy venues have closed and that bigger name comedians are having troubles, but his own manager has had no trouble booking regular gigs.
When I ask Josh if he ever tries any recession-related material in his act, he answers with a decisive, "No. The recession is not funny." He jokes that he could probably draw laughs with a bit about abortion, but the recession has simply affected too many. "People are here to escape. I don't want to remind them how bad things are."
For a few moments of escape, watch these clips of Josh Sneed's performance this weekend at Stanford and Sons. Fair warning--some content would make them inappropriate for children's ears.Bob the Builder vs. Real Superheroes