Nebraska Students Seek Recession, Find Humanity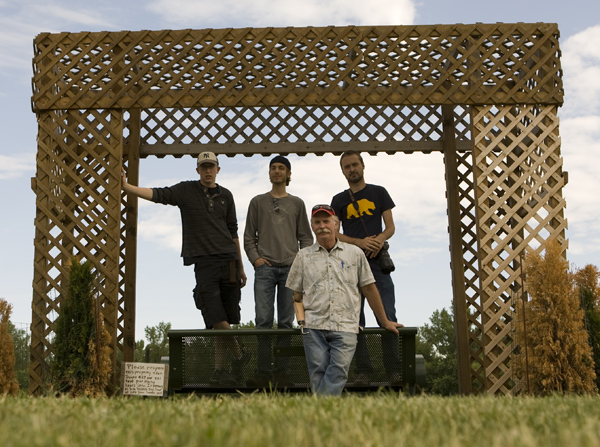 In early June, a journalism professor and three students from the University of Nebraska-Lincoln packed photographic equipment, food, and supplies into a Chevy Suburban and 23-foot Jay Feather travel trailer, setting off on a two-month journey to document the recession's effect on their state. Traversing small towns of rural Nebraska, these students absorbed the kind of transformative lessons about community, hospitality, and humanity that could never be taught in a classroom.
Every summer Bruce Thorson, a professional photojournalist and educator, offers his students an opportunity for intensive hands-on practice of their craft through experiential learning trips. Thorson typically chooses foreign destinations that can push young aspiring photographers out of their comfort zones, shooting compelling subjects against exotic backdrops--like Kosovo and South Africa in recent years. But as a pall of recession settled over the country, a more important story seemed closer to home. Inspired by the Depression-era work of photographers like Roy Stryker and Dorothea Lange, Thorson and three students--Patrick Breen, Clay Lomneth, and Kyle Bruggeman--wanted to document the Great Recession's impact on Nebraska.
Before they left, the students recognized Nebraska was not facing the same level of hardship infecting other areas of the country--at 5% unemployment it ranks as the nation's second strongest job market--but they didn't expect everyone to be doing quite as well as they discovered along their recession roadtrip. "People would say, 'What recession?," Kyle recalls. Some industry had suffered a downturn, and they did meet a few people who had been laid off from manufacturing jobs, but they were more the exceptions. "A lot of towns are relatively self-sufficient, so they're not feeling the recession as much as other places," Kyle concludes.
Also, as I wrote about in West Virginia, the areas that never experienced much modern economic or real estate development have had a lot less to lose. Clay remembers a man in Gordon telling him: "The town of Gordon, Nebraska has been in a recession for 25 years." Overall, Clay was still "a little surprised at how everyone agreed that the recession is not affecting them. Small town Nebraska is doing okay."
But that realization did not convince them to turn around and go home. In fact, persisting in the project led to profound revelations, including about the nature of news gathering and the journalism profession. For his encouragement and guidance along the way, each one separately expressed gratitude and immense respect for the professor they call simply Bruce.
For Patrick: "The trip made me aware that if I'm going to follow through with this as a career, I need to look not just for what's wrong with a situation." The Nebraskans he met showed him that everyday heroes can be just as interesting--and deserve just as much attention--as episodes of human suffering.
Clay used to think he wanted to be a news photographer, but the long hours he spent talking with total strangers made him recognize an inherent superficiality in snapping some good shots and quickly scribbling down the subjects' names for a caption. Now that this summer's experience has helped him become more outgoing, he will always yearn for deeper meaning in his work. He wants to know more than just the name behind the faces in his pictures. "With documentary photojournalism, sometimes you have to put down your camera and just listen." And he says that's exactly what he wants to do, now that he recognizes the truth behind the old cliche: "Literally, everyone has a story to tell."
For all three students, the kindness and generosity of people they met and the simple honesty of stories told linger most in their minds. For Kyle, the best moments of the trip "were when the people we were talking to would get used to us and we could just have a regular conversation." Clay felt privileged and humbled: "People were extremely generous. They invited us into their homes. We got lunch and got to take their pictures. It was like we found the perfect subjects every single day."
Patrick was amazed by Mary Howard, the elderly owner and operator of "Mary's Store" in Barada. Though disabled by a stroke two years ago, Mary still single-handedly runs the store from her wheelchair, living independently in a small apartment in the back. Her determination under the circumstances and her "lively personality" made it "just wonderful to see her approach to life," Patrick remembers.
One of Kyle's favorite experiences was when a Dewitt musician, Shawn Cole, invited them all back to his house for a jam session and bonfire. With no neighbors nearby to bother, Kyle played bluegrass late into the night with Shawn and his friends.
Kyle also learned a lot from PD "Bud" Jones--a fifty-something legally-blind albino horse trainer living in a one-room trailer in Nora. Bud buys young horses, "breaks" them, then sells them online. "He's like a classic cowboy from boots to hat, but also has a cell phone and checks YouTube."
The manner in which outward appearances and pre-conceived notions can deceive became obvious to Clay when he got to know the "Boo Radley" of Carlton, Nebraska. Locals call him "Okie Bob", a hermetic junk collector who feeds a yardful of stray cats. "Everyone in town thinks he's crazy," Clay reports. They said Okie Bob carried around a sawed off shotgun, and might be inclined to fire it at a nosy outsider. Intrigued, Clay managed to get an introduction through Bob's only friend in town. For three hours, Clay sat in Bob's truck talking politics and history, drawing from the supposed "crazy" man's extensive knowledge of Crazy Horse and the Civil War. "He was a great guy. Extremely intelligent." In fact, Clay hopes to pay another visit to Okie Bob sometime.
Rather than discovering a dismal reality of the recession on their journey, life since returning home has been more of the downer. The first thing Clay did when he got back was take a hot shower, which felt luxurious. He enjoyed a restful night sleeping in his own bed, instead of the bedroom, flip out cushioned bench, or air mattress the three students rotated through their nights in the travel trailer. But then he woke up feeling kind of sad, empty, purposeless.
I probably should have advised him before we hung up the phone that there exists no effective cure for the itchy feet he has contracted.
Click here to read stories and see images from the recession roadtrip around Nebraska. A collection of their work will be showcased in December at the Center for Great Plains Studies, which helped underwrite their expenses for the project.
(Pictured above from left to right: Patrick Breen, Kyle Bruggeman, Bruce Thorson, Clay Lomneth. Photo by Prof. Bruce Thorson)