Meet the Marijuana Snack Kings of the Future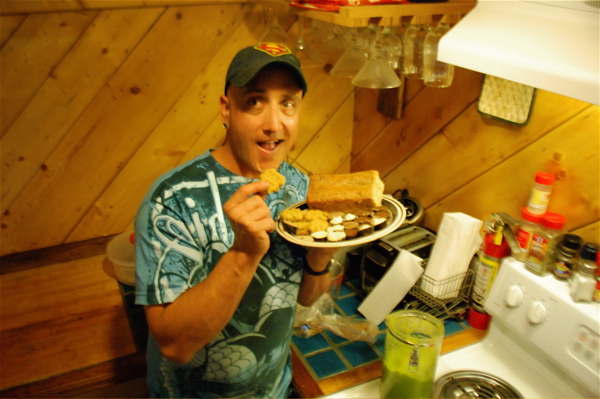 "I want to be like the Nabisco of ganja," Shaz Swartz announces, as we're sitting on the front porch of his rustic wood cabin perched on the side of a mountain above the minuscule town of Ward, Colorado. The 43-year-old ex-Marine has sole custody of his two young sons, and wants to provide a more comfortable future for them than he ever could in his job as a construction inspector, particularly now that the recession has been leaving him with increasingly fewer sites to inspect.
So Shaz and his business partner Garrett Miller are joining the ganjapreneurship boom, readying to launch their new business "Ganja Goods." The explosion of legitimate medicinal marijuana dispensaries
I wrote about yesterday
is being closely trailed by a concomitant wave of entrepreneurial start-ups that tap into the rapidly growing market for reefer-related goods and services.
There are consultants, like Garrett, teaching people how to set up grow lights and an irrigation system for growing marijuana inside their house. Gardeners are propagating baby clones of high-grade strains. Herbalists process weed into a potent tincture. Candymakers are infusing lollipops and lozenges with cannabis. Bakers concoct space cakes, cosmic brownies, and various Scooby snacks.
Shaz has recently been making the rounds of dispensaries handing out samples of his cookies and chocolates. When he asks if the dispensary would like to become a paying customer when Ganja Goods goes into full production, the answer is invariably along the lines of: 'Yes, we will buy it as fast as you can make it.' "There's a huge and growing demand right now, but not sufficient supply," Shaz says.
Like good all-American capitalist thinkers, Shaz and Garrett recognized this gap in the market, where demand far exceeds supply, and they're looking to exploit the imbalance for their own success. The business license for Ganja Goods just arrived last week, and they expect to receive their Tax ID any day. They've been looking at industrial kitchen spaces to rent and trying to find an unemployed baker to hire. Shaz does all the sample baking right now, but he wants to hire someone so he can focus his creative efforts on more intense research and development to improve the quality, measurable dosage intensity, and shelf-life of his cannabis consumables.
The problem with homemade cannabis goods currently being sold through dispensaries is that they don't have any standardized dosage. "Digesting cannabis gives a different kind of buzz than smoking it," Shaz says. "It's much more mellow." That's why Shaz eats his own treats to ease the chronic pain of an old back injury. He understands the ameliorative strength of his own homemade goods, so, for example, if he eats one of his chocolate macadamia coconut truffles in the morning, he knows it will ease his pain, but not make him blotto stoned like smoking a joint would, or mentally groggy and physically tired like a pharmaceutical pain killer.
Pharmaceuticals have established dosages to inform physicians and consumers how much they need to take for their particular ailment, but the scientific research to develop a conveniently identifiable strength for medicinal marijuana is still in infancy. For a patient who smokes cannabis, specific dosing information is not particularly relevant--they can generally tell by examining the THC crystals on a bud. But for someone who does not want to inhale smoke, it can be impossible to judge in advance how much of a cannabis product they should consume.
"From one baker, maybe you'd need to eat three cookies. But from another, maybe more than one would leave you completely high for hours," Shaz explains.
Shaz and Garrett wants customers of Ganja Goods to be able to tell how their product will affect their mind and body before they put anything in their mouths. So Shaz has been working to develop the precise recipe for a potent ganja butter, which he can cut with regular butter in order to vary the strength of the finished baked goods. The large canister or vibrantly green and faintly pine scented butter he shows me had simmered at just under 115 degrees for four days.
In addition to straight ganja butter, Shaz made honey butter and is thinking about garlic butter. The cannabis needs the animal fat for potent effectiveness, but Shaz and Garrett have a mind to produce any kind of food that can be prepared with butter. Shaz has already been creating his own recipes for the standard fare: various chocolate truffles, brownies, cookies, cake, banana bread. But they're also also thinking he can work his magic butter into wide range of food products, like pesto, hummus, pizza, ice cream, croissants, granola bars.
Despite their obvious business ambition, Garrett and Shaz don't aspire to become particularly wealthy off their venture. They want to earn enough to live comfortably, but also view the profit potential as an opportunity to financially support a meaningful cause. They haven't yet settled on what organization to fund with their profits, but are thinking they might like it to be one that promotes educational resources and opportunities for children in Colorado.