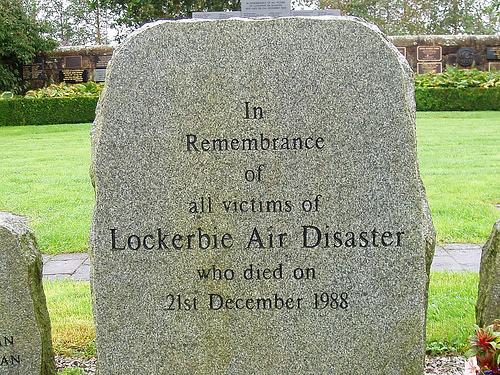 I don't support capital punishment. I've gone back and forth on this issue in my own mind over the years, and my primary objections now do not rest on purely moral grounds; I can accept in the abstract, however uncomfortably, that some acts may be sufficiently heinous to justify ending the perpetrator's life. But despite that, the racial and class discrepancies in the way the death sentence is applied are troubling, and perhaps even more troubling, the recent emergence of DNA testing, and the resultant exculpation of so many people who turn out to have been wrongly convicted, suggest that the justice system -- not just our justice system, but any justice system -- is so inherently imperfect that ultimate, irreversible punishments are a mistake.
Which means I don't take issue with Lockerbie terrorist Abdel Basset Ali al-Megrahi's having received a sentence of life imprisonment for his crime. That said, I'm still one bleeding heart liberal who finds Scottish Justice Minister Kenny MacAskill's decision to release the convicted Libyan terrorist on compassionate grounds appalling and indefensible.

Assuming Megrahi received a fair trial -- and I have read nothing to indicate otherwise -- a life sentence seems the minimal appropriate punishment for a crime of such enormity. 270 non-combatants died horrible deaths as a result of his actions, the sole purpose of which was to kill innocents, wreak mayhem, and incite terror. On what grounds should he be extended the mercy cited by the Scottish Ministry to justify its decision? The compassion embodied in Western European jurisprudence spared his life. More compassion than that he surely does not merit.
He has reportedly received a hero's welcome upon arriving in Libya.  He does not seem to have discouraged it or recoiled from it.  There is no evidence suggesting anything resembling remorse.
Megrahi is suffering from terminal prostate cancer. A British doctor who examined him has said he has only about three months more to live. The crime he committed earned him a life sentence. A life sentence seems to me precisely what he should have been required to serve.
(Photo: Flickr User amandabhslater)