Laid Off, Homeless, Hitchhiking, and Happy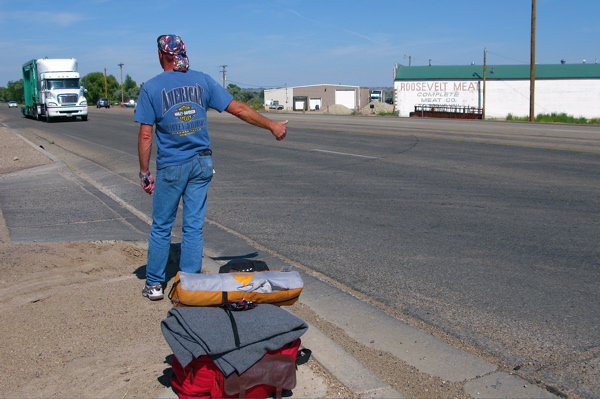 Pat Poole was laid off from his construction job in April. Someone stole his motorcycle in May. When I meet the 49-year-old at a gas station on US 40 in eastern Utah, three dollars and change represents his entire net worth. By now, Pat has been on the road for more than a month, hitchhiking thousands of miles from Sarasota, Florida, driven by strangers and sustained by hopes that he will arrive to find a more fertile job market in Utah.
Considering that basic crib sheet of Pat's current life, I expect readers may be gearing up to read another compelling tale of hardship and survival, laced with empathy and compassion. If so, I should apologize for disappointing. Though jobless, homeless, broke, and hitchhiking his way across the country, Pat is one of the happiest people I have encountered during this trip.
"Life is too short to be hung up on bullshit," Pat tells me, by way of explaining his unflappable exuberance. "You gotta enjoy life. If you're not waking up in the morning with a smile on your face, then something's wrong. Who gives a shit if you're driving a Ford or a fucking Ferrari? It still gets you down the road. Look at me--I'm carrying bags that weigh more than I do and I refuse to give up."
"Life's not all about this," Pat says, spreading his arms in a gesture to the world around him, "It's about this," he concludes, bringing his hands to thump his chest over his heart. Once you learn that, "The dollar doesn't really matter so much, does it?"
Pat has learned quite a bit about the nature of his fellow Americans since he left Sarasota more than a month ago. Friendly strangers have given him rides, food, money, shelter. The manager of a K-Mart in Paducah, Kentucky even hired Pat to remodel his house, and put him up in a motel for the two weeks of work. Pat describes everyone he has met on the road as "million dollar people." The only one Pat ever had a problem with had just dropped him off at the gas station while I was filling my tank. Based on the friendly exchange I watched while Pat said goodbye and thanks, I would have never guessed he was suppressing anger.
"I can put up with a lot of bullshit for a free ride, but that was too much," Pat explains. It makes Pat crazy when people seem to forget that the recession started under George W Bush. His driver had nothing but high praise for Bush, and accusations of socialism and fascism for Obama's stimulus efforts. Pat supports Obama increasing the national debt to invest in domestic programs, since that will assist Americans in need and help the country rebound from the recession. Pat has little patience for anyone who ignores that Bush created the deficit: "And W never did anything except bomb someone with our money." So Pat asked to be dropped off at the next gas station, rather than endure any more offensively ignorant chatter or, worse, lose his patience and argue with his kind and generous driver.
With the late afternoon sun dropping closer to the horizon, the harsh heat of the day has begun to soften as I say my goodbyes to Pat. He tell me that he's not worried about catching a ride before sunset, but of course, nothing much worries him.