Happy States and the Economic Crisis
How has the economic crisis affected the happiness and well-being of Americans? Newly released data from the Gallup-Healthways Well-Being Index enables us to take a look.
At the national level, not so much: The mid-year 2009 score is 65.1, a moderate decline from 65.5 in 2008. (Catherine Rampell of Economix provides a nice summary of the survey methods, indicators, and key findings.)
But, rising unemployment appears to have a significant relationship to the happiness of states, according to our analysis of the Gallup-Healthways data.
Not surprisingly, the biggest declines in overall happiness occurred in work-related well-being. The Gallup-Heathways Well-Being Index is made up of six separate sub-indexes - life evaluation, emotional health, work environment, physical health, healthy behavior, and access to basic necessities. Five of these indexes fell between 2008 and 2009, with the biggest decline occurring in the work environment index: More than three-quarters of states saw their work environment score fall in 2009.
This is broadly in line with happiness research. It had been long thought that happiness essentially levels off after a moderate income level is crossed. But an influential study by Betsy Stevenson and Justin Wolfers found a strong association between happiness and economic conditions. A 2005 study found that a significant increase in Finland's unemployment rate (from three to 17 percent) did not produce a significant drop in overall well-being.
The new Gallup-Healthways Index also covers the 50 states. Interestingly enough, the "happiest states" in 2009 - Hawaii, Utah, and Montana - were more or less the same as in 2008; the same is true of the "unhappiest states" - West Virginia, Kentucky, and Arkansas. Drilling down a little further, Utah topped the list in life evaluation, Hawaii in emotional health, Idaho in work environment, North Dakota in physical health, Vermont in healthy behavior, and Iowa in basic access.

Still, it's clear that the economic crisis has been harder on some states that others. Older industrial states of Michigan, Indiana, and Ohio have seen their unemployment rates soar in the double digits, while the housing crisis has wreaked havoc on once fast-growing states like Florida and Arizona.

The availability of state-level data for before (2008) and after (2009) the crisis provides a useful lens for examining the effects of worsening economic conditions on state happiness.
So my collaborator, regional economist Charlotta Mellander, looked at the relationships between happiness and economic factors like output, income, and unemployment. Let me emphasize that what I am reporting here are correlations or associations. While these findings do not imply causation, they remain interesting nonetheless.
First off, the relationship between happiness and economic output has apparently become weaker. The relationship between the two which was correlated (.33 and statistically significant in 2008) is no longer so (.27 and not statistically significant in 2009).
Second, the relationship between income on happiness also seems to have weakened (falling from a correlation of .43 in 2008 to .30 in 2009 - both significant at the .01 level).
Third, unemployment appears to be the biggest short-run factor affecting state happiness. Two measures of unemployment - a higher state unemployment rate and a bigger increase in that rate between 2008 and 2009 - were associated with both lower levels of state well-being and a bigger drop in state well-being between 2008 and 2009.
The first chart graphs the relationship between 2009 state unemployment rate and state well-being. Hawaii and Utah, above the line; and West Virginia, Kentucky, and Arkansas below it, are clearly outliers. Still, the fitted line shows a reasonably close association between unemployment and happiness among states. The correlation coefficient of -.44 between the two (statistically significant at the .01 level) lends additional support to this.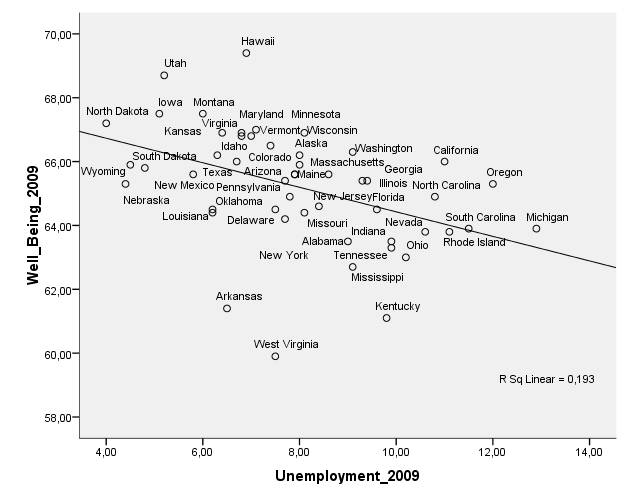 The second chart graphs the relationship between state happiness and the change in the unemployment rate between 2008 and 2009. Hawaii and Utah; and West Virginia, Kentucky, and Arkansas, are again outliers. But the fitted line shows a clear association between the two. And while the correlation coefficient between the two is weaker than above (-.34 and statistically significant at the 0.05 level) it nonetheless supports the association.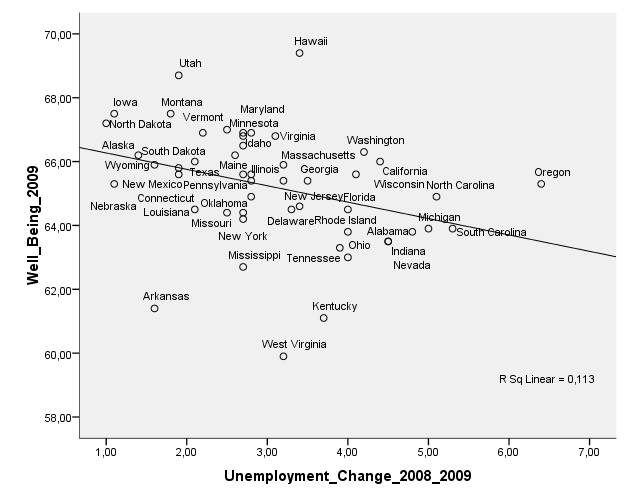 The connection between state happiness and unemployment also came through when we looked at the relationships between the change in state well-being between 2008 and 2009 and the two measures of unemployment. The correlations for each are statistically significant: -.30 for the 2009 unemployment rate, and -.34 for change in the unemployment rate between 2008 and 2009, both significant at the .05 level.
Given all of this, it's safe to say that unemployment plays a reasonably big role in the happiness - or should I say, unhappiness - of states.