Every Hour Leading Up to 10,000 (and Every Hour After That)
In providing an overview for this new blog's approach, I've so far touched on
genetics
and
intelligence
; now it's onto studies of talent and expertise that provide the third key puzzle piece. Taken together, they suggest -- to me at least -- a whole new way to think about high achievement.
Many of you have already read about some of the key research -- the famous 10,000-hours-to-greatness observation of Anders Ericsson and others, described in several recent smart books, including Geoff Colvin's Talent Is Overrated, Malcolm Gladwell's Outliers and Daniel Coyle's The Talent Code.*
These studies are important, not because they put a specific hour-number on what it takes to be a champion, but because of the big idea behind that number. The breathtaking insight that comes through in the work of Ericsson and colleagues is this: talent is not a thing, but a process -- a very slow, largely invisible process that, up till now, has been nearly impossible to document and therefore very easy to misread. As long as this slow accretion of skills went  unseen and unarticulated, the mature skills themselves seemed almost magic. For many centuries, greatness appeared to be god-given; later, in the 20th century, it was understood as gene-given. All along, these ideas were reinforced by astounding child prodigy stories that seemed to be explainable only by unusual innate "gifts."**
Now, Ericsson and colleagues -- there are many, with hundreds of studies already published -- are making the invisible visible.*** They are showing how all abilities are based in process. They are exploding the myth of "giftedness."
Their work also dovetails with genetic-environment interaction, and with research showing how extraordinarily plastic the human brain is -- how we constantly change its structure with our moment-to-moment actions.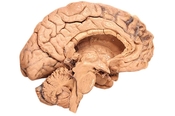 A new understanding thus emerges: the limits we think we see in ourselves and our kids are really more like
obstacles,
difficult but not impossible to overcome. What appear to be innate/genetic brick walls are actually just very steep hills to climb. According to this view, the real marvel of genetics is how their dynamic properties allow us to expand and expand and expand our abilities -- if we push hard enough and have the right resources. (These are big ifs.)
Which brings us back to the public fixation with innateness. Given what we've all been told about genes, it's perfectly understandable when we look at a clumsy 8 year-old boy and surmise: "He's got no athletic talent. He just doesn't have the genes for it." But the new science of talent suggests a very different conclusion:
• His clumsiness was developed, not inborn. He became clumsy over time in response to many gene-environment interactions.
• His development continues, and nothing is set in stone. While the odds are of course against him, no can say for certain whether this clumsy boy has professional sports in his future. 
We simply don't know his ultimate potential, and neither will he until he marshals all of his resources to get there. 
Genes will play a huge role, of course, and will ultimately limit him in some way. But we don't know precisely how.
Discovering our own potential is part of the marvel of being alive.
______
Notes
* I began writing (and
blogging
) about this stuff in 2007, long before any of these books were published. My book will come late behind these books, and will probably be dismissed by some as Johnny-come-lately. But I think mine has much to add, and hope it will be seen as a complement to them. The reality is, all of these books (including mine) were written concurrently; I, for one, did not read any of them before finishing mine.  
** I'll tackle the issue of child prodigies in future posts, and in my book.
*** Here's a tiny sampling of the studies from Ericsson and colleagues:
Salthouse, T. A. EFFECTS OF AGE AND SKILL IN TYPING. Journal of Experimental Psychology: General, 1984.
Abernethy, B., et al.  VISUAL-PERCEPTUAL AND COGNITIVE DIFFERENCES BETWEEN EXPERT, INTERMEDIATE, AND NOVICE SNOOKER PLAYERS.  Applied Cognitive Psychology, 1994. 
Krampe, R. Th., et al. MAINTAINING EXCELLENCE: DELIBERATE PRACTICE AND ELITE PERFORMANCE IN YOUNG AND OLDER PIANISTS. Journal of Experimental Psychology, 1996. 
Higbee, K. L. NOVICES, APPRENTICES, AND MNEMONISTS: ACQUIRING EXPERTISE WITH THE PHONETIC MNEMONIC. Applied Cognitive Psychology, 1997. 
Nevett, M. E., et al. THE DEVELOPMENT OF SPORT-SPECIFIC PLANNING, REHEARSAL, AND UPDATING OF PLANS DURING DEFENSIVE YOUTH BASEBALL GAME PERFORMANCE. Research Quarterly for Exercise and Sport, 1997. 
Gabrielsson, A. THE PERFORMANCE OF MUSIC. In D. Deutsch (Ed.), The psychology of music, 1999. 
Helson, W. F., et al. A MULTIDIMENSIONAL APPROACH TO SKILLED PERCEPTION AND PERFORMANCE IN SPORT. Applied Cognitive Psychology, 1999. 
Helgerud, J., et al. AEROBIC ENDURANCE TRAINING IMPROVES SOCCER PERFORMANCE. Medicine and science in Sports and Exercise, 2001. 
Goldspink, G. GENE EXPRESSION IN MUSCLE IN RESPONSE TO EXERCISE. Journal of Muscle Research and Cell Motility, 2003. 
McPherson, S., et al. TACTICS, THE NEGLECTED ATTRIBUTE OF EXPERTISE: PROBLEM REPRESENTATIONS AND PERFORMANCE SKILLS IN TENNIS, 2003. 
Pantev, C. et al. MUSIC AND LEARNING-INDUCED CORTICAL PLASTICITY. Annals of the New York Academy of Sciences, 2003. 
Duffy, L. J., et al. DART PERFORMANCE AS A FUNCTION OF FACETS OF PRACTICE AMONGST PROFESSIONAL AND AMATEUR MEN AND WOMEN PLAYERS. Int'l Journal of Sport Psychology, 2004.
Ericsson, K. A.  DELIBERATE PRACTICE AND THE ACQUISITION AND MAINTENANCE OF EXPERT PERFORMANCE IN MEDICINE AND RELATED DOMAINS. Academic Medicine, 2004. 
(Photo credit for the picture of the brain: http://www.flickr.com/photos/17657816@N05/1971827663)