Clunky Success for Anderson Ford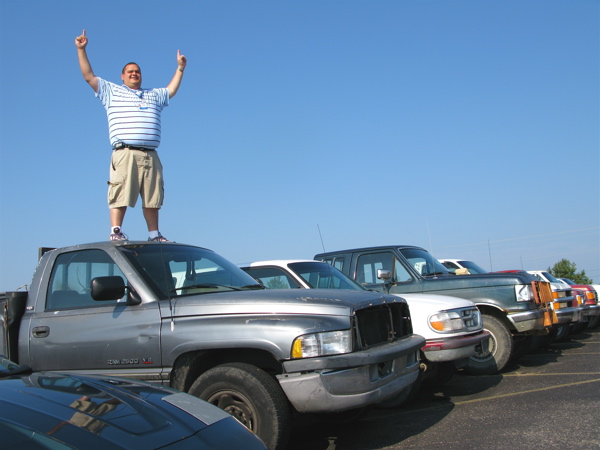 "See, there is no reason why I shouldn't have a full line of new cars parked here," sales manager Joe Domino explains, pointing out an open void in the lot of Anderson Ford in St. Joseph, Missouri. From Joe's perspective, the biggest problem encountered as a result of the much-maligned Cash-for-Clunkers program has been a run on inventory, which has him concerned there won't be enough new cars available to meet the trade-in demand when Congress approves an additional $2 billion infusion of money. Considering the crisis mentality the recession has sparked in the automotive industry, a fear of not having enough available stock to meet consumer demand seems a curious and welcome new problem.
Behind the wheel of a massive white Ford Expedition, Joe takes me on a slow driving tour of the lot, showing me how they've widely spaced the cars and trucks to fill up empty space. "Three weeks ago, I had 38 Ford Focus. Now there's five left. And an Escape? You can't get an Escape to save your life."
Then Joe steers the Expedition around behind the dealership to show me the nearly-final resting place for a couple dozen older trucks--mostly Ford F-150s and Dodge RAMs--plus a scattering of Jeep Cherokees, various mini-vans, and one particularly trashed Bronco. The dealership can't send the junked cars off to the salvage yard until they receive the government's reimbursement for the trade-in deal, so the population of "clunker graveyard" overflows around the side of the building.
For eight years Joe has worked for Anderson Auto Group, a cluster of three separate dealerships--Kia, Suzuki, and Ford/Lincoln/Mercury--which overall boasts the largest new car sales volume in a region that includes Kansas City dealerships. For years, the monthly sales for Anderson Auto would average between 225 and 275. From March through June this year--a seasonal period when new car sales typically start to increase--Anderson was only moving 170 to 180 per month. For July, they're back up to 240, with almost 40 of those being qualified trades under the Cash-for-Clunkers program.
Joe says people started coming in to the Anderson dealerships asking about the program soon after it was announced on July 1. In an effort to lock-in the possible sales, Anderson sales reps offered customers the option to put down a deposit to reserve their respective new cars, which they could pick up once the program went live. Only a handful of customers chose that option, with most returning in a flood of business after July 27. Since the program funding was depleted by an unexpectedly overwhelming response nationwide, Anderson has reverted to that contingency arrangement as they await word of Congressional approval for an additional $2 billion funding--a vote widely expected to pass the Senate, possibly as early as today.
Dexter Belvins, the anointed "clunker man" at Anderson Auto, has had direct hands-on experience dealing with technical problems created by massive demand for the program. When he's trying to file the necessary paperwork on the cars.gov site, he ends up spending significant time staring at his computer screen, waiting for the taxed servers to spit back a "website timeout" message. "When the website first started, I couldn't even log-in," he says.  He finds that it gets easier to use the website when the traffic eases after midnight.
So far he has filed paperwork on about $140,000 worth of new sales, and has about $50,000 to process whenever he can find a good time for cars.gov. He hasn't received any confirmation indicating their trades have been officially approved, but expects it might take the government some time to wade through the deluge of filings. "The paperwork has been a hassle," Dexter says, "but this is a good problem to have." With all the new business coming in, he says, "I really believe they're going to hire new people to catch up."
Dexter doesn't have much tolerance for those who might criticize the program as a waste of taxpayer money: "This is my tax money and it is helping my industry," he argues.
Aside from a "show-me-the-money" complaint by one sales manager, the only strong criticism of the Cash-for-Clunkers program I hear while hanging out at the Ford dealership comes from Joe's cousin, Billy Couch, who runs a used car lot that usually draws its inventory from the trade-ins at Anderson Auto. Since the program requires the "clunkers" to be turned into scrap, Billy is running out of used cars to sell. "Look, I could sell that one," he complains, pointing to a reasonably solid Expedition parked in the clunker graveyard.
I tell Billy I would be concerned that a flood of clunkers could drop the bottom out of the used car market anyway, causing him a different host of problems. However, I can't help agreeing that some in the clunker graveyard could be put to a use more valuable than scrap metal.
The Expedition makes me think about Rebecca Polston in Great Falls, South Carolina, who has been driving her mother-in-law's car to work ever since her family's primary means of transport suffered a break down too expensive to repair right now. Rebecca could fit her husband, three small kids, and spare "adopted" son in that Expedition.
Kenneth Gregg in Oklahoma has been borrowing his grandmother's car while he continues to pay off the one he totaled during his desperate move away from Florida. After a long period of unemployment, he may only need six months to get himself in position to buy his own car, but a clunker could be a helpful bridge in the meantime.
Still, despite problems, the Cash-for-Clunkers program has served its purpose as a stimulus for the automotive industry. For the month of July, Ford posted its first sales increase since 2007. Joe says the Ford plant in Kansas City, which has suffered typical cutbacks and temporary suspensions of production over the past couple of years, just ramped up their output 42% in recent weeks.
If the new Escapes coming off that assembly line can arrive at Anderson Ford in St. Joseph before Cash-for-Clunkers gets back into action, Joe Domino will be a very happy man.