Where Unemployment is Worse than Expected
The impacts of the economic crisis continue to be felt unevenly across the country. I've previously looked at the factors associated with higher rates of regional unemployment. But which places have seen the biggest jumps in unemployment since the crisis hit?
To get at this, my colleague Charlotta Mellander conducted a straightforward statistical exercise called a "residual analysis." It's a simple way to track how a location performs relative to the performance of all other locations. Basically, the analysis examines to what extent the initial unemployment rate in May 2008 seems to have had an impact on the change in unemployment over the last year. Technically speaking,  Mellander ran a regression analysis predicting change in unemployment over this last year (May 2008 to May 2009) as a function of the initial level of unemployment at the beginning of the period (May 2008). She then compared the predicted values to the actual values.
The first graph shows the pattern for U.S. states.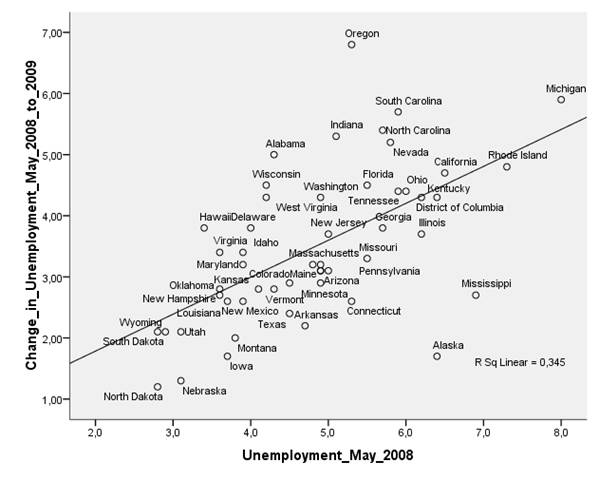 The hardest hit states are ones that were doing badly even before the crisis hit. The fitted line is steep; the correlation between the two is 0.59 and significant; and the R2, 0.345. States below the line experienced a smaller than predicted increase in unemployment levels, while those above the line saw a larger than predicted increase.
Michigan has the highest unemployment rate, but Oregon (+3.0) has taken the biggest relative hit. Alabama (+1.8), Indiana (+1.6), South Carolina (+1.6), and Wisconsin (+1.4) have also taken bigger than expected hits. North Dakota has the lowest rate of unemployment but Alaska (-2.8), Mississippi (-2.1), Arkansas (-1.2), Connecticut (-1.2), Iowa (-1.1), and Nebraska (-1.2) have done better than expected.
The second graph repeats the analysis for U.S. metropolitan regions. It excludes two extreme outliers in California - Yuma and El Centro - which started the period with 20 percent plus rates of unemployment.
The hardest hit metros are also those that were doing badly before the crisis. The fitted line is again steep; the correlation coefficient is high, 0.59; and the R2, 0.351.
The crisis has hit hardest at smaller Rustbelt metros, especially those in Indiana: Elkhart-Goshen, IN; (+7.3); Kokomo, IN (+7.2); Decatur, GA (+3.2); Sheboygan, WI (+2.7); Fort Wayne, IN  (+2.3); and Youngstown, OH (+2.2).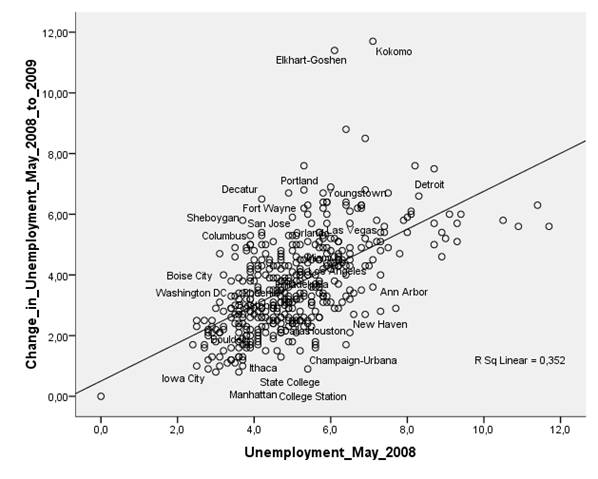 While Detroit has faced staggering unemployment, the difference between its actual and predicted unemployment is +1.6. Among large metros, Portland (+3.1), Charlotte (+2.2), and, San Jose (+1.9) experienced even bigger than expected increases in unemployment. Las Vegas (1.5), Boise (1.29), and Orlando (+1.29) have also been hard hit. San Francisco (+.93), Miami (+.49), L.A., Chicago (+.31), Atlanta, and San Diego (+.21) also performed worse than their May 2008 unemployment levels predicted.
Several Oregon metros took worse than expected hits: Bend-(+4.6), Eugene-Springfield (+3.8), Portland (+3.0), Salem (+2.5), Medford (+2.4), Corvallis(+1.9). Metros that border Oregon like Spokane, Washington (+0.8) and Boise, Idaho (+1.3) also have high differentials.
Three Texas cities - Dallas (-1.0), Houston (-0.9), and Austin (-1.0) - performed considerably better than expected. Minneapolis-St. Paul (-0.4) did too. Cities along the Bos-Wash mega-region - Boston (-0.4), D.C. (-0.3), New York (-0.1), and even Philadelphia (-0.3) - also did better than predicted. Surprisingly, Phoenix also outperformed expectations (-.2), albeit modestly.
College towns number among the best performers, doing much better than predicted: Champaign-Urbana, Illinois, home to University of Illinois (-2.2); Iowa City, University of Iowa (-1.81); Manhattan Kansas, Kansas State University (-1.82); College Station, Texas, Texas A&M (-1.74); New Haven, Connecticut, Yale University (-1.54); State College, Pennsylvania, Penn State University (-1.47); Boulder, Colorado, University of Colorado (-.93); Austin, Texas, University of Texas (-1.0); Ann Arbor, Michigan, University of Michigan (-.94); and Ithaca, New York, Cornell University (-.97), among others.