The New Geography of American Innovation
The past couple of days, I've looked at the trends in overall patents and nationality of inventor. Today I turn to the regional distribution of innovation across U.S. regions.
It's well-known that high-tech industries are concentrated and clustered in areas like Silicon Valley, Greater Boston, Seattle, Austin, and North Carolina's Research Triangle. Paul Krugman won a Nobel Prize for his pioneering work on the relationships between urbanization, trade, and economies of scale. And Michael Porter has shown how and why innovative firms cluster.
The graph below, compiled by Scott Pennington of the Martin Prosperity Institute, shows patent trends from 1976 to 2007 for the top 10 U.S. regions. The graph identifies a clear shift in the geography of patenting.

The level of innovation has fallen off considerably in older industrial regions like Pittsburgh and Detroit. It has also fallen off in Sunbelt regions like Dallas with a large presence in computers and communications and Houston with its strong concentration of resource and energy industries.

On the other hand, innovation has increased substantially in high-tech regions like Silicon Valley, San Francisco, and Seattle and also in Los Angeles.

Two other large regions - New York and Chicago - more or less conform to Mandel's thesis: Both saw dramatic growth in the late 1990s followed by precipitous drops in the 2000s which erased those gains.

Overall, American innovation has become more geographically concentrated and spikier.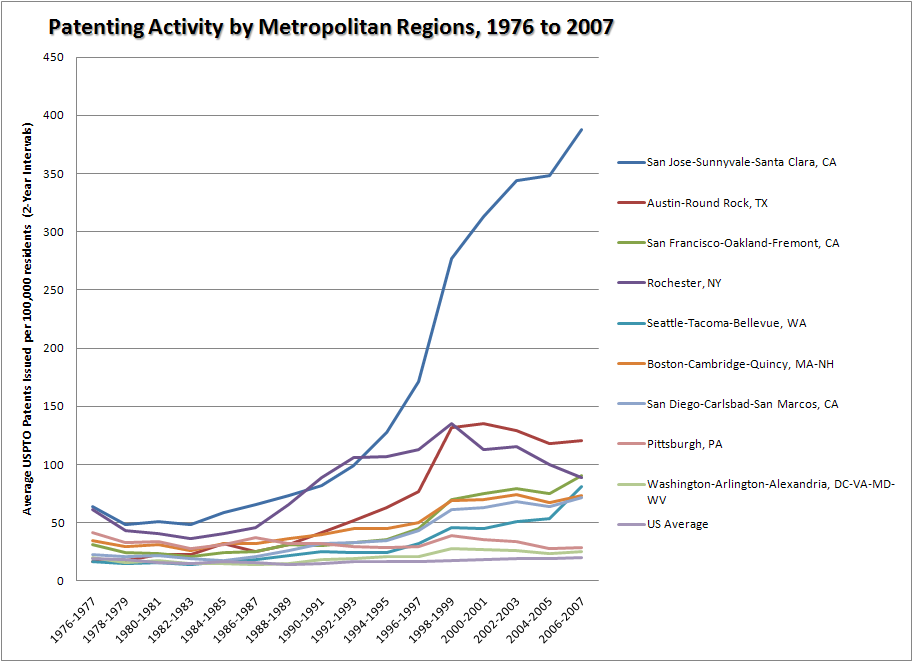 The decline of industrial regions as centers of invention reinforces the point made by Henry Ergas two decades ago: The U.S. innovation system is skewed heavily toward "shifting" (the creation of new breakthrough technologies and products) and away from "deepening" (the application of new inventions and technologies to the continuous, incremental upgrading of older industries). The decline of GM and Chrysler - and in particular the latter's acquisition by Fiat to gain access to new technology - stand as testimony to that.

The decline of innovation and commercialization in older industrial regions means that in certain key areas of technology, the U.S. has essentially ceded the potential to develop new industrial goods and consumer products to other countries - from established competitors Germany and Japan to emerging ones like India and China - which possess the industrial infrastructures to embed them in commercial products.