Real Recession Roadtripping: Seeking the El Dorado of Employment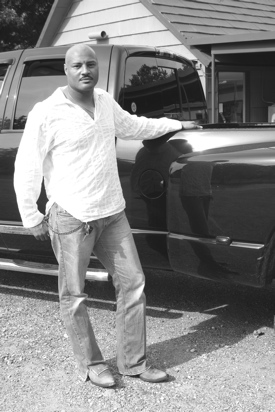 Antony Roger Ellington III began his own kind of recession roadtrip last night. With a two-week route planned through Arkansas, Tennessee, Kentucky, Georgia, Mississippi, and Louisiana, Antony hopes somewhere, someone will have a job for him. His pride suffering from three months of unemployment, he doesn't much care where he ends up living, as long as there is work to be done.
"Vegas pretty much shut down three months ago," Antony says, explaining how the recession had hit his own life. "It's like it went from feast to famine overnight."
For a man who has run through all his savings and is struggling to pay bills after three months of unemployment, Antony's outward appearance belies the depression he admits he can't shake. Impeccably dressed and groomed for his current full-time occupation of making rounds and putting in applications, he smiles and cracks jokes constantly. When I ask how he can stay so cheerful under the circumstances, he describes it as a mask he is wearing for my benefit.
Antony has worked as a unionized electrician for 18 years, with four as an apprentice and the rest as a journeyman. He has always been what they call a "traveler"--a professional nomad ready to move for the next big job. Six months in one city, maybe two years in another, never before more than a four-week break between gigs: "I've always gone wherever the work is. Right now the work is nowhere."
On all the big construction projects he has worked before, Antony would know it was time to start planning for his next gig as the site neared completion. But this time, the $3 billion Fountainbleu Resort in Las Vegas had to suddenly halt construction when a banking consortium withdrew $800 million in financing.
"We all saw the economy was tanking, but the boss kept saying everything was fine. He said I'd probably be on the job for two more years." But then one morning three months ago, the boss announced everyone could go home. They wouldn't be finishing this job.
In fact, five multi-billion construction projects in Vegas ceased building almost simultaneously. For the first time in his career, Antony heard the "There are no jobs available at this time" automated message when he called the employment hotline of the local chapter of the International Brotherhood of Electrical Workers (IBEW). Vegas has always been like a gold mine of jobs for anyone working in a construction-related field, but the recession staunched that long-running prosperity.
With no immediate prospects, Antony decided to relocate to the Dallas-area so he could at least spend the downtime with his two precious daughters. Over the past two-and-a-half months, Antony figures he has been averaging about ten job applications per day in Texas, and has already taken one futile job hunt tour through Arizona, New Mexico, Utah, Colorado, and Oklahoma.
Across the country, he says, only about 20% of the IBEW's 785,000 members are currently employed--a reality that makes it difficult to be optimistic his two-week job hunt tour through the Southeast will have a happy ending. Regardless, his pride and ego would not allow him to give up.
"I can't go around crying. I can't give up. Can't give up. Absolutely can't give up. Can't get frustrated because I've got to get motivated. In my life, I've gone a long way through a lot of things. I have to believe this will only make me tougher. I'm too proud to give up. And my ego is too big to settle for nothing."
So for the next two weeks he will be sleeping in the cab of his Dodge Ram, or crashing with his IBEW "brothers", as he makes a circuit through six states on a hunt for work. With jobs so scarce, he has to be in a position to show up at a site immediately after something is announced. Antony calls the IBEW job hotline in Las Vegas to help me understand.
The automated system actually has a few job listings today--for the 800+ unemployed union electricians registered in Vegas. The recorded voice on the phone lists requirements for the available position, then advises qualified individuals to show up at X location by 8 am the next morning to apply. "The early bird gets the job," Antony says. Under the current conditions, most jobs would be gone by 8:15.
Antony has tried applying for positions with non-union contractors, but those bosses don't want to hire a potential agitator--someone who might stir up other employees to lobby for higher work standards and tighter labor controls.
In his mind, the worst-case scenario for his future would involve having to take a brain dead job that requires no particular skill or intellectual challenge, though he has been researching a possible change of professions. Antony was always interested in nursing, particularly now that the medical field appears one of the few that isn't bleeding jobs. He recently put in an application at the Dallas Community College for their one-year nursing program. He can't assume they will accept him, but he can hope.
For now, Antony will keep the wheels of his black Dodge Ram treading the highways of America, searching for that El Dorado of employment. "The last thing in Pandora's box was hope," he reminds me. "Chaos and mayhem ran away. If you ain't got hope, you got nothing else."