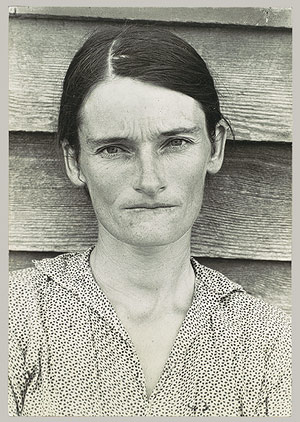 "I had a good momma and daddy," Dottie tells me, referring to those better known to a wider world as George and Annie Mae Gudger, heads of one sharecropping family profiled in the American classic Let Us Now Praise Famous Men by James Agee, with iconic photos by Walker Evans--such as this one of Dottie's mother. "We didn't have much, but what we had was made honest. I know people today couldn't work like they did."
Contemplating Agee's description of the work ethic required from the beloved subjects of his book, simply for their survival, I have to agree with her.
"It is for the clothing, and for the food, and for the shelter, by these to sustain their lives, that they work. Into this work and need, their minds, their spirits, and their strength are so steadily and intensely drawn that during such time as they are not at work, life exists for them scarcely more clearly or in more variance and seizure and appetite than it does for the more simply organized among the animals and for the plants."
With brain rot induced by MTV, an allure to laziness engendered by love of video games, ambition driven by materialist trappings, acceptance of a yoke of debt in exchange for a sleek car, over-priced shoes, designer clothes, or a TV screen bigger and flatter than the rough wooden table the Gudger family would have crowded around to take the sustenance needed to give them strength to work, in order to earn to earn more sustenance, today's younger generations have yet to grapple with how bad the economy really could get. "If the recession got as bad as the Great Depression, I really think these kids today might starve. They never had to learn how to work hard," Dottie says.