Living for Loaves and Fishes in Biloxi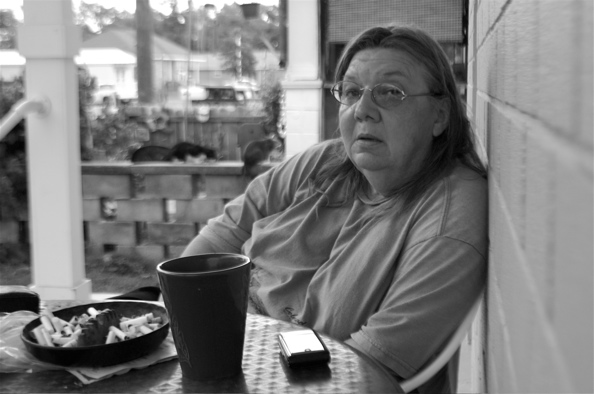 Over the many hours I spend listening to the triumphs and tragedies of Rita Baldwin's epic life, Kurt Vonnegut interjects his own commentary into my inner-monologue. "Smoking is a fairly sure, fairly honorable form of suicide," he reminds me every time the flick of Rita's orange Bic launches its feeble flame toward the business end of yet another 305 cigarette.
To lose custody of her children, to have a nervous breakdown, to end up homeless for a year--living in the woods under a roof of visqueen plastic sheeting and duct tape--a decade ago life was only a hardship she had to endure and overcome. And she did.
To nearly drown in the deluge of Katrina, to lose friends to the storm's fury, to end up living in an emergency shelter--home demolished, possessions destroyed--four years ago life became only trauma from which she had to heal. And she did.
More recently, the recession has been hitting the operating budget of Loaves and Fishes, the downtown Biloxi soup kitchen that fed her when she was homeless and later gave her a job. Now the executive director, Rita jokes that the loss of funding that has reduced her own income might force her onto the streets again.
The director of a soup kitchen relying on its free meals for her own survival--the irony would be hilarious, if the prospect wasn't uncomfortably real. "I'm laughing because I just don't know what else to do," she chuckles, while pinching off the filter of another 305 and tossing it onto a growing pile in the ashtray.
But Rita brushes off any concern for her own welfare. For a woman of such gentle heart and generous spirit, what really pains her is to have the grants and donations to Loaves and Fishes dropping at a time when increasing numbers flock to her for help. "That's what depresses me. So many people depending on Miss Rita and there's only so much I can do. Now people have so many needs, and they think I can work my magic. But we're incapable of meeting all the needs and we all feel just powerless. And there's just more and more and more coming for help."
Loaves and Fishes serves about 6,000 meals every month, a 10-15% increase from last year. Until recently, they also provided social services for the homeless, financed by a $25,000 "Build Back the Coast" grant from the Gulf Coast Foundation. The social service offerings ended after the foundation did not renew that grant in April. For the kitchen's primary mission of feeding the hungry, this year's operating budget was pinched by non-renewal of about $37,000 in grants, a sharp decline in contributions from local churches and individuals, and a 30% decrease in funding from the cash-strapped Biloxi government. A few months ago, Rita lost the part of her own income that came from working case management assisting the homeless, and her staffers had to cut their paid hours to reduce the budget. They undertook every conceivable cost-saving measure, but it still wasn't enough.
By May, Rita had recognized that the loss of financing could force the kitchen to close after 26 years of serving Biloxi's hungry. Determined not to allow that to happen on her watch, she composed an appeal for help and sent it off to every person and organization in her Rolodex. The letter-writing campaign worked. Checks started arriving in the mail and the Biloxi Sun-Herald wrote a story about their financial crisis, thus amplifying Rita's appeal and generating another round of donations.
From $5 in cash to the whopper of a check for $5,000 from a donor who wished to stay anonymous, Loaves and Fishes had been given a $13,000 lifeline of financial support within a matter of weeks. With monthly operating expenses running at about $11,000, the inflow buys them some time, though the long-term outlook remains murky. The strain of these circumstances bubble to the surface during the quarterly board of directors meeting I attend.
When I park in front of the tan painted-brick building on Main Street, plywood nailed over the upstairs windows and bars securing the first-floor ones make me wonder if the kitchen had moved. But the non-descript gray metal door opens to reveal a room packed with people. Colorful scrap quilts cover the dingy white walls, framing rows of cafeteria tables where dozens sit eating from styrofoam plates piled with peas, carrots, lasagna, and salad.
Those with the puffy eyes and weathered skin betraying a history of alcoholism and chronic homelessness cluster in small groups engaged in lively conversation, feeling perfectly at home in the Loaves and Fishes dining room, barely noticing the intrusion of an outsider arriving with notebook in hand. But a scattering of individuals who look just a little less disheveled and much less hardened watch attentively as I enter. I catch their stares just long enough to feel the weight of their shame and desperation before they drop their heads to focus weary eyes on the plates of food in front of them. They eat quickly and leave, while others stay to socialize in the cool air conditioning.
As those served by Loaves and Fishes depart, and the members of the board supporting its operations arrive, the infusion of kindness and geniality in the room degenerates into an air of bitterness and strain. Things are said. Feelings are hurt. Most of the meeting gets wrapped up in "clearing the air," rather than discussion of a productive way forward for the kitchen.
One after another the board members come up to apologize after the meetings draws to a close with a solemn recitation of the Lord's Prayer. "No need to apologize," I tell them. "Times are tough and everyone is feeling it." After a month on the road, I have seen financial strain of the recession spreading a corrosive infection of stress through marriages, friendships, business partnerships, and non-profit relationships.
Since smoking is banned from Loaves and Fishes, a visibly-agitated Rita wants to escape the building as quickly as possible, and invites me to come home with her. Sitting on the front porch of her freshly-painted little house in East Biloxi, she begins--as I've noticed many people along the Gulf Coast do--by telling me her story of "the storm."  Along the coast, the collective memory tends to recall only the one--that vicious wench called Katrina.
Where houses used to stand packed closely together along her street, now empty lots mark the scars of homes lost overnight. Rita points to a trailer occupying the space where she used to live in a house knocked off its foundation during the storm and later demolished.
It was too late to evacuate by the time Rita and her two friends realized Katrina wasn't a false alarm like all the previous hurricane warnings that season. She remembers seeing the water beginning to seep up through the heating grate and floorboards. She remembers thinking she was going to die as the flood in her living room became waist-deep within a matter of minutes. She remembers feeling trapped, pushing against the door to escape as deeper water pushed back from outside. She remembers the howling wind ripping off a portico above the door, and seeing the rain turn into a shower of glass and twisted metal. Then, as if the hand of God had held them inside until a better time for safe passage, the door gave way and they were outside. She remembers the water coming up at her as the escapees tried to make their way down the stairs. Then, nothing.
Her friends told her later that she wouldn't stop yelling and flailing as they pulled her through the churning water, but she doesn't have any memory of their struggle to reach higher ground. When she came back into herself, they were huddled on the steps of a nearby apartment building.
The experience "changed me totally," she says. "I don't even feel like the same person I was before." Anger plagued her for two years. Fear and anxiety were her most loyal companions. She could see the water every time she closed her eyes. Her homebody tendencies began trending toward the agoraphobic end of the spectrum. Eventually, temporal distance from that night of trauma started to soften Rita's terrifying memory of it.
As her city, state, and soul began to recover, however, economic turmoil unleashed on the wider world rained a new chapter of hardship on Biloxi. In addition to the local economic slowdown, unemployed people from other cities and states started arriving in town. "We're barely able to take care of the people we have here, and more people just keep coming," Rita says. "People think there's work here because of the new re-built casinos and the reconstruction, but there's really nothing."  When they realize there is nothing, they end up in Rita's orbit, overwhelming her with pleas for help she can't ignore.
"After Katrina, I couldn't shake the feeling of hopelessness. It started to get better for a little while. I started to feel empathy for people again. But now it's like I've lost hope again. I feel like everybody wants something from me. I'm hardly ever not depressed. I don't have all my own ducks in a row, so how can I really help anyone else?"
Rita works at least full-time hours at a job that earns her a take home pay of about $850 a month, with no benefits. Like nearly 50 million other Americans, she lacks the luxury of insurance, which means recent health crises have left her about $60,000 in debt to doctors and hospitals.
With a BS in Social Work, a Master's in Adult Education, and extensive work experience, Rita could qualify for a cushier job, but leaving Loaves and Fishes would make her feel like she was abandoning those who need her most during an era of the most widespread desperation she has witnessed in her 58 years. Post-Katrina was a crisis of extraordinary magnitude, but with outside assistance pouring in, the forward outlook did not feel as bleak as it does now. "They're my family," she says of the people Loaves and Fishes feeds, explaining why she could never leave them. "It's like I've become godmother to the homeless of Biloxi."
To remind herself of what happens when people abandon the homeless, she keeps an urn on her desk holding the ashes of a friend killed by Katrina. Ralph Madison was a homeless man left behind as the mission he was staying in evacuated ahead of the storm. Six men hunkered down in the tiny Seashore mission building drowned as the monstrous storm surge washed over the coast.
For the memory of Ralph, and for the sake of the increasing numbers of hungry coming through the doors of Loaves and Fishes, Rita will keep fighting to keep the kitchen going. Though each morning may feel like a greater challenge to pull herself from bed, and she may lean a little harder on her walking cane, become winded more easily, pop ibuprofen like candy to ward off the joint pain and excruciating headaches that have set in, Rita wouldn't even consider giving up on her adopted family.
Her physician has advised that she quit her job and go on disability, but in Rita's mind, whatever she chose to do would lead to equally dismal outcomes. "I seem to have two options," she explains. "One, I can keep working, and die. Or two, I can file for disability and go homeless, which is the same as dying. So it's die or die, and to be honest with you, right now I can't honestly say I care which one."
"It's not like being tired; it's like being bone weary. And I think the whole US is feeling it." The notion that this is a historic time of common struggle gives Rita some comfort. She has come back from nothing already two times in her life, and she is digging deep for the strength to do it again. The only thing you can do, she explains, is "pick yourself up by your bootstraps and you just keep going. One small step at a time."
In the context of Rita's life, that means continuing to apply for grants, appeal for donations, and brainstorm for fundraising ideas to keep Loaves and Fishes supplying nourishment to those who depend on the kitchen for their own survival--until her own health forces her to stop helping others.
The Knight Foundation is currently offering Loaves and Fishes a challenge grant. For the next month, the foundation will double any donations the soup kitchen receives, up to a cap of $10,000 in matching funds. To contribute, send a check to Loaves and Fishes, PO Box 233, Biloxi, MS 39522 or click through SoulDetective.com to donate via PayPal.