Life After Layoffs: First a Move, Later the Military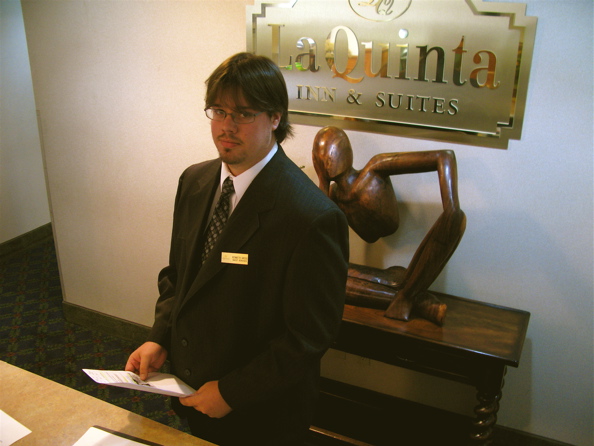 "I did not want to go to the unemployment office to get money that way. My pride had a lot to do with it. Going to the unemployment office would have been like rock bottom for me," Kenneth Gregg explains. "I was getting close, but instead I chose to move away and keep looking for work."

Until two months ago, 24-year-old Kenneth lived in St. Augustine, Florida. Last October, he was laid off from a small engineering firm that designed computer programs used to operate sewage systems. Like more fallout resulting from the real estate bust I chronicled during my stay in Florida, Kenneth's former employers faced a screeching halt in new business when developers stopped building.
Kenneth says that for six months, "I put in applications everywhere." But he got no reward for the relentless effort. He depleted his savings account and started racking up credit card debt--all so he wouldn't have to face the defeat applying for government assistance represents to him.
Accepting the idea that he was doomed to long-term unemployment under the circumstances of Florida's crippled job market, Kenneth decided to move. He'd been in Florida most of his life, but had spent a couple of extended stints in Oklahoma--home to his mother, grandparents, and other family. Kenneth thought maybe he'd have better luck finding a job there, and knew he could live with his grandparents while working off his growing debt.
Oklahoma boasts one of the lowest unemployment rates in the country (6.5%), while Florida has one of the highest (10.8%). Unlike the exodus from Oklahoma that occurred during the Great Depression, the current strength of the state's economy seems to be drawing immigrant Okies. The state tax commission does not calculate statistics on the number of people from out-of-state registering cars or getting licenses in Oklahoma, but a tag agency representative in Tulsa told me it certainly seems like there has been an influx in first-time registrars this year.
Relocation felt like a positive step for Kenneth--until he wrecked his car during the move. Driving in tandem with his younger brother, who had volunteered to help with the move, Kenneth was trying to keep pace with the speed demon when he instead ended up in a ditch "maybe somewhere in Alabama." He was uninjured, but the car was clearly totaled. Only afterwards did he learn that his father had dropped him from the family insurance plan. So Kenneth still has a year of payments to make on a twisted hulk of rusting metal sitting in a junkyard somewhere.
But Kenneth says he believes "worrying doesn't accomplish anything." So he tossed everything that wasn't trashed by the wreck into the back of his brother's truck and the two kept going.
During the drive, Kenneth's brother talked to him about joining the military. The 21-year-old had enlisted soon after high school and is now a Riverine in the Navy. He has loved his job manning radios in small boats patrolling inland waterways in Iraq.
"I'm not a huge supporter of the military," Kenneth admits. "But for the job security and to get some money for college, right now it sounds like a good deal."
Kenneth went to visit a military recruitment office within a couple of days of arriving in Oklahoma. He was ready to sign up and ship out immediately, until he realized that wasn't possible. The recession has ballooned the ranks of new enlistees so much, the recruiter told him that he probably wouldn't get into boot camp for at least seven or eight months. Unsure what other opportunities might arise in the near future, Kenneth decided to wait before officially committing himself to the military.
Focusing instead on the conventional job hunt, within two weeks Kenneth had landed a position working the desk at a La Quinta in Muskogee. It may not be his dream job, but he enjoys it well enough. He could be doing much worse for a steady paycheck.
Kenneth still has plans to join the Navy--maybe in a year when the wait list for boot camp isn't so long, and the chances he could be deployed to Iraq have diminished. "I don't believe it's our responsibility to fix the world," he admits, but the job security and college money are too enticing to ignore.
So he has been working out to get in better physical shape for recruit training, letting his hair grow long before he has to shave it down to military standards, and studying to prepare for the Armed Services Vocational Aptitude Battery (ASVAB). "I want to get a high score so I can get a land-based job in technology," he says.
Kenneth thinks a specialized expertise would help keep him away from any war zone, so I have ask what he would do if the military deployed him to Iraq. "It would probably put my beliefs to the test," he says. "But that's where I'm at right now."