Just Not Ready to Retire Yet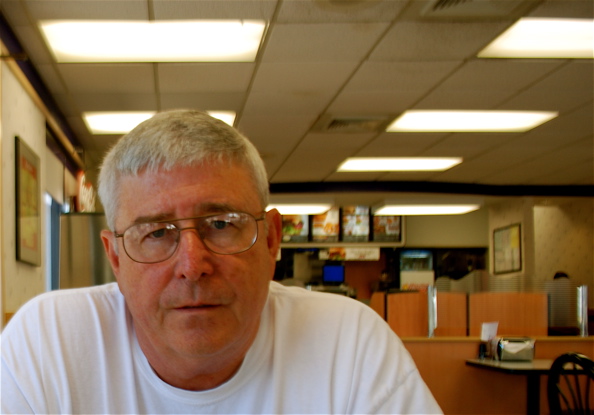 "I'm accepting that I have to start collecting Social Security. But once you start, it's all over. Like your life's over," recently unemployed 63-year-old Billy Kennedy tells me in his trademark taciturn gruffness. Equating retirement with a first step in the inexorable descent toward the grave, Billy refuses to go without a fight. "I'm just not ready to stop. Not ready to sit still," he explains.


The call that marked a turning point in Billy's life came just before 2 am on May 7, 2008. A shrill ring jolted him out of the comfort of his bed in Thomasville, Alabama. Any somnolent dregs clinging to his consciousness vanished as the voice on the other end told him the Louisiana Pacific mill was burning. The accounting manager of the Louisiana Pacific mill, Billy led a second life as the unpaid administrative chief for the Thomasville Volunteer Fire Department. His only thought as he pulled on his shoes: "Gotta go! That's my job."
Billy started working for Louisiana Pacific in September 2005 soon after North America's largest building materials manufacturer selected Thomasville as the site for a new oriented-strand board mill. In March 2008, two-and-a-half years and $250 million of planning and building later, the mill officially launched operations with much fanfare. It was just getting up to full production speed two months later when an oil tank ruptured, causing an explosion and massive fire.
As Billy raced along the route of his daily commute, the glow of flames lit the horizon like a beacon of destruction. Closer to the scene, he could see oil spewing from a tank and raining down on the inferno--literally adding more fuel to the fire. More than thirty volunteer firemen from Thomasville, and nearby departments in Grove Hill and Fulton, battled the raging blaze through the night. Filthy and exhausted, the men won the battle just in time to watch the sun rise over a smoldering wreck of the brand new mill.
Billy managed the paperwork, insurance filings, and bill paying for Louisiana Pacific to repair the $4 million worth of damage over the next six months. As the mill was re-built, the national economy tanked, and Billy began to have a gnawing feeling about his own job security. If the housing bubble had burst and new construction had come to a standstill, it didn't seem like there would be much demand for the product his mill would produce.
Those instincts proved unfortunately prescient. That Fall, just before it was scheduled to resume operations, Louisiana Pacific announced that the mill would not re-open until the market recovered. One hundred and thirty-eight employees were laid off until further notice. "I'm just lucky I'd already bought my football tickets," he says, a rare flash of mirth crossing his face as he tells me about Auburn, where he and his wife both attended college.
Billy stayed on at Louisiana Pacific longer than most to finalize the bookkeeping, winding up his last day on January 12. "Retirement came early," he says with a shrug. "But I'm just not ready to stay home and retire yet."
So far, the recession hasn't given him much choice. With the county running an unemployment rate around 14%, what few jobs come available go to the younger generations. As his six months of unemployment benefits neared the end, Billy finally faced the inevitable and filed for early retirement with Social Security. He expects his first check anyday.
Rumors regularly circulate that Louisiana Pacific may be thinking of re-starting the mill, but Billy doesn't listen to them. He's too busy looking ahead to think about glancing back. "If I could sell my house, we'd move in a minute," he says.
Though he grew up in a town about 10 miles to the north, and has lived in Thomasville for 30 years, Billy seeks a clean break from the area he has called home his whole life. "My folks are dead. My wife's folks are dead. My kids have moved away. Right now there's nothing to keep me tied down here. Only thing I'd miss would be the fellowship of the volunteer fire department and the church here. But I could find that another place."
Specifically, he would like to move to the Opelika area, closer to his beloved Auburn and one of his children. He has even been doing some looking for part-time employment during his visits there. Under the terms of Social Security, he can have part-time employment, as long as it doesn't earn him more than $14,000 a year.
Billy doesn't care too much what kind of job he might get--clearing carts from the Wal-Mart parking lot would be just fine. There are few tasks he would consider beneath him, as long as it kept him busy. "I ain't looking to get rich. I'm just looking to keep going."