Housing and the Crisis, Part I
Housing prices continue to fall nationally but the economic impacts of the crisis are being felt unevenly across the country. Housing values are off roughly a third from their peak in mid-2006, according to the Case-Shiller Home Price Index. Phoenix and Las Vegas have taken the biggest hits, suffering declines of more than 50 percent in the past year. Miami, San Diego, L.A., and Tampa have also been hard hit. Detroit has seen housing prices sink to mid-90s levels. Housing prices have declined less significantly in greater D.C., Chicago, Seattle, Atlanta, New York, Portland, Boston, Denver, Dallas, and Charlotte. But the Case-Shiller data only covers 20 large metro regions.
This week, I take a look at how housing prices have fared across the full set of more than 300 American metropolitan areas. The posts are based on statistical analysis by my colleague Charlotta Mellander. Today and tomorrow, I'll look at how housing prices have fared since their 2006 peak. Later in the week, I'll look at the relationship between housing prices and incomes and wages.

The graph below compares housing prices in 2009 to their 2006 baseline price. It's based on "residual analysis," comparing the change in housing prices between 2006 and 2009.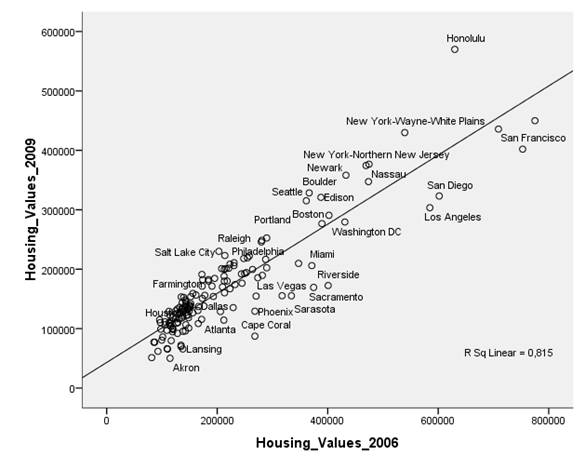 Clearly, the two are related - the correlation is 0.903 and the R2 is 0.815. But the slope of the fitted line suggests that, on average, housing values in these regions have dropped by approximately 15 percent. Metros above the line have lost less value than their 2006 worth would predict, while those below the line have lost more.
Under-performers: These are regions where housing values have slipped even more than predicted. Among large metros, the under-performers include: Los Angeles (where values are off $79,789 more than expected based on the national trend), San Francisco (-$79,029), Las Vegas ($-72,421), Phoenix (-$69,897), and Miami (-$53,021). Cape Coral, FL saw the biggest relative decline (- $111,797), followed by Riverside, CA (-$103,683), Sacramento, CA (-$91,640), and Sarasota, FL (-$82,353). Akron, OH (-$59,635) and Lansing, MI (-$57,574) also saw significant declines. Housing values were down slightly more than would have been expected in Atlanta (-$27,413), Chicago (-$16,580), and greater D.C. (-$14,411). 2009 data for Detroit were not available.
Over-performers: The analysis turned up a number of over-performing regions. By that I mean regions with housing values performed better than expected relative to the national trend. Over-performers include: Honolulu (where housing values remain $160,414 more than expected), Boulder ($72,172), Salt Lake City ($68,935), Seattle ($61,997), New York ($58,407), Raleigh, NC ($57,552), Portland, OR ($42,173), Baltimore ($39,896), Austin ($38,181), Philadelphia ($29,011), Boston ($13,644), Houston ($8,693), and Dallas ($5,661).
Stay tuned for more tomorrow.