Even the Recession Can Create Winners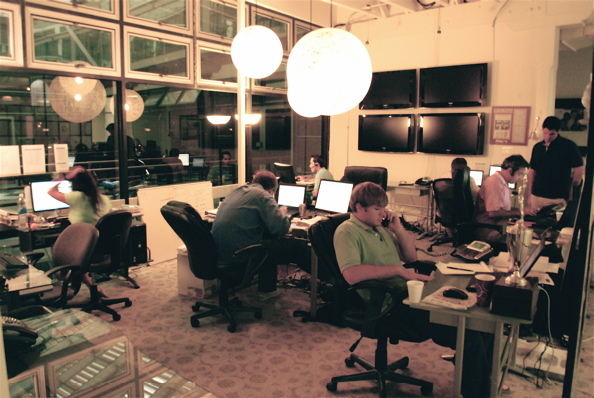 Persistently ringing phones and a steady chatter of authoritative voices float over an opaque glass partition delineating the semi-exclusive domain of the sales department of The Receivables Exchange (TRE). During a time when daily headlines have announced increasing numbers of layoffs and business closures, the New Orleans-based start-up has launched, flourished, and hired more employees.

With an innovative business model designed to assist small and mid-sized businesses in need of immediate cash flow, the economic downturn nationwide has actually worked to the benefit of TRE. Developing news this week concerning the possible bankruptcy of CIT Group, one of the largest commercial financing companies in the United States, has TRE poised to step in and assist the businesses that could be faced with severe liquidity crises if their usual go-to lender fails.
TRE's modus operandi resembles traditional receivables financing, but with a modern twist borne of the age of Internet. They have created the hub of an online marketplace for business-to-business auctions of invoices--kind of like an Ebay selling only accounts receivable.
My own mind has limited facility for knowledge about business and finance, but Laurie Azzano, TRE's senior VP for marketing, kindly walks me through everything very slowly, using small words even I could understand.
"It's all about cash flow," she explains. "It's not really about companies in distress. It's about companies improving their cash flow and liquidity so they can invest in day-to-day operations."
Laurie outlines the example of a start-up company faced with huge demand for the goods they produce. With a large number of orders pending, the company has a promising future, but may not have the available cash flow to begin manufacturing to meet that immediate demand. If they can't fill their orders, the company could fail.
In traditional receivables financing, the company would approach a lender like CIT, which could buy their invoices to give them a quick infusion of capital, then wait 60-90 to receive repayment when their customers pay the bills.
TRE has shattered that mold by creating a locus where businesses in need of immediate capital can auction their outstanding invoices to the highest bidder. Like a typical auction, sellers decide how long they will accept bids and can set a reserve price, below which they would not sell. And like Ebay, TRE has a kind of "buy it now" option. According to Laurie, 86% of their auctions close at the buy out price. After the sale, the company receives payment for their invoices within 24 hours. Laurie describes it as "a whole new capital marketplace for small and mid-sized businesses."
In particular, TRE is well suited to assist entrepreneurial start-ups because the buyers assess the credit ratings of companies with outstanding invoices available at auction, rather than simply the business selling them. So new companies can leverage the re-payment record of their customers, rather than having to convince a bank of their own reliability.
The co-founders of TRE are well suited to upend the traditional model of small-business financing. A veteran of a number of start-ups, President Nicolas Perkin knew the strain cash flow problems could impose on small and mid-sized business, and CEO Justin Brownhill has a long history of experience in capital markets and finance.
Nicolas describes the company's goal as "to ensure that new mechanisms for accessing working capital are supported and advanced in such a way that small businesses are no longer reliant on a single source of capital but instead are ensured access to a diverse and reliable pool of funding sources."
Considering all the discussion this week of a looming crisis for small and mid-sized businesses who have relied on CIT's financial support for so long, a diversification like Nic describes seems to be of critical importance.
Laurie stresses that TRE does not want to opportunistically seize on CIT's downfall, but if the anticipated bankruptcy happens, "the reality is that there will be one million small and mid-sized businesses in need of immediate capital." Regardless of any discussion about banks stepping in to assist CIT's customers, "Banks have not focused on this for 100 years. You can say they're there, but they're not set up to help the small business owners. This could create a major liquidity crisis for small and mid-sized businesses."
Even before news of a likely CIT bankruptcy gave TRE a jolt of potential new business this week, their operations were flourishing. Initially formed in 2007, the online marketplace went live shortly before Thanksgiving in 2008. Now, eight months later, an average of $1 million worth of receivables financing flows through their auction portal every day. They launched with 35 employees, and now have almost 50 in the office.
Nicolas graduated from Tulane, but neither of the co-founders had been living in New Orleans before they decided to base the headquarters of their new company there. Since any office is virtual in the world of online marketplaces, they could have based operations anywhere. But they wanted to do their part to bring new life to a city devastated by Hurricane Katrina.
TRE represents a small part of the larger trend of post-storm New Orleans. More than simple reconstruction, one of America's oldest cities is embarking on a phase of modern transformation. "New Orleans is an incredibly exciting place to be right now," Nicolas explains. "It is one of our great American cities with a tremendously rich culture and history. And at the same time, it is in the midst of redefining itself as an entrepreneurial center of innovation. I can't imagine a better place to start a company."
The low-cost of living, tax benefits, favorable investment circumstances--and devotion to the revival of one of the country's most beloved cities--is drawing start-ups in digital media, green business, and the tech industry. In March, Forbes magazine ranked New Orleans eight on its list of top ten cities where Americans are relocating.
One driving force behind the transformation of New Orleans is Sean Cummings. Urban planner, real estate developer, business investor, creative spirit--in myriad endeavors, love for his native city propels a focused mission to see it thrive again. He owns the "Entrepreneur's Row" on Camp Street, which houses the offices of The Receivables Exchange, and eight other start-up businesses he has helped draw to the city over the past year.
To learn more about Sean's plans to help restore his city to a prosperity unknown even before Katrina, check back Monday for Part 2 from New Orleans.