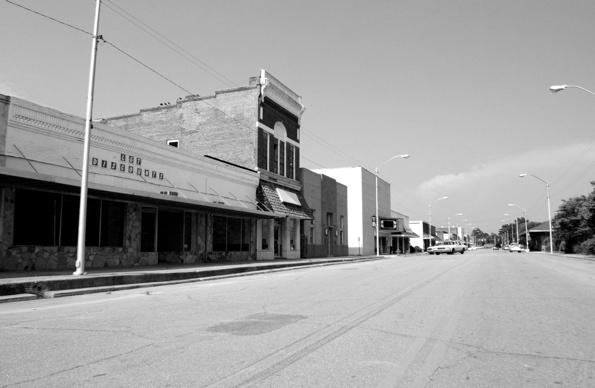 Millen, Georgia feels like a community on life support. Shuttered storefronts line Cotton Avenue. Signs of commerce appear elusive. Even the dust blows around in swirls as if it has nowhere to go.
"Way things are going, I believe it'll be a ghost town before long," Billie Nunnelee tells me from her perch behind the ice cream counter at K & K Antiques and Old Fashioned Soda Shop.

Millen has entered a critical phase of economic constriction. Most of the manufacturing plants that employed Jenkins County's industrial workforce of 1,025 closed down between late 2007 and early 2008. Over the past year, the ripple effect of that widespread loss of income has crippled commerce across the county of 8,000 residents, bringing about a second wave of closures affecting restaurants, a clothes store, a fitness center, a furniture store, and other businesses. Even the hospital has had to make drastic cutbacks.
Facing such a bleak economic landscape, many of the jobless have moved away in search of employment. There has not been a census to determine exact numbers choosing a Joad-like flight from Jenkins County, but local guesstimates range from a quarter to a third of the population. With loss of a significant percentage of their customer base, the remaining businesses in Millen are just barely holding on--often operating at a loss in hope things will get better soon.
The night before my visit, the owner of K & K had suggested to Billie that he might have to close down the shop. Last summer, business required three or four employees to serve all the customers on a hot afternoon. Now a funereal air hangs in the ice cream shop on a day when the mercury is pushing 100 F outside.
Billie has lived in Millen for 17 years, but is facing the prospect that she may have to move soon. "I'm raising two kids on my own. If they close, I have to move where the jobs are. That's not here."
A few doors away, Johnny Neal--the third-generation owner of Neal's Hardware--is determined his business will continue to endure. Opened in 1911 by his grandfather, Johnny believes a shop that survived the Great Depression, the turmoil of multiple wars, and the big box store invasion of the 1990s can keep going through this recession. God's blessings and the support of his loyal customers have kept Neal's Hardware going for nearly 100 years, he says, so he doesn't let a slowdown in business trouble him too much. The fact that he stopped reading newspapers when the United States invaded Iraq probably helps him maintain an optimistic view for the future. "I ignore the news because the more bad news I hear, the more I might believe it. So I try to focus on what I do and try to think positively."
Vera Williams relies on her faith in the grace of God to help her maintain hope for the future, though she faces the real prospect of having to close down her restaurant at the first of the year. What used to be a bustling industrial park across the street from Vera's Cafe now looks like a subdivision of sleeping giants caged in padlocked compounds of chain-linked fencing and barbed wire. Weeds have begun to sprout through cracks in the pavement as nature launches an offensive to reclaim the abandoned land for itself. The names on the signs--MI Windows and Doors, Capitol Architectural Products-- memorializes the industrial park as another victim of the devastated housing industry.
Customers used to flock to Vera's Cafe for her famous baked turkey wings and fried chicken. Last year she might do $450 worth of business on an average day, but now she averages around $75. With that kind of business, "I'm holdin' on by a string with everything I got. I'm nowhere near breaking even," she says. "Every day--every single day--dips into my own pocket. It's like I have to knock Peter out, take his money to pay Paul. Then knock Paul out to pay Peter."
In her struggle to keep the restaurant afloat, Vera had to lay off her three employees a year ago and cut back on the hours of business. Even with a six-day schedule of reduced hours, Vera puts in about 80 hours of work a week. "It's just been killin' me to keep things up and keep the doors open. I come in at five to cook. Then open the doors at six. I greet all the guests. Serve them. Pick up after them. Clean. Order supplies. Everything," she says with a wide-eyed emphasis. "When I leave here, I hit the bed and don't get up until I have to go back into the restaurant."
Vera's aunt, universally known as Miss Lorine, started helping out with the busiest shifts a few months ago, and a cousin, Jeraine Badie, just moved up from Atlanta to lend his muscle to keeping the doors open. Neither draws pay for their time working at the restaurant. As I've seen repeatedly over the past few weeks, family always takes precedence over money.
The help from her family keeps Vera from breaking under the exhausting strain of running things by herself, but it does not bring in the business needed to keep the restaurant going. For that, Vera just started looking for a business partner.
"I don't care if they change the name. I don't care if they change everything," she says. She just needs the investment and commitment to keeping the restaurant open that a partner would bring. "I know things will get better if I can just get me a partner. I know I can get myself through these hard times."
If she can't find a partner, Vera's Cafe will close at the first of the year. "Ain't no need to beat a dead horse," she explains with resignation.
Whatever happens, Vera has faith that she will emerge from this period of hardship a stronger, better person. "You know God, I trust in him," she says. "He told me he would supply all my needs. But faith without acts makes you dead. That's what keeps me going. That's what keeps me here."
Vera feels that God is not only testing her, but testing the whole world. "Love of money--that's what got us in the state we're in."  From her perspective, the world has earned the trials and tribulations unleashed by the global economy, but will learn valuable lessons through the experience. "Even though this is a bad time, this is a good time too. Now you learn what you really need."