And now for something completely different...
[Neil Drumming]
(I think that's the second time today John Cleese has been quoted within this particular blogosphere. Anyhoo...)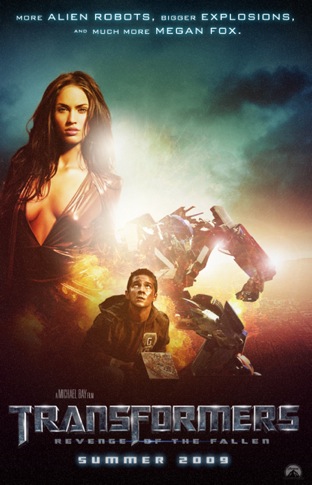 Variety
,
Hollywood Reporter
, and Nikki Finke have all raised a nice-sized stink over
Transformers
II
's downright belligerent box office smackdown -- despite the fact that everyone in the film or film-related business seemed to have suspected it was going to go like this from the get-go. I believe the hyphenate I've most heard bandied about regarding Michael Bay's latest op(tim)us  is "critic-proof." 
Me, I like that phrase. Certainly in this circumstance, the understanding that Bay does not give a single, glowing energon-turd what the average Scorcese or Soderberg-loving writer thinks about his movies, seems to have unleashed a delicious fury in most critics. If nothing else, it has freed many a movie reviewer up to have a little nasty fun at Bay's expense. Hence, we've gotten great quotes like this one from the Washington Post's John Anderson: 
"In its chattering, noisy, malnutritious excess, Trans 2 is the studio version of a genetically modified, growth-hormone-enhanced chicken." 
Or this swipe from the Portland Oregonian's Mike Russell regarding the movie's script:



"that screenplay is pretty much straight-up nonsense -- a barely strung-together collection of visual ideas and set pieces, with some of the most hilariously stupid and generic dialogue ever financed by hundreds of millions of dollars."
And, of course, there's Roger Ebert's critique which is far too delightfully venomous to quote partially. Rogerebert.com'll do ya. 
As for me, I saw the movie -- shelled out $20 bucks for an IMAX screening, no less. But I don't wish to get into a discussion here about how good (or completely atrocious) it is. (Most of what you will read is probably more than a little bit true -- including the accusations of robotic racism.) I'm just happy that if I didn't enjoy myself viewing the metallic mess that was Revenge of the Fallen, at least a few other writers had an awesome time dismantling it.