The U.S. lost 563,000 jobs in April, down 100,000 or so from the 663,000 jobs lost in March. But the unemployment rate continued to rise, increasing from 8.5 percent in March to 8.9 percent last month, according to the Bureau of Labor Statistics (BLS). This brings total job loss to 5.7 million since the onset of the recession in December 2007. (Yesterday, the Wall Street Journal reported reported that unemployment was "less bad" in April as private companies cut 491,000 jobs, compared to 708,000 in March, according to data from payroll processor Automatic Data Processing and forecasting firm Macroeconomic Advisers.)
But the real unemployment rate is as high as 15.8 percent according to the BLS U6 measure which includes marginally attached and discouraged workers.

And, the impact of the recession continues to be extremely uneven by gender, race, class, and occupation.
Race:  The unemployment rate for whites was eight percent compared to 11.3 percent for Hispanics, 15 percent for blacks, and 17.2 percent for black men.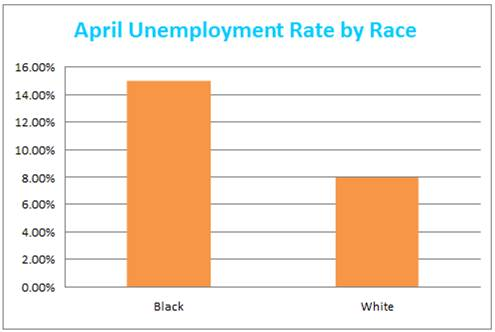 Gender: Men continue to experience higher rates of unemployment than women - 10 percent vs. 7.6 percent (for those over 16 years of age) - due to the concentration of men in manufacturing jobs. BusinessWeek's Michael Mandel notes that the unemployment rate among men is now "at or near the post-war high," causing him to worry that, "The difference in the pain being absorbed by men and women is astonishing, and may have long-term social and political implications."
Human Capital/ Education: Unemployment is even more uneven by education or human capital level.
The unemployment rate for college graduates is 4.4 percent, half that for high school (only) graduates (9.3 percent), and one-third of the 14.8 percent rate facing those without a high school diploma.
Class: And there remain huge differences in unemployment by class or occupation (PDF).
The highest rates of unemployment remain concentrated in working class occupations. For production, transporation and moving occupations overall the rate is 13.6 percent. For production workers it's 14.7 percent; movers and transportation workers, 12.5 percent; and construction and extraction jobs, 19.7 percent. For service occupations, the unemployment rate is 8.7 percent.

Unemployment is significantly lower for the creative class. For management and business occupations - including hard-fit financial jobs - overall the unemployment rate is 4.0 percent; and for professional and technical occupations, it remains less than four percent (3.6 percent).