Amazing video of brand new suburban homes being razed by bulldozer. Apparently, Guaranty Bank of Austin took over the homes in foreclosure - four in a suburban Texas development and another 12 in one suburb in California - and is knocking them down ostensibly to promote a "safe environment" for neighbors, and more likely because it is cheaper to destroy them them to keep them on their books.
This may be just the tip of the iceberg. Once desired, suburban and ex-urban communities with cul-de-sacs, McMansions, and long commutes could be on their way to becoming the blighted and abandoned communities of tomorrow, accelerating the process Chris Leinberger documented in his eye-opening Atlantic essay of March 2008.

A large and apparently growing share of mortgages are underwater according to this analysis in the Wall Street Journal, so we may expect more of this.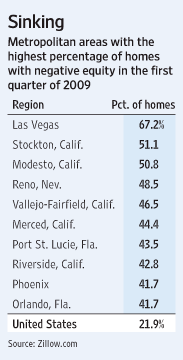 The economic crisis appears to be reshaping America's economic geography in ways that work against the Sunbelt's cities of sand and sprawl where real estate development became much more than a way to house workers, but a key driver of economic development itself.
Long ago, I asked my colleague, the esteemed urbanist and architect David Lewis, what he thought was the biggest issue of urban revitalization of our time. He responded without hesitation that the eventual decline of sprawling, shoddily constructed, exurban communities would make the urban cores of cities like Philadelphia or even Detroit - with their compact infrastructure, dense neighborhood footprints, and authentic and historic structures - look like a walk in the park. Not to mention that this entire development cycle is a giant waste of resources and a potential drag on long-run economic competitiveness and prosperity.

We want to hear what you think about this article. Submit a letter to the editor or write to letters@theatlantic.com.
Richard Florida
is a co-founder and editor at large of CityLab and a senior editor at
The Atlantic.
He is a university professor in the University of Toronto's School of Cities and Rotman School of Management, and a distinguished fellow at New York University's Schack Institute of Real Estate and visiting fellow at Florida International University.