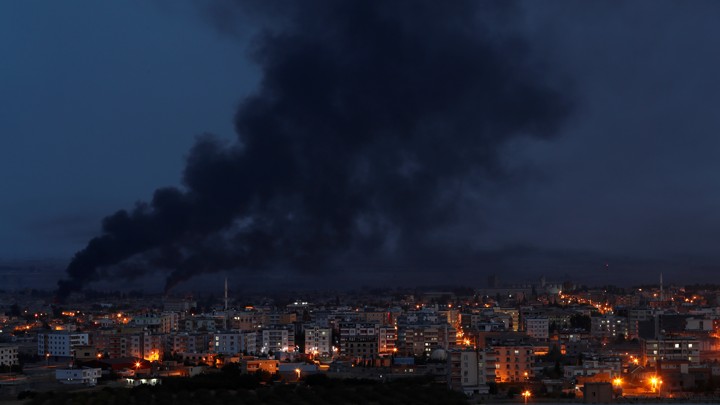 Thanks for supporting The Atlantic with your subscription. Here's a little something to show our gratitude: an exclusive weekly newsletter straight from our newsroom. Five writers are looking ahead at still-developing stories on their beats. We hope you like it. You can opt out at any point by hitting the "Unsubscribe" link at the bottom.
(Want to make sure you have unlimited access to the site? See our guide to connecting your subscription.)
1. The Chaotic Fallout Continues in Syria
Look for Russia to continue asserting its influence after the Turkish invasion.
Mike Giglio covers intelligence and national security.
Just a few weeks ago, the swath of northeastern Syria held by a Kurdish-led force called the SDF and its U.S. allies was one of the most stable places in the country. Counterterrorism efforts were under way to weaken the remaining Islamic State networks. International NGOs were rebuilding infrastructure and clearing roadside bombs. Thousands of suspected ISIS members were behind bars.
Now all of that is over. Counter-ISIS efforts have been halted; NGO work is in limbo; ISIS prisoners have escaped. A Turkish invasion brought a new refugee crisis and allegations of war crimes. President Donald Trump's ill-planned decision to withdraw American troops has seen the drastic erosion of U.S. influence in Syria. Russia struck a deal with Turkey to halt the incursion, and Moscow will likely be the guarantor of a separate deal between the Syrian government and the SDF, which has been forced to seek its protection.
The SDF's negotiations with Syrian President Bashar al-Assad are the next story to watch. Trump has made noise about keeping a U.S. presence in Syria, but the likely scenario is that Assad's forces will return to most SDF areas. If they do, they may target the thousands of Syrians who worked on humanitarian and other efforts for the American cause. Some aid workers, wary of being targeted, have already fled to Iraq. A larger exodus could be coming.
2. Yahoo Groups Are Shutting Down
The beleaguered former internet giant has announced plans to delete all posted content.
Ian Bogost covers tech.
The move is the latest in a series of sell-offs and closures pursued by Verizon, which bought Yahoo in 2017. It's a strange milestone, because it hardly marks the end of online discussion groups and email lists. Groups are one of Facebook's most popular features, and email newsletters and subscriptions have never been more popular.
But Yahoo Groups were a steward of an old way of using the internet, one that hadn't changed much in two decades. Discussion boards date back to early dial-up bulletin board systems, and Usenet, a newsgroup system first launched in 1980, established and popularized the post-and-reply format of internet conversations more generally. A 1997 dot-com start-up, eGroups, made it more user-friendly, and after Yahoo bought that company in 2000 (for $432 million, or a tenth of what Verizon paid for Yahoo), the service became Yahoo Groups.
Most people have moved on from Yahoo Groups, reducing the impact of its closure (although the loss of its archives is tragic). But the move marks yet another victory for the social-media sector, further entrenching its hold on online communications—which is to say communication writ large.
3. When Will Impeachment Go Public?
The Democrats' strategy of bringing in witnesses for private depositions has paid dividends so far.
Russell Berman writes about U.S. politics.
On Wednesday, Donald Trump's envoy to Ukraine, William Taylor, became the latest current or former administration official to blow the whistle on the White House, detailing how the president directed his top lieutenants to seek a public commitment from Ukraine's president, Volodymyr Zelensky, to investigate the Bidens in exchange for releasing U.S. aid to his country and scheduling a one-on-one meeting with Trump.
But Democrats are facing pressure to conduct the probe more transparently. A group of House Republicans tried to highlight the secrecy by pulling a stunt in the Capitol as they essentially held a sit-in inside the secure hearing room where three committees are holding the depositions, forcing a delay of several hours on Wednesday. Some Democrats are itching to launch public hearings so they can more effectively build the case among voters outside their base for Trump's impeachment and removal. Those hearings reportedly could start in mid-November, and former National Security Adviser John Bolton, whom Trump jettisoned from the White House in September, is a top potential witness.
Speaker Nancy Pelosi and her lieutenants are holding firm: They've argued that this fact-finding phase of the inquiry is akin to a grand-jury investigation in the legal system, which is always conducted in secret.
4. Pittsburgh's Grim Anniversary Approaches
Eleven Jews were murdered, and several other worshippers and police officers were injured, in the shooting at the Tree of Life synagogue on October 27, 2018.
Emma Green covers politics, policy, and religion.
The past year has brought cycles of grief, disillusionment, and despair for Pittsburgh's Jews. Like any community, they have had significant disagreements over what to do about the attack: Get political and push for gun control? Stick with a message of  opposition to hate? Or resign themselves to the eternal nature of anti-Semitism? Looming in the background of this debate is President Donald Trump, who some in Pittsburgh saw as partly responsible for fueling the anti-immigrant, anti-Semitic motivations of the attack.
Some in Pittsburgh just want their community to be remembered with specificity, to be more than another entry on a long list of mass shootings and anti-Semitic attacks. Eric Lidji, the director of the city's Jewish archives and a longtime chronicler of Pittsburgh's quirks and historical charms, has embarked on a one-man mission to collect as many objects related to the shooting as he can, which may one day be all that's left to tell a textured story of the event and what came after. His work is as much religious as historical: The Jewish people, Lidji says, have been able to maintain their continuity in part because archives let them "come back later and be reminded" of their story.
5. Collecting DNA From Asylum Seekers
The Trump administration wants to add immigrants' DNA to the FBI's criminal database.
Sarah Zhang covers science.
The Justice Department this week proposed a massive expansion in DNA collection. A new rule would allow homeland-security officials to take cheek swabs from hundreds of thousands of asylum seekers and other migrants who go into federal custody every year. Additionally, their genetic profiles would be added to the Combined DNA Index System, or CODIS, a national database run by the FBI.
CODIS was originally created in the 1990s as a tool for linking and solving violent crimes. It now contains the DNA profiles of nearly 18 million convicts and arrestees as well as almost 1 million crime-scene samples. State and local law-enforcement agencies routinely use CODIS to help identify suspects. In its announcement, the Justice Department said the proposed rule would "facilitate federal, state, and local crime reduction and investigation efforts." It also said the DNA Fingerprint Act of 2005 gives it the authority to enforce the rule. Critics, however, say mass DNA collection would amount to population surveillance—not just of detained immigrants but also of any family members legally living in the United States.
---
Did you like this? Forward it and tell a friend to subscribe to The Atlantic.
We want to hear what you think about this article. Submit a letter to the editor or write to letters@theatlantic.com.
Ian Bogost
is a contributing writer at
The Atlantic
and the Ivan Allen College Distinguished Chair in Media Studies at the Georgia Institute of Technology. His latest book is
Play Anything
.
Russell Berman
is a staff writer at
The Atlantic
, where he covers politics.
Emma Green
is a staff writer at ​
The Atlantic
, where she covers politics, policy, and religion.