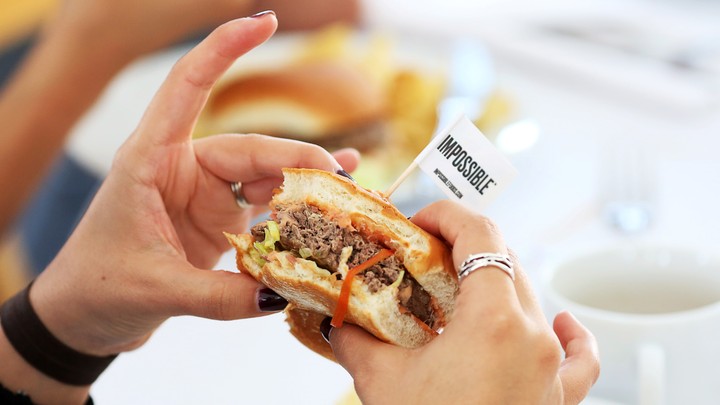 Masthead Weekly 08.30.19
Here's your weekend look-ahead, just for Atlantic members. Five writers tell us what's to come on their beats.
1. Trump's Fannie-Freddie Fix
Annie Lowrey writes about economic policy.
In a matter of days, the Trump administration is expected to release a plan to privatize Fannie Mae and Freddie Mac. The government-sponsored housing giants, which back roughly half of new mortgages, have been in federal conservatorship since the Great Recession. The Trump administration has repeatedly made clear that it wants to get the two New Deal institutions off the government's books.
Fannie and Freddie make it easier and cheaper for Americans to purchase houses. They do not make loans themselves, but instead buy them, package them into financial securities, and sell those securities with a guarantee against losses. Privatizing them would reduce risks to the taxpayer, the administration has argued. But it could also destabilize the housing market and cut off lower-income families' access to secure, 30-year mortgages.
The single biggest stumbling block to any administration plan is Congress: There is only so much the Trump administration can do with Fannie and Freddie by itself, and it seems unlikely that Nancy Pelosi and Mitch McConnell will agree on housing-finance reform anytime soon.
---
2. Jay-Z's NFL Deal
Football season kicks off next week. So when will the rapper's new partnership start?
Hannah Giorgis covers culture.
Last year, Jay-Z rapped a full-throated dismissal of the NFL: "I said no to the Super Bowl: You need me, I don't need you." But earlier this month, the rapper-turned-mogul born Shawn Carter changed his tune and entered a partnership with the same league he'd criticized for its banishment of the former 49ers quarterback Colin Kaepernick. The Wall Street Journal reported that Carter's entertainment company, Roc Nation, would be helping the NFL enhance its game experiences and expand its social-justice ventures. Most recently, the venture has announced a line of merchandise and an initiative that will highlight a new song each month during NFL promotions.
As the 2019 season kicks off on Thursday, it remains unclear what this partnership will achieve—especially in light of the news that Kaepernick was reportedly not consulted on its activism efforts. The league continues to wrestle with perceptions that it's a socially backward institution, and responses to the news of Jay-Z's profitable involvement with the NFL have varied from cautious optimism to strident criticism. Regardless of what Carter envisions, though, the 2019 season—and the broader landscape of sports activism—will undoubtedly bring no shortage of continued advocacy of all types from the players themselves.
---
3. The Impossible Burger Marches On
You'll soon be able to buy the meat alternative in grocery stores.
Olga Khazan writes about health.
Plant-based meat has taken over Americans' taste buds—and is now storming grocery stores. The Impossible Burger is slated to hit shelves as early as next month. Burger King and a few other burger joints already carry the soy-heavy meatless meat. A competitor product, Beyond Meat, is already in several restaurants and grocery stores. (Your correspondent, who is admittedly not a huge meat lover, has tried Beyond Meat, and finds that it smells like cat food while it's cooking but ultimately tastes like the real thing.)
Veganism and vegetarianism are on the rise, and some Americans are growing more concerned about climate change, which cow farming contributes to. But many of the founders of these new-meat start-ups suspect that flavor and price are more important to Americans than environmental concerns are. Some health-minded people also point out that plant-based meats still contain a fair amount of saturated fat and sodium, so they're not necessarily healthier than regular meat. Whatever their motivation, those so inclined can have their "beef" and love it, too.
---
4. Trade War Without End
The Trump administration is imposing more import taxes on China starting Sunday.
Matt Peterson is the editor of The Masthead.
The trade war has never fit neatly into partisan boxes. Many Republicans and key congressional Democrats have supported the president's China tariffs because they think of China as a problem that needs solving. The trade warriors may not love everything the president does—"We will need to refine tactics," Marco Rubio tweeted this week—but they broadly agree that something needs doing.
As with any war, the question from the beginning has been, What's the exit strategy? President Donald Trump and the Chinese leader Xi Jinping are locked in a cycle of retaliation. "Now, when I raise and he raises, I raise and he raises, we can never catch up," Trump said at the G7 summit. From September 1 through December 15, tariffs are scheduled to go into effect covering 97 percent of U.S. imports from China. The costs of the president's trade strategy are rising, while resolution seems no closer. (Talks broke down in the spring and have continued only sporadically since.) Tariffs that looked like a means to an end now serve as a kind of moral messaging, expressing the nation's displeasure with China. Will that objective keep its cross-party support? Check back around Christmas.
---
5. Live Events in VR
Hang out with your fellow goth-pop fans on Tuesday—wherever you are.
Ian Bogost is a contributing editor covering tech.
Virtual reality is promising an alternative to traveling to events. Instead of paying exorbitant fees, finding faraway parking, and elbowing through crowds, you can don a VR helmet and watch a rock concert or an NBA game live from the comfort of home. On September 3, the electro-pop phenom Billie Eilish will become the latest big act to make her live show virtual.
It's true that VR can bring you closer to the action, as if you had purchased a much better seat. But the real draw of VR shows is something simpler: presence. Just being there is appealing enough. The software also allows you to "attend" alongside friends who live anywhere in the world.
Given the popularity and diversity of live sports, virtual-reality events have a shot at making VR hardware attractive to a wide population. But the product also faces challenges. For one, VR hardware can still cost as much as a pair of choice tickets to your favorite act. It also relies on traditional attendance to work—for the virtual live experience to be an engaging social experience, you still need thousands of people in the venue. For now, VR events might remain a curiosity.
---
We want your feedback. Email us at themasthead@theatlantic.com.
We want to hear what you think about this article. Submit a letter to the editor or write to letters@theatlantic.com.
Ian Bogost
is a contributing writer at
The Atlantic
.
Matt Peterson
is the editor of The Masthead, the membership program at
The Atlantic
.