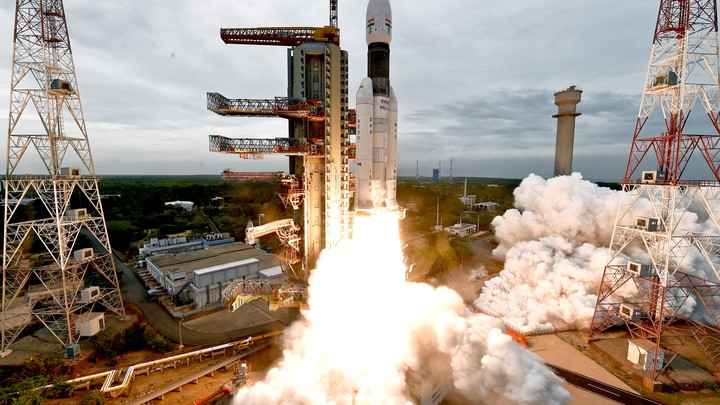 Masthead Weekly 08.16.19
We're trying something new! Five Atlantic writers tell us what they're watching on their beats. (Do you like this newsletter? Take a quick survey.)
1. India's Moon Mission
The Chandrayaan-2 spacecraft is aiming for a September 7 landing.
Marina Koren writes about science and technology.
People stopped flying to the moon in 1972, but robotic spacecraft have continued to visit Earth's silvery companion. In January, the Chinese government landed a rover on the far side. A few months later, a privately funded Israeli group brought a spacecraft within miles of the surface, but a technical glitch sent the whole thing smashing into the cratered terrain. And at this moment, a spacecraft from the Indian government is on its way there, carrying a lander.
The Indian lander will try to touch down near the South Pole in September and dispatch a rover to explore the surface. It's a tantalizing destination; scientists have long suspected the area has frozen reservoirs of water, a precious resource for a futuristic human outpost. The Trump administration wants NASA, which hasn't landed anything on the moon since the Apollo program, to deliver astronauts to the South Pole as soon as 2024. If the Chandrayaan-2 mission succeeds, India will become only the fourth nation to land something on the moon, following the United States, the former Soviet Union, and China. (Israel's crash doesn't count.) The landing would demonstrate India's growing space prowess—and perhaps even distract from the government's recent anti-satellite test, a destructive maneuver that scattered debris in orbit around Earth and prompted criticism from other countries.
2. WeWork's Splashy IPO
Another unicorn goes public, but will the public buy it?
Laura Bliss is CityLab's West Coast bureau chief.
Ever since it stepped into "unicorn" territory, WeWork has been subject to questions about how much a network of swanky office sublets really can be worth. Now, after rebranding earlier this year as a more diversified We Company, the co-working giant is galloping toward an IPO. Currently valued at $47 billion by its largest investor, SoftBank, the company revealed in an SEC filing this week that its losses are ballooning as fast as its revenue, bleeding out nearly $900 million in the first half of 2019. "We cannot predict whether we will achieve profitability for the foreseeable future," the filing stated.
The We company heartily defends its staggering valuation, promising that tech-enabled "economies of scale" will bring down costs as its office rentals, dwelling spaces, gyms, schools, and myriad other side hustles expand. Potential shareholders may still find these numbers hard to swallow, alluring as WeWork's famed beer taps and ping-pong tables may be. Among the questions they will be asking: What will happen to its high-end, short-term memberships in the event of a recession?
3. The Rebuilding of Notre Dame
A lot needs to happen before restoration can begin.
Kriston Capps covers housing, architecture, and politics for CityLab.
The damage from the devastating fire that burned Notre Dame in April is still spreading. On Tuesday, officials shut down streets around the cathedral to begin efforts to decontaminate the area, where lead fallout was discovered in July. The blaze consumed some 300 tons of lead present in the gables and spire of the roof, heaving clouds of toxic dust over the Île de la Cité and beyond and leading to local lead contamination levels as high as 800 times the acceptable limits. Officials are still warily watching Notre Dame's exposed ceiling vaults. Its drying and cracking mortar caused several stones to fall after last month's temperatures soared to a record 108.7 degrees Fahrenheit (42.6 degrees Celsius). Hazard teams will next focus on removing lead from nearby schools, cleaning streets around the cathedral, and ensuring that the few workers with access to the work site aren't tracking any more lead out of the building. Many tasks remain before the years-long effort to restore the Gothic cathedral can begin.
4. The Taylor Swift Story, as Told by Taylor
Her new album, arriving next week, doesn't know what to say.  
Spencer Kornhaber covers pop music and culture.
Taylor Swift usually conquers by controlling her narrative. Her first four albums masterfully ferried her from Nashville teen prodigy to cross-genre superstar while using coy, delectable lyrics to capitalize on tabloid scrutiny. Beefs with other celebs and questions about her politics triggered backlash after 2014's 1989, but Swift used the negativity as fodder for the acidic Reputation of 2017. Next week's Lover promises a brighter outlook—but, oddly for Swift, it's now unclear what tale she wants to tell. Without a story, her album may not resonate.
The singles "ME!" and "You Need to Calm Down" generated much publicity, but neither have ranked as top-tier smashes. The songs' peppiness sounded generic, leaving listeners to wonder what happened to Swift the storyteller. It's likely that Lover will reflect her recent political awakening—though her LGBTQ-pride music video struck some critics (ahem) as opportunistic—as well as her relationship with the actor Joe Alwyn. But the charts have prized downer vibes and stoned rap for a few years now; Swift seems to be offering an all-too-polished alternative. Will the public love Lover?
5. Global Summitry
World leaders will gather in France on August 24. Set your expectations appropriately.
Kathy Gilsinan covers national security and global affairs.
It's unusual for a Group of Seven summit to achieve a major breakthrough. After all, the seven countries that gather at the yearly confab are democratic, capitalist allies that generally share a worldview and coordinate on their many mutual interests. The outcome tends to be a lot of reaffirming and redoubling of commitments and so on. This year, it may not even get that far.
This is the Trump era, and so the G7's traditional leader is more likely to be a spoiler on issues of consensus for the rest, like the wisdom of the Iran deal and combating climate change. Last year President Donald Trump signed on to the group's joint communiqué only to blow it up with a personal attack on Justin Trudeau, who hosted the summit in Canada, via Twitter from Air Force One. This year the French, who are hosting, have vowed to "move beyond" the idea of a joint communique altogether. Expectations: lowered.
Trump will at least have an ally in temperament, as British Prime Minister Boris Johnson makes his debut at the summit. What the meeting lacks in substance this year it may make up for in flash—with not one but two flamboyant populists headlining the show.
---
We want your feedback. Email us at themasthead@theatlantic.com.
We want to hear what you think about this article. Submit a letter to the editor or write to letters@theatlantic.com.
Laura Bliss
is
CityLab
's West Coast bureau chief. She also writes MapLab, a biweekly newsletter about maps (
subscribe here
). Her work has appeared in
The New York Times
,
The Atlantic
,
Sierra, GOOD, Los Angeles
, and elsewhere, including in the book
The Future of Transportation.
Kriston Capps
is a staff writer for CityLab
covering housing, architecture, and politics. He previously worked as a senior editor for
Architect
magazine.