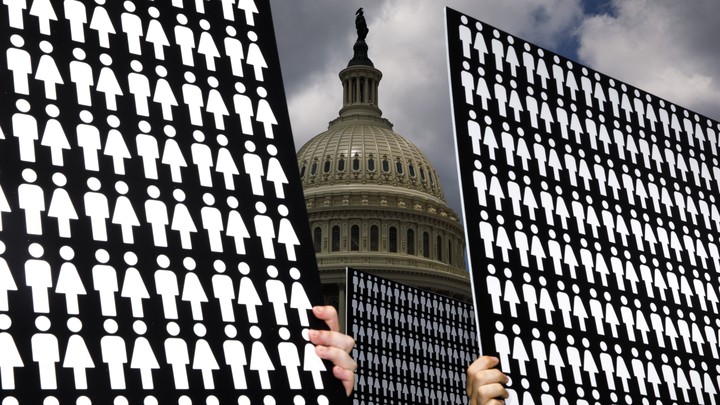 Masthead Weekly 08.09.19
We're trying something new this week! Tell us what you liked, or didn't. Take a quick survey.
What's next for …
Gun-Control Legislation
This time might really be different—if momentum lasts through legislators' vacations.
Another pair of mass shootings, and an anxious nation turns its skeptical eyes to Congress to see what, if anything, it plans to do about gun violence. The legislative outlook is, as ever, murky. The House and Senate left for their August recess the week before gunmen massacred more than 30 people in El Paso, Texas, and Dayton, Ohio, on consecutive days.
Advocates for gun control have called on both chambers to return early to consider proposals. The House, under the Democratic majority, passed a pair of background-check bills earlier this year, but the "red flag" idea stands the best chance of passing the Republican-controlled Senate in the near term. As I wrote on Tuesday, President Donald Trump's endorsement of a law to keep guns from individuals deemed to be a danger to themselves and others has generated some momentum among congressional Republicans. Its success is far from a foregone conclusion, however: Democrats are already warning that they won't support "half measures" on guns, and as we've seen in the aftermath of previous mass shootings, the whole effort could lose steam before lawmakers get back to Washington next month.
— Russell Berman
The Pursuit of Never-Ending Stardom
A raft of films featuring de-aging technology is coming.
Robert De Niro and Al Pacino are both in their 70s, but in Martin Scorsese's gangster flick The Irishman, the two stars appear decades younger in certain scenes. Netflix released a trailer of the film last week, which used de-aging technology, a visual-effects technique that "concerned" Scorsese and reportedly caused the film's budget to balloon to $200 million.
De-aging tech has been used since the mid-2000s in sci-fi, superhero, and fantasy films. But the Hollywood of 2019 is pursuing a warped notion of "realism" across genres. This fall, along with The Irishman, two more films are de-aging their casts: Ang Lee's Gemini Man pits Will Smith against a younger version of himself, and the IT Chapter Two child actors are getting the treatment (because puberty). But how much is this "realism" truly worth? Younger actors are readily available, and falsifying actors' looks eats up time and bloats budgets. Then again, maybe the de-aging trend has to do with the fading concept of movie stars—some have been deemed the "last" of their kind, and this tool could help Hollywood repurpose aging icons. Just imagine: Meryl Streep could score more Oscars for the rest of eternity.
— Shirley Li
Kashmir's Newly Not-Special Status
The Indian government's controversial decision will likely face internal and external challenges.
India's decision to revoke the special status for the state of Jammu and Kashmir is widely popular in the country. Many Indians attribute the decades-long insurgency in Kashmir to its special status, which, among other things, prevents other Indian citizens from owning homes or land in the region. This, the government says, has deterred investment and stifled economic growth. (Kashmiris have maintained that they want independence, not more Indian investment.) Most of the government's critics have questioned the constitutionality of its action—not the action itself. This conflict will likely culminate in a legal battle at India's supreme court.
The government's decision also has consequences for security in Kashmir. Pakistan, which also claims the region in its entirety, will not sit by idly. So far, Islamabad's attempt to get international condemnation—even from other Muslim countries—of India's action have mostly failed; China, which controls part of Kashmir, is a notable exception. Pakistan may resort to what it has done in the past: rely on the many armed insurgent groups that operate in Kashmir.
— Krishnadev Calamur
Greta Thunberg's Pro-climate Crusade
The young activist is making a big statement against air travel.
The UN Climate Action Summit in New York won't start for another six weeks, but the 16-year-old Swedish climate activist Greta Thunberg is already en route to Manhattan. That's because Thunberg is arriving not by plane, but in a racing sailboat—the Malizia II—that will let her cross the Atlantic without burning fossil fuels. The transatlantic passage will reportedly last about two weeks.
Thunberg abstains from air travel to avoid growing her carbon footprint. Should everyone who cares about the climate follow her lead? The economist Tyler Cowen, writing for Bloomberg, says no: "We should feel pretty comfortable with significantly reducing carbon emissions in most major areas except air travel." I'm inclined to agree: People know how to travel short distances without spewing carbon pollution, but flying, which still makes up a small share of global emissions, is difficult to replace. Yet the right moral choice isn't always the most efficient, and abstaining from a single flight could prevent more carbon pollution than much more drastic changes, such as a year of vegetarianism. So Thunberg's choice makes sense: She is a global leader, and thus called to make different climate decisions than the rest of us.
— Robinson Meyer
Jeffrey Epstein's Many Mysteries
A court battle may reveal yet more of his secrets.
How normal is Jeffrey Epstein? Not very. The accused pedophile is reported as having baroque fantasies of "seeding" the human race with his DNA and of cryogenically freezing his head and penis. But Epstein's sexual abuses reflect attitudes that are more common. Epstein got away with his crimes in part because of the pervasive assumption that the abuse of teenage girls is part of normal and acceptable adult male sexual behavior. It is also because of the commercial sexual objectification of women that is enabled by companies such as Victoria's Secret, the lingerie retailer to which Epstein had ties. In a world where women's safety and dignity were valued as highly as men's pleasure, Epstein may not have been able to operate with impunity for so long.
Today, records were unsealed from a 2015 civil suit against Ghislaine Maxwell, the British socialite who was Epstein's longtime lover and employee. According to the Miami Herald, the documents allege that "he was being assisted by Maxwell as part of a pyramid-like scheme the pair operated to lure young girls from around Palm Beach." As more documents from the case are released, we are likely to learn quite a bit more about Epstein's alleged crimes.
— Moira Donegan
---
We want your feedback. Email us at themasthead@theatlantic.com.
We want to hear what you think about this article. Submit a letter to the editor or write to letters@theatlantic.com.