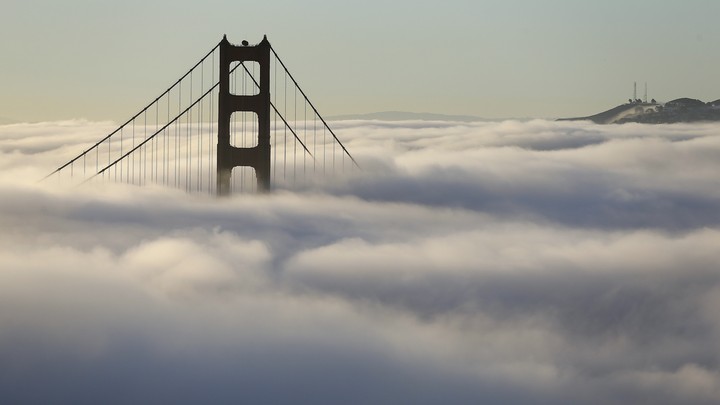 Masthead Weekly 08.23.19
We're trying something new: Five Atlantic writers tell us what's next for these stories on their beats. (Do you like this newsletter? Take a quick survey.)
1. The Great British Exit, Ahem, Bake Off
What can a new season of a British baking show tell us about the U.K. leaving the EU?
Sophie Gilbert covers culture.
What do a televised baking contest and a calamitous divorce from the world's largest single market have in common? As The Great British Bake Off returns to U.K. television on Tuesday, the Channel 4 show is consumed by Brexit metaphors. The quirky trailer for the newest season features rioting in supermarkets, food shortages, and fencers sparring with baguettes—supposedly in reference to "baking fever" sweeping the U.K., but also all potential side effects of leaving the European Union without a deal.
Practically since its inception, The Great British Bake Off has been irresistible fodder for people trying to better understand British identity. Some, like the comedian Ardal O'Hanlon, argue that the show traffics in the kind of nostalgic, tea-and-crumpets self-mythologizing that led voters toward Brexit in the first place. Others, like GBBO's own co-creator, maintain that the series, like Britain, features a big tent open to anyone who is willing to pay taxes and, ahem, bake competitively. Either way, American viewers won't have long to wait to catch up: For the first time, Netflix is airing new episodes just days after they debut in the U.K.
2. Retail's Big Breakup
FedEx and Amazon are splitting up at the end of the month.
Derek Thompson writes about economics, technology, and the media.
The delivery company has announced that it's ending ground-shipping and express-shipping services for the online retail giant. But don't worry about the overnight delivery of your hardcovers and coffee filters: Amazon is building its own delivery network to rival FedEx and UPS.
This story is bigger than the corporate logo printed on the side of a box. It's about the future of retail, which is rapidly shifting from in-store to on-doorstep. E-commerce's share of total retail sales in the United States has doubled since 2011. FedEx is betting that its own e-commerce shipping opportunities will extend beyond Amazon. To be fair, they already do: Amazon reportedly accounts for just 1.3 percent of FedEx's total revenue.
Meanwhile, Bezos is aiming high. If his company can manage every step of the online-shopping process, from the click to the cardboard, Amazon will be able to more closely track and manage its deliveries and returns, cementing its lead in the convenience economy.
3. The World's Oldest Webcam
The internet must say goodbye to one of its most enduring eccentricities.
Sarah Holder covers local policy, affordable housing, and technology at CityLab.
After 25 years, San Francisco's FogCam will stop transmitting its live video feed at the end of the month. Named for San Francisco's famous fog—but not specifically trained on it—FogCam was set up by two grad students at San Francisco State University in the earliest days of the internet to view a sliver of campus on Holloway Avenue.
People loved the Twitch precursor, which captured images every 20 seconds, for practical reasons, scanning it to find parking spots or suss out when the coffee-shop line was shortest. But as the technology around it became more flashy and sophisticated, the implications of video surveillance more fraught, and public spaces on the internet more vitriolic, the camera's abiding charm was in its simplicity. The point was just to watch—not to yell, or to influence, or even to crime-spot.
FogCam wasn't the first webcam out there: Cambridge University's coffee-pot cam was launched a year earlier to help researchers keep an eye on their brews. But in outliving other tech relics like the pager, MySpace, and the iPod Nano, FogCam has persisted the longest.
Unlike many other local oustings, we can't blame FogCam's displacement on San Francisco's rising real-estate costs; the creators were running into logistical trouble with the SF State administration, and figured it was time to move on. Still, it's another severed link to the internet's heady beginnings.
4. Kim Jong Un's Moment
The DPRK's upcoming parliamentary meeting portends more power for its young dictator.
David A. Graham covers U.S. politics and global news.
It's a good time to be an authoritarian. The U.S. has long strategically overlooked the excesses of antidemocratic leaders, but President Donald Trump has accepted or even cheered on recent autocratic moves by India, China, and Israel. Even avowed American adversaries are enjoying breathing room, none more than Kim Jong Un. He's preparing for a meeting of North Korea's parliament on Thursday, and though he already enjoys tremendous authority, the session might grant him yet more power under the country's constitution.
No wonder: Kim is on a roll. He's managed to arrange two starry summits with Trump without having to give up much of anything. Earlier this month, Pyongyang launched two projectiles, but rather than brush Kim back, Trump boasted about a fawning letter from Kim and called the U.S.'s joint military exercises with South Korea "ridiculous and expensive." (He also requested that South Korea contribute more to defense efforts.) It remains to be seen whether Trump's unusually conciliatory approach will eventually pay off with North Korean concessions—or if Kim is expertly stringing the U.S. along.
5. Deliberation Over Libra
Facebook's attempt to launch a digital currency is running into regulatory troubles.
Annie Lowrey covers economic policy.
Peering into bear dens and distant galaxies, translating between rare languages, communicating with far-flung relatives in real time: The internet's powers are instant, convenient, and cheap if not free. But sending money from someone in one country to another remains surprisingly onerous and costly, mediated as it is by banking institutions and government regulations. Enter Libra, the Facebook-backed cryptocurrency, with its promise to let any person, in any country, using any kind of money, transfer funds with ease.
Or not. Regulators, central bankers, and politicians have raised questions and cast doubts about the project, which is also supported by technology and finance giants including Uber, Visa, Spotify, Stripe, and Mastercard. Sure, Libra might facilitate remittances and aid small businesses. It also might help terrorists and drug traffickers make shady transactions, increase the risk of currency crises, and expose the world's bottom billion to privacy violations and fraud. Facing an end-of-month deadline to provide details to Swiss regulators, a number of Libra's organizers are now distancing themselves from the project.
Libra might not end up bringing instant, free money transfers to everyone, everywhere. But doing so remains a promise of the internet and a goal for development experts, governments, and technology thinkers—as well as a hope for millions of internet-connected communities the world over.
---
We want your feedback. Email us at themasthead@theatlantic.com.
We want to hear what you think about this article. Submit a letter to the editor or write to letters@theatlantic.com.
Sophie Gilbert
is a staff writer at
The Atlantic
. She was a finalist for the 2022 Pulitzer Prize in Criticism.
Sarah Holder
is a staff writer at CityLab covering local policy, housing, labor, and technology.