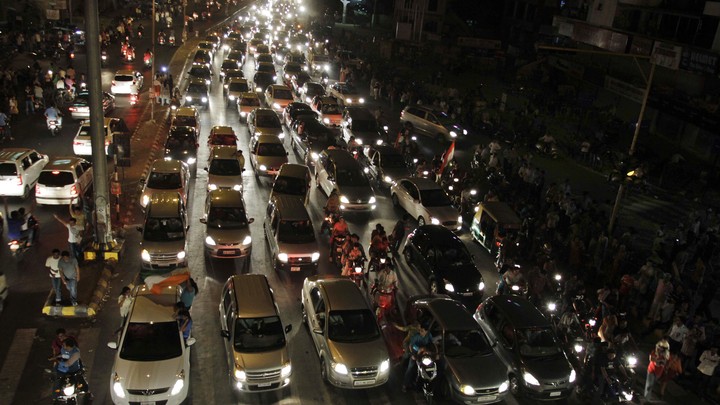 Masthead Weekly 07.05.19
You're receiving this exclusive email because you're a valued Atlantic member. Do you like this newsletter? Let us know.
What to Know: The Fight Against Noise Pollution
By Laura Bliss
What we're watching hearing: Even from The Atlantic's 19th-floor offices in downtown San Francisco, I can hear a lot of noise. Some of it is pleasant: From the streets of Chinatown, the music of an erhu, similar to a violin, often wafts up to our windows. But much of it is a barrage. Horns and helicopters blare and stutter, and every Tuesday, the department of public works tests a 15-second warning siren that sounds like a fire truck sized for Brobdingnag.
Why it matters: Cities are famously noisy places, and as the world becomes more urbanized, they're getting even louder. That's an issue: All the aural stimulus is damaging our ears. According to the National Institutes of Health, everyone on the planet is exposed to noise at some level, but city dwellers are particularly vulnerable because of the constant din. And according to one study from the University of Michigan, more than eight in 10 New Yorkers are exposed to enough noise to hurt their hearing. Even worse off are folks who ride the clattering subway system.
Besides damaging our ears, noise can add to our stress levels. And while new technologies such as drones and flying taxis promise fresh aural assaults, regular old cars are harmful enough: As the biggest cause of environmental noise in most cities, traffic can disturb our sleep and raise the risk for mental-health issues, cognitive impairments, and even heart disease, according to the World Health Organization. Kids and poor people (who tend to live in louder places) suffer the most.
What we're asking: What are cities doing to cut down the commotion? In the United States, plenty of them have created noise codes that allow neighbors to complain if someone's partying too late or setting off fireworks, or if the construction crew next door starts too early. And most cities regulate their airspace so that helicopters can't fly over willy-nilly. Still, American metros don't do much to create peace—to preserve or build quiet areas—at least not on purpose. Over the pond, it's a little better: In 2002, the European Union issued an Environmental Noise Directive tasking large cities with creating maps of where they're the noisiest, plus action plans and strategies to preserve the quiet where possible. But implementation has been haphazard. And in the developing world, cities tend to be even louder.
Is there any hope for our poor ears? Some researchers have taken novel approaches to intervene. Dr. Antonella Radicchi, an architect by training and a professor at the Technical University of Berlin, created an app called Hush City that crowdsources contributions to map out the quiet spots in cities around the world. "It's Yelp, but for serenity," wrote the CityLab contributor John Surico in his recent piece about it. Besides empowering regular people to locate silence for their own good, Radicchi hopes to support policy makers who want to preserve parks, libraries, and other open spaces where the risk for noise pollution tends to be lower.
What's next: Many cities are endeavoring to reduce the use of private vehicles, in order to cut down on climate emissions and traffic fatalities. They're building bike lanes and pedestrian walkways to lure people out of cars. As Surico points out, a somewhat inadvertent benefit of those projects is that they would also lower the volume on city streets. If local leaders care about the health of their citizens' flappers, we might expect to hear more about efforts to keep the peace.
The One Thing to Read
City Noise Might Be Making You Sick (The Atlantic). The architecture critic Kate Wagner delves into the history of noise pollution, and the long fight by "antinoise advocates" to do something about it.
What to Expect
Notes on the news to come
Global
Polls for Sunday's Greek elections project a rout for the left. Prime Minister Alexis Tsipras has been in charge since 2015, when voters turned to his once-marginal Syriza party amid an economic collapse worse than post-1929 America. Greek workers' prospects have since slightly improved, and in May voters abandoned Syriza for conservatives in European Parliament elections. But that doesn't mean the Greek left will be voiceless. Tsipras is only 44, and can make plenty of noise in opposition. So too can his firebrand former finance minister, Yanis Varoufakis, who has split with his former leader to start a new party. Varoufakis's goal, in part, is to reinvigorate the international left. He says he plans to join forces with the British Labour leader Jeremy Corbyn, the American democratic socialist Bernie Sanders, and the populist Mexican President Andrés Manuel López Obrador. The left could get quite a bit louder still.
Technology
The one Wi-Fi–equipped school bus in southern Utah's Garfield County is a hot commodity, students told the Hechinger Report last year. Without internet, it's tough to do homework on the long trips to play after-school sports, and many students lack high-speed internet at home. Local educators had hoped the Federal Communications Commission would help close the "homework gap" when it votes on new rules for broadband spectrum, which provides high-speed internet access, on Wednesday. The federal government has long reserved a slice of spectrum for educational use, but in many rural areas, it was never licensed out. Now, the FCC is likely to turn much of that unused spectrum over to the highest bidder, in the hopes of spurring development of next-generation wireless technology. Some of that revenue will be spent on improving rural broadband, but Utah officials have expressed disappointment that the FCC hasn't responded positively to their hopes. "What we're really concerned about is that this will be auctioned off and that will be the end of it," a technology officer in Utah told Insider Higher Ed.
Sports
The U.S. team at the Women's World Cup has had much to celebrate: the exuberant 13-goal win against Thailand; the defeat of the host, France; the 2–1 edge over England in the semifinals. But the returning champions will be under scrutiny during Sunday's final. They're going against the Netherlands, which won the 2017 European title and beat Sweden in the semifinals with an overtime goal. Whichever team gets the crown, this year's tournament is already a success, reflecting an unprecedented surge in interest in women's soccer. The Women's World Cup has rallied record numbers of audiences, including 11.7 million viewers for the U.S.-England game, the largest one-night TV audience of the year so far. And FIFA forecasts a total global audience of 1 billion for the final.
National
For the first time in four years, July 10 will come and go without a Confederate flag being raised at the South Carolina State House. The date is the anniversary of the flag's removal from the area, and the South Carolina Secessionist Party has erected a temporary flagpole in protest. This summer, however, they won't be able to. The activist group Showing Up for Racial Justice has reserved the space in counterprotest—its members did so on the first day the public could apply for a permit, at 12:01 a.m. They might not have needed to be so proactive, though. The Secessionist Party has been so mired in internal politics that its chairman hasn't pursued a permit at all. The group's founder told The Post and Courier that he has become concerned that his movement for "Southern heritage" may be attracting "a bunch of racists and homophobes."
Items this week by Matt Peterson and Karen Yuan. Illustrations by Matt Chinworth.
What to Remember
The anniversary of Hong Kong's return to Chinese rule was marked by pro-democracy protests by the territory's residents. The Atlantic's report in 1954 on the region, then still under British control, reveals how much its residents' attitudes have changed since.
"The government, though benevolent, is undisputedly an autocracy. Oddly enough, there is little demand and less enthusiasm on the part of the Hong Kong population for democratizing its undemocratic government. Unlike such colonies as Brtish Guiana, Jamaica, and the Gold Coast, where there is a rooted native population, Hong Kong's inhabitants have shown little wish to touch the governmental reins, let alone seize them. Even Singapore is taking some beginning steps toward self-government. Hong Kong's singularity is attributed to the fact that its population, 90 percent of which is Chinese, has little sense of loyalty to Hong Kong as a homeland and less sense of belonging there."
Members Loved These Stories
Five Atlantic stories your fellow members are reading this week
Garry McFadden is taking a stand. But will North Carolina's legislature strip his office of the powers he's using?
A Single Day Exposed the Central Tension Driving American Politics
The Supreme Court's census ruling and the second Democratic debate both wrestled with the same question.
What We're Reading This Summer
Atlantic staffers pick 14 books to spend time with this season, including Freshwater, Republic of Spin, Killing and Dying, and more.
Ahead of 2020, Beware the Deepfake
It undermines our perception of truth and could have disastrous consequences for the upcoming U.S. presidential election.
Dear Therapist: I'm So Upset by My Kids' Middle-School Drama
"I'm not sure why I'm reacting so strongly to hearing about conflicts at school."
Why you should read Adam Serwer's "A Crime by Any Name"
"Great piece by Serwer, as always. In additional to his evergreen observation that the cruelty is the point and his compilation of recent news about abuses in concentration camps along the border, Serwer provides some context from American history and lays out frameworks for understanding the debate at this moment … I think it's important to keep reminding yourself and those around you of our humanity, that this shouldn't be normal, that nobody should tolerate it. Which is maybe why I continue seeking and sharing reporting like this, depressing as it is."  — @pondinabottle_atlant, a member
Join a discussion
Those are a few of the active conversations on the forums this week. Join in, or start your own.
---
We want your feedback. Email us at themasthead@theatlantic.com.
We want to hear what you think about this article. Submit a letter to the editor or write to letters@theatlantic.com.
Laura Bliss
is
CityLab
's West Coast bureau chief. She also writes MapLab, a biweekly newsletter about maps (
subscribe here
). Her work has appeared in
The New York Times
,
The Atlantic
,
Sierra, GOOD, Los Angeles
, and elsewhere, including in the book
The Future of Transportation.