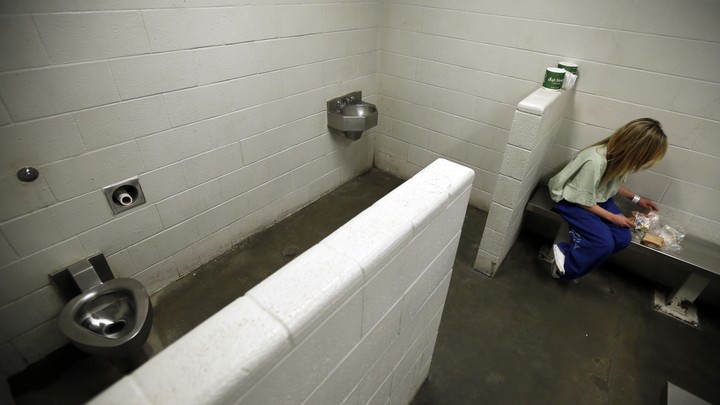 Masthead Weekly 07.12.19
You're receiving this exclusive email because you're a valued Atlantic member. Do you like this newsletter? Let us know.
What to Know: Jail Reform
By David A. Graham
What we're watching: The great thing about longform journalism is that a writer gets to put everything he wants into his stories, right? Ha, as if. In my recent report on the progressive sheriffs who took power in North Carolina in November—and like-minded law enforcers around the country—I focused on immigration enforcement, because it's an issue of national importance that spotlights the tension points between federal, state, and local governments.
I didn't give as much attention as I might have liked to the reform of county jails and detention centers. Conditions in lockups have been an important issue in many of the races where progressive sheriffs have won elections, and the ones I profiled often seemed happier to talk about that than the divisive subject of immigration.
Why it matters: Much of the national conversation about criminal-justice reform in recent years has focused on prisons, both public and private, while jails have not gotten the same attention. Yet they deal with many more people—roughly 10 million in 2017—than prisons, and though they're ostensibly short-term facilities, many people end up spending weeks or months in jail because they're unable to post bail. Many arrestees are struggling with mental illness or addiction. Jails can also be very dangerous. In Durham County, where I live, the biggest factor in the defeat of the incumbent sheriff was the string of nine deaths in the jail over the past few years. Jail deaths in the state at large have hit a record number.
What we're asking: Preventing jail deaths, treating the ill and addicted, and reducing recidivism are much less politically controversial than immigration—but talking about these goals is easier than actually achieving them. So what's being done?
Buncombe County Sheriff Quentin Miller is overseeing the most interesting work on jails that I've heard about. He's launched a series of online dashboards so that anyone can look up the county jail population, historical trends, and demographic information. He is also designing a medically assisted therapy program for people with addictions. Arrestees might get treatment for addiction when they're locked up, but if they don't have support when they get out, they risk relapse—followed by return to the jail. So Miller is working to find organizations who can help them continue their treatment outside. "What I'm going to stress in law enforcement: Those are not inmates," Miller told me. "Those are clients. We need to treat people as if they are clients."
What's next: As with any untested program, there's no telling whether these ventures will work until they've had time to take effect. If they work, they could help pave the way for reforms in other counties. If they don't, they pose a political peril: The reformist sheriffs won by convincing voters that they could do better than the old-school incumbents, but if they don't succeed, they could be bounced out just as easily. Miller isn't sweating the politics, though. "Some of this has come down for me to not being afraid to fail," he said. "If we want to do something different, we have to try something different. If it doesn't work, it doesn't mean we failed. It means we can mark it off the list and try something different."
The One Thing to Read
"The Sheriff Who's Defying ICE" (The Atlantic). ICE wants sheriffs to detain undocumented immigrants. David profiles the progressive cops in North Carolina who are refusing.  
What to Expect
Notes on the news to come
Arts and Culture
Set to have its wide release next Friday, Disney's new CGI-heavy remake of The Lion King is among the first few in the litany of reboots that the entertainment conglomerate has begun debuting. As such, it's both a stand-alone work and a fascinating example of Disney's competing business and artistic priorities. The Jon Favreau–directed movie is at once a nostalgia play—Some Millennials have kids of their own now!—and an attempt by the company to reach younger audiences. But even if Millennial audiences are capable of feeling the devastation of Mufasa's death anew, the 2019 movie presents larger concerns about Disney's commitment to the spirit of its own work. Ultimately, the 2019 Lion King is an uncanny production: a sometimes bizarre mélange of Planet Earth–esque visuals and youthful, animalian dialogue that retroactively tarnishes the delight of the 1994 version.  
Business
Some election junkies live for the horse race. And some live to know how the horses are lined up … and exactly how that decision was made. On Thursday, CNN will air a live drawing to determine which Democratic primary candidates will attend which of the cable network's two debates on July 30 and 31. To qualify, each participant will need 1 percent of support in three accepted polls or to have 650,000 individual campaign donors, with at least 200 unique donors in 20 unique states. If your eyes are glazing over, this live drawing might not be for you. But while critics might call CNN's airing a ratings play, perhaps CNN deserves a point for transparency. NBC's own sorting piled most major contenders into the second night,  leaving the first two debates rather asymmetrical. And the network was criticized for rostering off camera. However absurd this political ode to the NBA Draft Lottery might look, CNN could just be learning from NBC's example.
Global
Last year, Pakistan's northwestern tribal belt was merged into the neighboring province of Khyber Pakhtunkhwa, assigning, as Radio Mashaal put it, the 35-million-strong Pashtun minority the same constitutional rights as other Pakistanis. But members of the Pashtun civil-rights movement PTM are furious that the military remains dominant in the region, a vestige of a decade of government operations against terrorism that displaced millions of tribal residents. The region's first-ever election to choose representation for the tribes is now due on July 20, after an earlier attempt was delayed. PTM protesters have fought with the army, which candidates fear will commandeer the election. "Our offices are being raided. Some of our comrades were arrested, while others fear arrest," one candidate told Radio Mashaal about a crackdown on his party due to its support of PTM. "If these conditions persist, how can we campaign? What kind of an election are we going to see?"
National
Justice is coming for Joaquín Guzmán, the Mexican drug lord better known as "El Chapo." At the peak of his crimes, the brutal kingpin ran one of the world's largest drug networks and was responsible for dumping more than 1.2 million kilos of cocaine into the U.S., as well as ordering lackeys to kidnap, torture, and murder rivals. He was found guilty in February, and prosecutors said this week they're seeking life in prison for him—plus 30 years. Guzmán has escaped from two Mexican prisons, but his sentencing on Wednesday will put him behind American bars. "It is a sentence from which there is no escape and no return," U.S. Attorney Richard Donoghue said to the press outside federal court after his trial.
Items this week by Hannah Giorgis, Scott Nover, and Karen Yuan. Illustrations by Matt Chinworth.
What to Remember
The U.S. women's national soccer team is celebrating its fourth World Cup title. Nearly two decades ago, Scott Stossel wrote about the growth of American women's soccer following the team's second World Cup win.
"There is, first, the obliviousness of the average American to soccer as a major sport. And if general lack of enthusiasm for the sport would appear to dim the prospects of any soccer league, male or female, in this country, the fact that the global soccer culture has historically not tolerated female participation should dim them further. Americans don't like soccer; women are not supposed to play soccer; therefore a women's soccer league in America must fail.
Except it doesn't quite work that way. Rather, our very heedlessness of international soccer values has made us ignorant of women's historical exclusion from the sport. Here women and girls playing soccer is accepted as something routine, even admirable."
Members Loved These Stories
Five Atlantic stories your fellow members are reading this week
Wimbledon's First Fashion Scandal
One hundred years ago, a player shocked spectators with her "indecent" dress—not the last time attire has distracted from athleticism in tennis.
The Census Case Just Took an Even Stranger Twist
In the real world, the fact that the executive branch plans to offer "a new rationale" is proof it has been lying. In the legal world, however, this maneuver might yet succeed.
What Snowball the parrot's spontaneous moves teach us about ourselves
Dear Therapist: Can I Still Trust My Husband?
After we cheated on each other 26 years ago, we promised to never let outsiders into our marriage again. But for more than two years, he's been carrying on some sort of friendship with a woman from his high school.
When Jeffrey Epstein Joked About Sex Abuse
One of the many gutting elements of the allegations against the billionaire financier: how gleefully he flaunted his impunity.
Why you should read Peter Beinart's "What the Measles Epidemic Really Says About America"
"I hadn't really thought about the link between distrust in government and distrust in medicine/vaccines, but I thought Beinart's analysis was pretty good. The broader point is, I think, spot on. Much of good public policy requires individuals to accept some cost or risk in order to promote a societal benefit. This is true of taxes, vaccination, and mandatory social (and other) insurance. No one can reasonably expect to reap the benefits of a functioning society without paying up on the costs and risks. But what really blows my mind about anti-vaccination is the willingness of educated, intelligent people to accept and actually seek out bad science in order to justify their rejection of both sound policy and sound science."  — @walnutclosefarm, a member, writing in the forums
Join a discussion
Those are a few of the active conversations on the forums this week. Join in, or start your own.
---
We want your feedback. Email us at themasthead@theatlantic.com.
We want to hear what you think about this article. Submit a letter to the editor or write to letters@theatlantic.com.