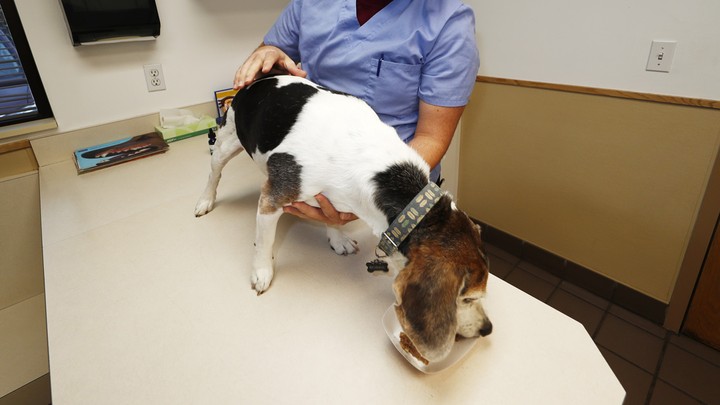 Masthead Weekly 07.19.19
You're receiving this exclusive email because you're a valued Atlantic member. What do you think of this newsletter? Leave a comment here.
What to Know: CBD, for People and … Pets?
By Amanda Mull
What we're watching: Cannabidiol, or CBD, is suddenly everywhere. The cannabis chemical extract has two important factors working in its favor: It doesn't get you high, and it can be extracted from the hemp plant, which was legalized for nationwide industrial cultivation in 2018. That has helped the substance proliferate widely in the consumer-supplement market, and institutions from the FDA to municipal health departments are playing catch-up. The CBD boom has even extended beyond people: When I adopted Midge, my nervous little Chihuahua, her foster mom recommended that I find some pet-friendly CBD oil to rub on her ears to help ease her anxiety. In the year since the adoption, the CBD market for dogs has exploded.
Why it matters: Scientists are only just beginning to explore the medicinal potential of CBD, but it already shows promise for patients with epilepsy and anxiety. If you ask entrepreneurs offering unregulated CBD supplements, the chemical's promise is far greater. They frequently claim that CBD—which can be squirted into a latte in oil form, ingested via gummy bear, or rubbed onto the skin in lotion, among other eccentric delivery methods—can treat everything from chronic joint pain to stomachaches.
Some people already swear by it for a whole range of ailments. That means it's getting infused into just about everything humans can ingest or apply to their body. Pet owners, with their tendency to project their own health and nutrition anxieties onto their animals, were perhaps an obvious satellite market. But there's very little science on how CBD affects people, let alone animals, or what kinds of delivery methods and dosages are most effective. No purity or labeling standards exist for hemp-derived CBD in the United States, and strict laws regulate when and where scientists can study cannabis-derived compounds in the country. CBD itself isn't even definitively legal in all its current permutations. You probably shouldn't fly internationally with it.
What we're asking: Given that the American CBD market is already full of products for a variety of living beings, is there any way for regulators and scientists to get a handle on CBD's benefits and uses? Or will any efforts short of full, nationwide cannabis legalization and regulation just be tantamount to closing the barn door after the horse has gotten out? And while Americans wait for the law and public-health doctrine to catch up to the consumer market, is there any way to verify what you're buying, ingesting, or giving to your unsuspecting pup?
What's next: If grown, processed, and sold responsibly, CBD isn't dangerous to most people, but it does have some known prescription-drug interactions. The hard part is figuring out if what you've bought is what you think it is, because no one's currently holding manufacturers accountable for what they claim or sell. That's even harder with animals, which can't tell you how something new makes them feel. Short of full cannabis legalization, Americans' best hope for some clarity on CBD's uses and effects is the FDA. Currently, the organization has mostly stayed out of it, but pressure is mounting for the agency to bring some order to the market and protect consumers—and their pets—from those who might try to take advantage of them. Personally, I bought Midge some dog-friendly CBD and let her try it a couple of times, but I didn't stick with it.
The One Thing to Read
What to Expect
Notes on the news to come
Politics and Policy
All eyes will be on Robert Mueller on Wednesday, when the former special counsel delivers his long-awaited testimony to the House Judiciary and Intelligence Committees in back-to-back hearings. Mueller's appearance could make for one of the most highly watched events on Capitol Hill in years, but it could also easily be a dud: The former FBI director is appearing under subpoena and has already made clear that he will "not go beyond" the conclusions in his 448-page report on whether Donald Trump's campaign conspired with Russians in 2016 and whether the president himself obstructed justice. "The report is my testimony," Mueller said in May, in his lone public comments on the Russia probe. Still, Democrats will try hard to get him to implicate Trump—particularly those who see the testimony of the widely respected lawman as a key moment in their uphill push for impeachment.
National
On Sunday, the city of Pasadena, Texas, will demolish its only skyscraper, the First Pasadena State Bank. With the fall of the tower, the city's lonely landmark since 1962, Texas architecture will lose a rare example of a skyscraper designed according to the precepts of Frank Lloyd Wright. The building's architect, Karl Kamrath, was a Wright devotee, and his firm, MacKie and Kamrath, designed dozens of homes in the low-slung, earth-toned style of Wright's Usonian houses. The glass curtain wall and office floors of the First Pasadena State Bank project outward from a central brick column containing the elevator shafts, a stylish and unusual conceit compared with the prevailing, rational mid-century style. The tower has stood empty for nearly two decades, its stained-glass flourishes and brick detailing long since eroded by weather and neglect.
Business
You can't fight a war without money. Especially not a frosty geopolitical conflict over the control of key technologies, as the U.S.-China rivalry has become. On Monday, China's latest effort to find funding for its booming tech sector will take shape when 25 Chinese companies debut on the new Shanghai STAR Market. Previously, companies that made a loss—common for Western tech start-ups—weren't able to list on the major Chinese markets. Enter STAR, with its looser requirements. Despite the impressive number of listings planned, Bloomberg reports that "the STAR board has yet to land a big fish." The market may have another, subtle political motive. According to TechNode, it will be a rival to markets in Hong Kong, a popular destination for capital that has recently become a headache for China's authoritarian leaders.
Global
Keeping up U.S.-Taiwan relations is a delicate act. Under long-standing American policy, Washington treats Taiwan as if it's not really a country, but then goes ahead and gives it awfully countrylike treatment, such as selling it fighter planes. Based on this arrangement, the president of Taiwan can physically enter the United States, but only if both sides act as if it's not a formal visit. Tsai Ing-wen, the current Taiwanese president, is in the middle of a pair of not-quite-visits right now. She was in New York for two days last week in what was formally called a "stopover" on a longer trip, and next week she will pass through Denver for two more days. These trips have become frequent in recent years but remain controversial; Beijing lodges a protest every time. Still, Taiwanese travel to the United States has come a long way. In 1994, the Taiwanese president at the time was afforded only a two-hour refueling stop in Hawaii. In protest of his poor treatment, he refused to deplane to meet a visiting American dignitary, and conducted the meeting wearing slippers.
Items this week by Russell Berman, Kriston Capps, and Matt Peterson. Illustrations by Matt Chinworth.
What to Remember
This week marks the 50th anniversary of the moon landing. Six years before the first Apollo mission, two scientists from NASA argued for manned lunar exploration.
"The heart of that program is man in space, the extension of man's control over his physical environment. The science and technology of space flight are ancillary developments which support the main thrust of manned exploration, while at the same time they bring valuable returns to our economy and our culture. The science which we do in space provides the equivalent of the gold and spices recovered from earlier voyages of exploration. It is the return to the taxpayer for his investment in his nation's future. But the driving force of the program is not in scientific research alone, valuable though that may be in the long run. Thus, the pace of the program must be set not by the measured patterns of scientific research, but by the urgencies of the response to the national challenge."
Members Loved These Stories
Five Atlantic stories your fellow members are reading this week
Mitch McConnell's (Un)certain Fate
Amy McGrath will try to do what Beto O'Rourke couldn't: Unseat a high-profile Republican from a deep-red state.
'1 Million Americans Will Be Shot in the Next Decade'
"I see more gunshot wounds as a trauma surgeon here in the United States per week than I did when I was serving in Kandahar, Afghanistan."
The Best Way to Get Fired by Trump
The president's new strategy for getting rid of scandal-tainted aides: Quickly accept their resignations, but heap praise on them as they leave.
How the Epstein Case Explains the Rise of Conspiracy Theorists
Nightmarish allegations against the well-connected financier show why so many Americans let their imagination run wild when it comes to elite corruption.
Dear Therapist: I Don't Understand Why My Girlfriend Dumped Me
"She said that she loves me but doesn't want to be with me."
---
Why you should read Natalie Wexler's "Elementary Education Has Gone Horribly Wrong":
"I thought this was a really good piece. In the early aughts and at the height of the No Child Left Behind Act, I was at Columbia's Teachers College working on a Masters in Teaching English to Speakers of Other Languages/Applied Linguistics and ["learning to read" instead of "reading to learn"] was absolutely part of the pedagogical approaches that were being pushed. For me, it made little sense as I thought TESOL needed to scaffold the other subjects, especially Social Studies, where my students particularly struggled and to be honest, hadn't really had much prior exposure to, even though I was getting them in ninth grade."  — @RachelG, a member, writing in the forums
---
Join a discussion
Those are a few of the active conversations on the forums this week. Join in, or start your own.
---
We want your feedback. Email us at themasthead@theatlantic.com.
We want to hear what you think about this article. Submit a letter to the editor or write to letters@theatlantic.com.