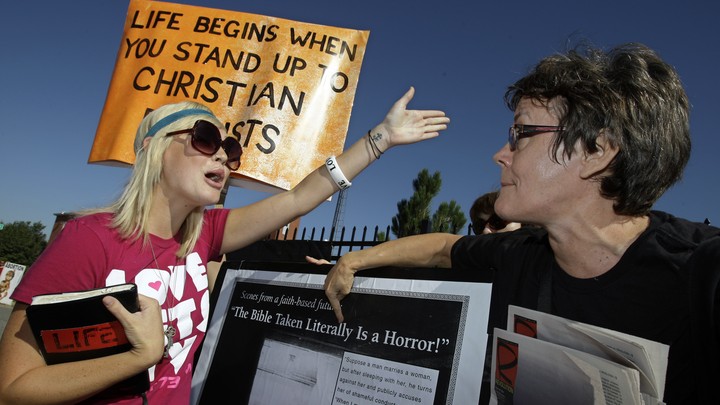 Masthead Weekly 06.07.19
How do you cover a debate in which neither side has changed its fundamental positions in decades? Today we're bringing you inside the thinking of the Family writer Ashley Fetters, a journalist on the abortion beat. We also give you a preview of next week's news. (What do House Democrats and Aretha Franklin's sons have in common? Hearings.) And an Atlantic editor shares a recommendation in our latest book club. Read on.
What to Know: The Abortion Debate
By Ashley Fetters
What we're watching: In Georgia and Alabama, state legislatures have passed bills that would either severely restrict access to abortion within the state or outlaw it outright. These bills are expected to be struck down in the lower courts, but should the process of appeals eventually bring them before the majority-conservative Supreme Court, they could pose a grave threat to the 1973 Roe v. Wade decision that protected the right to abortion in the U.S.
Why it matters: While the unfolding legal battle is certainly a tense and high-stakes one, the weird challenge of reporting and writing about the larger issue of abortion in 2019 is finding new ways to cover the debate. For decades now, "pro-life" and "pro-choice" activists have disagreed over whether a fetus is a person and therefore has rights of its own, or whether a woman's pregnancy is hers to terminate if she so chooses. It's a complex ethical question, to be sure—one that raises other complex questions about the role of unique DNA in personhood and at what point a fetus becomes a person, to name just a couple. Which is probably why people still haven't definitively answered it one way or the other.
Over the years, the political geometry has fluctuated a little, and the figureheads of the anti-abortion and abortion-rights movements have changed. But the beliefs involved on both sides of the abortion debate are so deeply entrenched and so squarely opposed that the meta-challenge of covering the abortion conversation is finding what exactly is changing.
(Of course, it is the role of all journalists to look for what is changing within their areas of coverage—highlighting what is changing is what "news" itself consists of, in the same way that highlighting how things have changed over time becomes what people know as history. It's our job to spot what's changing and call attention to it; that's our duty to the public, and it's how we hold powerful institutions accountable.)
What is changing:  A few new developments my colleagues and I have identified include the growth of secular anti-abortion activism, which has long been overshadowed by religious organizations within the larger anti-abortion movement, and the movement's recent embrace of new developments in neonatal science.
What's next: But while the intellectual, theoretical debate over whether abortion is morally sound has remained somewhat fixed, its real-life implications—that is, women's access to abortion—might be about to change dramatically. Though states have been chipping away little by little at citizens' access to abortion clinics—largely by instituting restrictive laws regulating the clinics themselves—the bills passed in Alabama and Georgia are some of the first real legislative threats to the ability to have an abortion in the U.S. since it was recognized as a constitutional right. The next significant development in this story line will likely happen at the federal appeals court in Atlanta: The ACLU and Planned Parenthood have filed a lawsuit to challenge the Alabama bill, and have also promised to fight the Georgia bill before it is set to take effect on January 1, 2020.
The One Thing to Read
The New Abortion Bills Are a Dare: The Atlantic's Emma Green lays out the logic that drove legislators to pass bills that many believed were too harsh: Ultra-restrictive laws, so the thinking goes, are more likely to force abortion-rights groups to challenge these two pieces of legislation and nudge them off on their journey toward the Supreme Court.
What to Expect
Notes on the news to come
Politics and Policy
House Democrats are planning to move next week against the Trump administration on two fronts—one more aggressive than the other. On Monday, the Judiciary Committee will hold the first of what its members say will be a series of hearings on the Mueller report—but without an appearance by the author himself. Instead, they've invited former White House Counsel John Dean, who famously testified against President Richard Nixon during the Watergate hearings. Then on Tuesday, Democrats have tentatively scheduled a vote of the full House to authorize the Judiciary Committee to take Attorney General William Barr and former White House Counsel Don McGahn to court in order to enforce the subpoenas that both men have ignored. Democrats had threatened to hold them in contempt, but are stopping short of that for now.
Business
The United States will begin to tax imports from Mexico at 5 percent starting Monday, unless Mexico moves quickly to change immigration policies that the American administration objects to. President Trump announced the plan in a tweet on May 30, prompting a scramble from  Mexican officials and businesses on both sides of the border to avoid the tariffs. (Most companies no longer have the electronic customs accounts needed to make payments, since NAFTA eliminated U.S.-Mexico tariffs in the 1990s.) The administration could delay the deadline, but the practice of economic penalties to change political behavior isn't going away anytime soon. The president finds comfort in tariffs, Elaina Plott reports.
Global
Since the opening of Paris's first metro line in 1900, the city's commuters have relied on the same white card-stock tickets bought in carnets, or bundles of 10. That's changing on June 12, when metro riders will be able to purchase plastic top-up cards. Contactless and reusable, their launch is part of a €400 million overhaul of the French capital's metro system. Valérie Pécresse, the president of the regional council of Ile-de-France, derided the use of the paper tickets as "a real waste of time and energy." (Some 550 million are printed each year.) By 2021, Pécresse says, the ubiquitous scraps seen littered around Parisian streets will have completely disappeared from the landscape. If you're prone to nostalgia, be sure to stock up.
Arts and Culture
Months after Aretha Franklin's death, a trio of handwritten wills have been found—the most recent among them, dated March 2014, under a couch cushion. Reports at the time of her death said she had no will, which would have left her income and assets to be divided equally among her four sons. The March 2014 document, in particular, goes in a different direction: Franklin scrawled that her property would be split between her three younger sons, leaving her oldest son with none. But according to the AP, a lawyer for the Franklin estate isn't sure if the document is legal under Michigan law. A hearing scheduled for June 12 will begin to sort out the competing documents.
Items this week by Russell Berman, Matt Peterson, and Karen Yuan. Illustrations by Matt Chinworth.
What to Remember
Insights from Atlantic history
50 Years Ago
Georgia and Alabama's anti-abortion bills harken back to a time before Roe v. Wade, when abortion was illegal in the United States. Here's a snapshot of that era, from four years before the landmark Supreme Court decision.
"We continue to maintain strict antiabortion laws on the books of at least four fifths of our states, denying freedom of choice to women and physicians and compelling the 'unwilling to bear the unwanted.' Yet, as Doctor Christopher Tietze and Sarah Lewit point out in the Scientific American for January, 1969: 'Abortion is still the most widespread … method of fertility control in the modern world.' According to experts who participated in a United Nations Conference on World Population in Belgrade in 1965, abortion is indeed the chief method of birth control in the world today, and they estimated that about 30 million pregnancies are purposely terminated by abortion each year. Of these, studies indicate that almost one million are in the United States. Since, however, abortions are still so difficult to obtain, we force the birth of millions more unwanted children every year."  — Harriet Pilpel, the general counsel for Planned Parenthood, June 1969
What's New
Updates from the Masthead community
An Atlantic story that provoked members
"The Catholic Church has a unified organization, so that bishops and dioceses can be sued with assets that can be seized … The decentralized evangelical churches do not. That (plus lots of experience) makes it much easier for plaintiffs' lawyers to sue Catholic clerical wrongdoers, rather than evangelical wrongdoers … The others may have been protected by the lack of juice in the apple for the lawyers to squeeze. That the evangelicals are now attracting attention may mean that the Catholic seam is being mined out."  — @Newcavendish, a member, writing on the forums about "Abolish the Priesthood"
An Atlantic editor shares a recommendation with the Book Club
"Home Fire, Kamila Shamsie's retelling of Sophocles's 'Antigone.' Antigone isn't exactly an uplifting model for literary women in activism: Her dedication to honoring her dead brother despite his misdeeds, and her insistence that there's a moral law above the state, brings her, and everyone around her, to a violent end typical of Greek tragedies. But with all her fierce love and unwavering sense of right, she's stuck with me since I first read Sophocles's play for an English class years ago. And by reimagining her in a contemporary context, and giving her an interiority and depth beyond the constraints of her original genre, Home Fire makes her still more compelling."  — Annika Neklason, The Atlantic's archives editor
What's happening in members' lives
"I have finally finished all of my medical treatments. I am upright and feel healthy. Right now I have taken my lingering side-effects and my wife to visit friends in California who are in worse shape than I was. After that we are going to watch the tide come in in Santa Barbara. I feel for all of you who are in the midst of medical care. Also for those who have family members who don't function. We have one who has spent thirty of the her last forty years in bed, afraid that something terrible might happen. Of course, she's right. It does."  — @djbermont, a member, writing on the forums
Join a discussion
Here are a few of the active conversations on the forums this week. Join in, or start your own.
---
We want your feedback. Email us at themasthead@theatlantic.com.
We want to hear what you think about this article. Submit a letter to the editor or write to letters@theatlantic.com.
Ashley Fetters
is a writer based in New Jersey, and a former staff writer at
The Atlantic
.