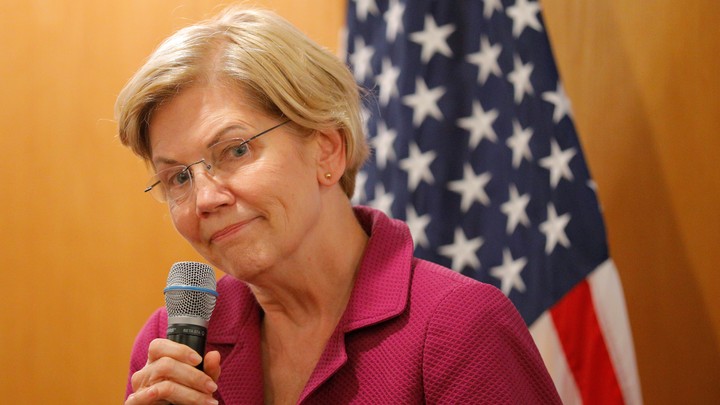 Masthead Weekly 06.21.19
Welcome to Masthead Weekly. You're reading this exclusive story because you're a valued Atlantic member. Do you like this newsletter? Take a brief survey and tell us! — Matt
What to Know: The Democrats' Policy Agendas
By Saahil Desai
What we're watching: Elizabeth Warren has a plan for that. It's become the quasi-official slogan of the Massachusetts senator's presidential campaign as she's climbed to near the top of the pack. In the past few weeks, Warren has surged in the polls, eking out a clear spot in third place behind Joe Biden and Bernie Sanders. Warren rallies are thronged with supporters carrying signs and sporting T-shirts with the motto, and it's become something of an internet meme (one tweet: "Do you think Elizabeth Warren has a plan to fix my love life?" Answer: apparently, yes).
But while Warren has gotten by far the most attention for her plans—which run the gamut from a new wealth tax on the super rich to universal child care—she's far from the only 2020 candidate who has released a string of ambitious policy proposals. Bernie Sanders, Kamala Harris, Julián Castro, and Cory Booker, just to name a few, have put out their own strings of policy proposals. Presidential candidates have grounded their campaigns in policy ideas since time immemorial. But both the sheer number of plans and their specificity, from all candidates, has outstripped any presidential campaign in recent memory.
Why it matters: Policy can often make voters' eyes glaze over, but one need not study white papers on marginal tax rates to understand the significance of all these plans. What the policy conversation shows is just how far—and how quickly—the party has moved to the left. As candidates, Hillary Clinton and Barack Obama had Big Ideas to mitigate income inequality, but in 2020, the plans are getting far more ambitious. And they're not just coming from the most liberal candidates in the race: Cory Booker has a proposal that would come close to closing the racial wealth gap, while Kamala Harris has a plan to give away billions of dollars to lower-income families. And Beto O'Rourke, one of the more relatively moderate candidates in the race, has released a climate plan that is among the most ambitious and detailed in the race—and which far surpasses what any Democrat was proposing in 2016 or 2012.
What we're asking: What's the plan to pass these plans? Democrats can release all the policy white papers they want, but that doesn't mean they can pass them into laws if elected. The unsavory truth for the party is that booting Trump from the White House in November 2020 is just half the battle. Democrats face an uphill climb to control the Senate—let alone win the 60-vote majority needed to override a filibuster. Without those votes, almost any Democratic plan is dead on arrival.
But relatively few of the candidates are grappling with that reality. That's clearest when it comes to the idea of changing the filibuster to let bills pass the Senate with fewer votes. Booker doesn't want to tinker with the filibuster, and Harris has said that she's "conflicted" on it. Some candidates are willing to take the plunge on filibuster reform. Others are pushing for statehood for Washington, D.C., and Puerto Rico, which would give their party more votes in Congress. But that's no easy task either. So for the candidates, major policy agendas are a gamble: They might successfully gin up support from voters, but they could also set the candidate up for a graveyard of failed campaign promises when they run headfirst into the semitruck of Republican opposition as president.
What's next: The 2020 campaign has so far been in a state of inchoate kumbaya. The contenders are largely talking past one another and aren't really going after their primary opponents. But that's surely about to change, since Wednesday and Thursday mark the first Democratic debates—and the first real opportunity for the candidates to pounce. I'll be curious to see how policy factors into the brouhaha: Will the candidates spend their few minutes of airtime talking up their plans or focusing more on Trump? Will all the hopefuls go after one another for their plans? My guess is that the slew of moderates in the race, seeing the success of Biden so far, will jump all over their opponents' most left-wing ideas.
The One Thing to Read
What to Expect
Notes on the news to come
Global
It's not just Iran that's feeling the effects of the Trump administration's so-called maximum-pressure campaign against its Middle Eastern adversary. America's European allies have taken halting steps to continue doing business with Iran, as they promised to do under the 2015 nuclear deal, only for the United States to warn that they could be sanctioned too. (The U.S. has withdrawn from the deal, but Iran, Europe, and others are still abiding by it.) The State Department's Iran envoy, Brian Hook, will meet with leaders in Europe on Thursday to try to bridge the "divide," as he put it diplomatically in congressional testimony this week. Iran has said it expects to break one of its commitments under the deal that day as well. Yesterday news broke that the Trump administration ordered but then called off a retaliatory strike after Iran downed an American drone. The pressure might not be at maximum quite yet.
Business
There are two main things to know about next week's G20 Summit in Osaka, Japan. First, a lot more than 20 global leaders will attend. The summit was started in 2008 after the financial crisis as a way to keep the world's biggest economies on the same page, but it has become a kind of hypercharged networking opportunity for political elites. Second, it's really just two of those leaders whose actions at the summit matter globally: the American president, Donald Trump, and China's leader, Xi Jinping. When the two met at a similar event in 2018, they agreed to talk about their differences rather than take concrete steps to harm the other's economies. Since then, talks have broken down, and both sides have imposed new tariffs. When they meet in Osaka, Trump and Xi have another chance to reset their relationship. Will they take it? Only two men know.
Transportation
From 2013 to 2014, thousands of tons of household waste, including plastic bottles, bags, and diapers, were shipped in batches from Canada to the Philippines. A private Canadian company had mislabeled them as recyclables. The Philippines hasn't been happy about it. The garbage is an environmental hazard, sure, but Philippines President Rodrigo Duterte has framed it as a matter of pride. "The Filipino people are gravely insulted about Canada's treating this country as a dump site," Salvador Panelo, a spokesman for Duterte, told The New York Times. Duterte has threatened to declare war on Canada as well as personally dump the trash in Canadian waters. He might not need to make good on these threats: "After the Canadian government resolved legal issues that it said prevented earlier action, a ship bringing 69 containers of the trash from the Philippines is expected in Vancouver by the end of June.
Culture
"Walk in someone else's shoes or at least eat their food. It's a plus for everybody," the late food writer and chef Anthony Bourdain once said. Tuesday would have been his 63rd birthday. His friends are encouraging fans to celebrate it by taking his advice. June 25 will be Bourdain Day, the chefs Eric Ripert and Jose Andrés declared recently. "The great gift Bourdain gave to his American audience was to remind them that no place exists outside of time," the journalist Kanishk Tharoor wrote last year. Now they will have a time in which to place him.
Items this week by Matt Peterson and Karen Yuan. Illustrations by Matt Chinworth.
What to Remember
Seventeen years ago, as the United States considered war with Iraq, James Fallows warned that the country was suffering a failure of imagination. Fallows's essay "The Fifty-First State?" has new resonance for U.S. tensions with Iran.
"There is [a] larger realm of imagination, [retired Air Force General Merrill] McPeak suggested to me. It involves the chain of events a war can set off. Wars change history in ways no one can foresee. The Egyptians who planned to attack Israel in 1967 could not imagine how profoundly what became the Six Day War would change the map and politics of the Middle East. After its lightning victory Israel seized neighboring territory, especially on the West Bank of the Jordan River, that is still at the heart of disputes with the Palestinians. Fifty years before, no one who had accurately foreseen what World War I would bring could have rationally decided to let combat begin. The war meant the collapse of three empires, the Ottoman, the Austro-Hungarian, and the Russian; the cresting of another, the British; the eventual rise of Hitler in Germany and Mussolini in Italy; and the drawing of strange new borders from the eastern Mediterranean to the Persian Gulf, which now define the battlegrounds of the Middle East. Probably not even the United States would have found the war an attractive bargain, even though the U.S. rise to dominance began with the wounds Britain suffered in those years." — James Fallows, November 2002
Members Loved These Stories
Five stories your fellow members are reading this week
After becoming a sperm donor, Tim Gullicksen wanted to get to know his donor kids. Now he invites them all out to a lake in California every summer.
Of course Democratic candidates should square off on the issue. Here's what a moderator should ask.
A presidential candidate shouldn't be endorsing the potential prosecution of a political opponent.
Demonstrations in 2014 brought people like Joshua Wong to the attention of the world. These latest rallies are very different.
"What was once a self-sustaining agricultural community is now on the front lines of the climate crisis. The journalists Lisa Hornak and Erin Stone traveled to Mousuni Island to see what life was like for the island's remaining inhabitants."
Ta-Nehisi Coates testified in Congress on Wednesday. Here's why a member thinks you should read his 2014 "The Case for Reparations."
"Wonderful article. The length is merely testimony to the degree of depredation endured by blacks in this country. I hope HR40 passes. I hope the Commission holds many hearings outside of Washington. I hope that the evidence it collects will be a starting point for beating back the rising tide of disinformation and double-speak that purports to be history in our country. My ancestors were busy being oppressed in their home countries while slavery atrocities were carried out here, but I acknowledge that the color of our skin afforded my ancestors and I certain social and economic advantages. I look forward to learning of ways in which I can better participate in reparations for past, current, and future wrongs." — @ray, a member, writing on the forums. Read Coates's article here.
Join a discussion
Here are a few of the active conversations on the forums this week. Join in, or start your own.
***
We want your feedback. Email us at themasthead@theatlantic.com.
We want to hear what you think about this article. Submit a letter to the editor or write to letters@theatlantic.com.