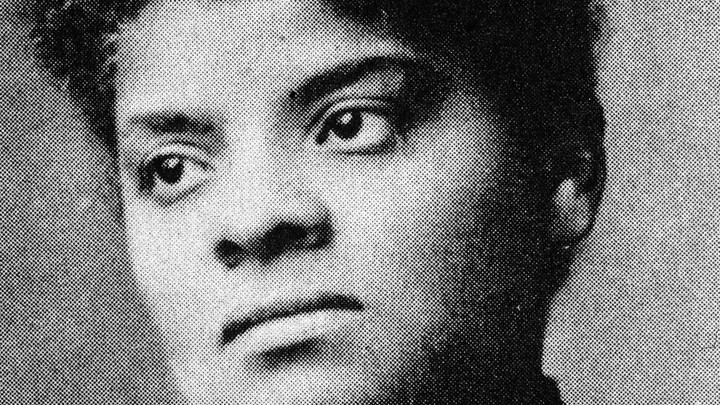 In honor of The Atlantic's new project on women's suffrage, The Masthead's June book-club theme is women in activism. Today we're closing out our monthly discussion.
This edition of the book club was an experiment in crowdsourcing recommendations. As with May's discussion, we started off with one book and asked members to tell us about related titles, then more related titles, and so on. We've been describing it as Amazon's "You might also like …" feature, but human.
Members this month shared texts on feminist theory, dystopian fiction featuring teenage heroines, and others. Rosa Inocencio Smith, an editor on The Atlantic's Culture desk, and Annika Neklason, the Atlantic archivist, also offered picks. Together, we created an expansive list of recommendations—all by female authors.
In this issue of The Masthead, we share the titles, and Rosa reviews a book with one of the most compelling recommendations: the Ida B. Wells biography Ida: A Sword Among Lions, by Paula J. Giddings, chosen by the forum member @ta_ada.
---
What do you think of the book club? Share your feedback, as well as any suggestions for our next discussion theme, here.
The Masthead Recommends
Here are the stories everyone recommended on the theme of women in activism. Indented titles were recommended in response to the title above.
What Such Anger Can Accomplish
By Rosa Inocencio Smith
The journalist and activist Ida B. Wells investigated some of the most horrific crimes in American history; her analysis of the false rationales and media distortions that allowed lynchings to continue was so groundbreaking that the public's racist backlash effectively exiled her from her home in Memphis. Her uncompromising belief in the need for direct political action unnerved her more cautious contemporaries—and their skepticism was only heightened by the fact that she was a woman. Today, as the political power of women's anger is more frequently being acknowledged, Wells's work is a striking example of not only what such anger can accomplish, but also the resistance—to the point of historical erasure—that it can provoke.
Learning more about Wells has long been on my to-do list, and so when the Masthead member @ta_ada recommended the historian Paula J. Giddings's comprehensive biography of her for our June books discussion, I considered it a sign. Ida: A Sword Among Lions is a deeply researched, eye-opening, frequently gut-wrenching account of Wells's life and times, including the anti-lynching crusade that defined her career and the organizational politics that came to partly obscure her legacy. Wells's work for women's suffrage is another key part of the book—one that's particularly worth noting as Americans celebrate the 100th anniversary of the Nineteenth Amendment.
The ways in which this particular movement for equality sometimes worked against other minorities have already been well documented. As Giddings writes, white women's Reconstruction-era suffrage campaigns mobilized "racist and elitist rhetoric that emphasized the need for women to have the ballot in order to protect them from newly enfranchised freedmen and immigrant troglodytes." When the National American Woman Suffrage Association was formed, in 1890, its members deliberately distanced themselves from black women, in part as a matter of political expediency.
Seen through the lens of Wells's life, the history is sobering: When Wells traveled to Washington, D.C., to march with the Illinois delegation in the suffrage parade of 1913, the group's leaders asked her to move to the back of the parade with the other black women. (She ignored these instructions and took her place with the white marchers anyway, Giddings writes.) In an earlier incident, when Wells was heckled during a lecture in Rochester, New York, NAWSA President Susan B. Anthony leapt up from the audience in defense of Wells, declaring that African Americans faced racism in the North as well as the South—only to illustrate her own point when she confided to Wells that she'd excluded black people from joining her organization or even speaking at its events for fear of alienating southern white women from the cause. According to Giddings, Anthony rationalized that issues of racial inequality could be better addressed once white women had the vote, the ends of her strategy thus justifying the means. (Wells, who on most points admired Anthony, respectfully disagreed.)
Anthony's reasoning is somewhat echoed in the American center-left's post–2016 election anxiety that progressives' focus on "identity politics"—the concerns of women, queer voters, and voters of color—had alienated the white working class and, as a result, weakened the Democratic Party. These arguments may have faded as the party's base has appeared to shift leftward. But this week, no fewer than 20 candidates will appear in the party's first debates of the 2020 primary, and while this field is more diverse than ever, it's also crowded to the point of being overwhelming. Among the high-polling candidates, former Vice President Joe Biden is considered by many to be the safest choice—more likely than, say, Kamala Harris or Elizabeth Warren to appeal to the middle. The coming campaign will likely prompt, for many, uneasy questions about the best way to reconcile party ideals with pragmatism, and a candidate's lofty vision with his or her chances of winning.
Wells, who refused to compromise her vision, didn't always win. Most notably, the NAACP, then newly formed and led by W. E. B. Du Bois, buried her anti-lynching work in the process of promoting its own. The organization had already refused to include Wells in its leadership, in light of her intransigent personality. In these ways, her unyielding idealism can be seen as working against her personal legacy.
Yet in other ways, her methods undeniably succeeded. On top of launching the anti-lynching movement, Wells organized black women into a political force in Chicago, rallying them to elect the city's first black alderman. The women's clubs she founded became a crucial network for a broad range of reforms in Chicago and beyond; they ran community centers, raised defense funds for incarcerated people, and joined the Pullman car porters' famous fight for fair wages. The same year Wells was slighted at the D.C. parade, she led these organizations to Springfield, Illinois, to lobby the state legislature—successfully—against a set of bills segregating public transportation and prohibiting interracial marriage. Giddings writes of "the dramatic impression that the presence of several hundred black women winding through the halls of the state capitol made on the legislators." I like to picture this moment as the women would have seen it: all these white men standing speechless before them, overwhelmed by their power, their anger, and their hope.
---
Forward this newsletter to someone who might appreciate it. If you were forwarded this newsletter, learn more about the membership program here.
We want to hear what you think about this article. Submit a letter to the editor or write to letters@theatlantic.com.