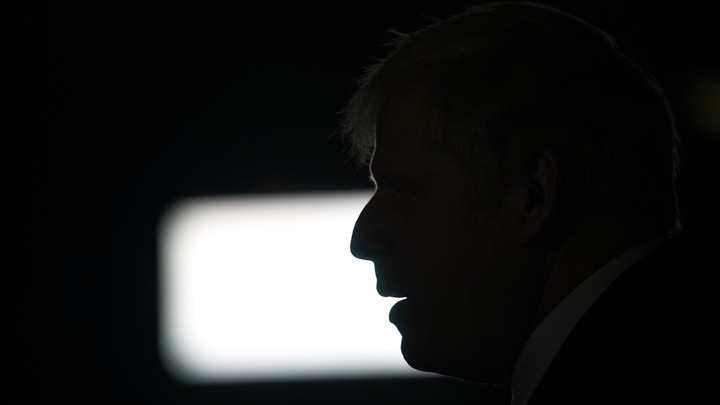 Masthead Weekly 06.28.19
You're receiving this exclusive email because you're a valued Atlantic member. Do you like this newsletter? Let us know.
What to Know: Britain's Next Prime Minister  
By Yasmeen Serhan
What we're watching: The race to become the next leader of Britain's Conservative Party—and, subsequently, prime minister—is well under way following Theresa May's decision to resign last month, citing her failure to deliver Brexit. More than a dozen Conservative lawmakers have put themselves forward to replace her as head of the party and the country—a pool that has since narrowed down to the final two candidates: Boris Johnson and Jeremy Hunt.
Why it matters: This election is about what everything in Britain is about these days: Brexit. Virtually every candidate in the race has claimed to have a solution to the Brexit impasse that has pervaded the country for the past three years, and the finalists are no exception: Johnson, who was one of the most prominent voices behind the campaign for Britain to leave the European Union, has pledged to take the country out of the bloc with or without a deal by October 31. Hunt, who backed remaining in the EU in the 2016 referendum, has also pledged to deliver Brexit, though he is more dubious about the prospect of doing so without a deal.
Apart from Brexit, though, little separates these prime-minister hopefuls. They are both white men in their 50s. They both studied at Oxford University in the 1980s. Both of them have spent time in the foreign office under May's premiership: Johnson was the country's gaffe-prone foreign secretary until he resigned last year in protest of May's negotiated Brexit deal with the EU. Hunt has led the foreign office ever since.
What we're asking: So who will Britons vote for? Well, not all of them are voting. In fact, most British voters can't take part in this contest at all. Since this race is technically about selecting the next leader of the Conservative Party, the decision falls to registered party members. This means that only a "selectorate" of 160,000 dues-paying Tory members will ultimately have a say in who gets sent to Number 10 Downing Street. For context, that's less than 1 percent of the U.K. electorate.
Within that 1 percent, despite a slump in support this week, Johnson remains the favorite to win the contest: He has received the backing of more than half of his Conservative colleagues in Parliament and is leading among party members in opinion polls.
Why it really matters: Not all Britons see Brexit, and how it should be handled, in the same way. A recent poll by the British polling firm YouGov found that the country is more and more split between those who want to stay in the EU (43 percent) and those who want to leave the bloc without a deal (28 percent). But the Conservative Party membership is considerably less divided: They are committed to Brexit. So much so, in fact, that a recent survey found that more than half of its members would be willing to sacrifice extremes—including the health of the country's economy, the unraveling of the United Kingdom (in which Northern Ireland and Scotland would leave the union), and the survival of the Conservative Party itself—to see it happen.
"This is a Conservative Party membership that has become completely and utterly obsessed with Brexit to the point that it doesn't really seem to care about anything else," Tim Bale, a politics professor at Queen Mary University of London, told me. "It's in the grip of a fever that I don't think we've ever really seen before in the Conservative Party in modern times."
What's next: Conservative Party members will have until July 22 to send in their postal ballots, with the result of the vote expected the following day. Only after a winner is declared will May go to Buckingham Palace and tender her resignation, at which point Queen Elizabeth II will invite the next Conservative leader to form a government.
The One Thing to Read
The Race to Replace Theresa May: A Cheat Sheet (The Atlantic). In this deeper dive into the profile of each of the candidates, Yasmeen educates the reader on everything from their Brexit stances to their favorite things to have for lunch.
What to Expect
Notes on the news to come
The Skies
Scientists around the world are preparing to nerd out on June 30 for Asteroid Day. When you think of asteroids, two things might spring to mind: dinosaurs and Bruce Willis. Despite their very lethal involvement with extinct reptiles and bald actors, asteroids don't pose an existential threat to Earth today. Astronomers regularly track thousands of them near Earth, and the chances of a serious impact in the next century are extremely low. For now, asteroids are simply fascinating research targets. American and Japanese spacecraft recently visited two asteroids and captured magnificent photographs of their jagged surfaces. To gaze upon these images is to glimpse the ancient past; asteroids are the rocky bits left over from the formation of the solar system billions of years ago, too small to become planets or moons.  
Politics and Policy
President Trump this week appointed a new press secretary: Stephanie Grisham, who had been Melania Trump's chief spokeswoman. At least he's given Grisham the title. The job, as Americans have come to know it, long ago ceased to exist. Grisham will succeed Sarah Huckabee Sanders, a Trump confidant who is leaving the post at the end of this month to return home to Arkansas and possibly mount a gubernatorial campaign. Sanders has gone more than three months since holding an official White House press briefing, relinquishing what had been one of the press secretary's principal duties. Trump himself has largely taken over the role, holding hundreds of short question-and-answer sessions with reporters in the belief that he's his own best spokesman. So, what will Grisham be doing in her spacious West Wing office with the working fireplace? She's known as a tough Republican operative. Don't expect a thaw in the cold war between the West Wing and the White House press corps.
National
A lot of things are more expensive in California than in the rest of the country—rent, coffee, artisanal salads. Gas is no exception. At nearly $4, the state's average for a gallon of gas is the highest in the nation. (The national average is $2.70.) When California's new gas tax comes into effect on July 1, the price of gas will go up an additional 5.6 cents per gallon. While the already high cost can be explained by generally high taxes and strict environmental restrictions, much of it is what some experts call a "mystery surcharge." It's mysterious enough, in fact, that the California Energy Commission has proposed an investigation into possible market manipulation.
Technology
WhatsApp, the world's most popular instant-messaging platform, might disappear from the Microsoft Store on July 1. The full statement on the app's FAQ page: "WhatsApp might not be available in the Microsoft Store after July 1, 2019." The might wording is a little ambiguous, but Microsoft Phone users should prepare themselves nonetheless. (WhatsApp did not respond by press time to an email seeking clarification.) The underlying story is that Microsoft has scrapped work on operating systems for its own phones, and is slowly phasing out support for the various editions of its mobile operating system. So it's not entirely a surprise that Facebook-owned WhatsApp is (likely) abandoning a platform that Microsoft itself is abandoning. It's only another indicator of how the Windows phone failed to get a foothold in a market dominated by iOS and Android devices.
Items this week by Marina Koren, Peter Nicholas, and Karen Yuan. Illustrations by Matt Chinworth.
What to Remember
The contenders in the current round of Democratic primary debates might be new, but the essential elements of debates are as old as politics.
"Political debate is not, of course, like other forms of debate. It is not primarily a dispassionate contest of logic, in which ideas are pitted against each other to see which is most compelling. It is debate as political combat, in which the contest of ideas is subordinate to the struggle for dominance between the debaters. Victory requires knowing all the details of the opposition's proposals ... But it also requires a taste for face-to-face confrontation, and a sense of showmanship."  — James Fallows, July 2000
Members Loved These Stories
Five Atlantic stories your fellow members are reading this week
Dear Therapist: I Can't Stand My Fiancée's Ex-Husband
"He wants to take pictures with her and their daughter like they're still one happy family—and I want him to stop."
The Hero Who Betrayed His Country
An ethnic Russian serving in Estonia's military had something to hide. Now he's in prison as a convicted traitor.
It's Younger and Cooler Than a Carbon Tax
The Green New Deal is surprisingly popular.
The Time Boris Johnson Thought Trump Was 'Out of His Mind'
They might appear to be natural allies, but the man who might be Britain's next prime minister once had strong words for the man who became the U.S. president.
Americans have fewer and fewer spaces to gather. That's where nuggets come in.
---
Why you should read Rachel Louise Snyder's "The Term 'Domestic Violence' Is a Failure"
"For me, the juxtaposition of 'domestic' with 'violence' creates a heightened power to the term. Not just violence, but violence in a place that ought to be safe. Consider for comparison the term 'home invasion.' The word 'home' in 'home invasion' does not make the crime sound less important. Quite the opposite. So if the 'domestic' in 'domestic violence' makes that violence sound more justified, then I am inclined to think that this is not caused by the language we use but by an unacceptable underlying societal attitude." — @gemmaallen, a member
---
Join a discussion
Those are a few of the active conversations on the forums this week. Join in, or start your own.
---
We want your feedback. Email us at themasthead@theatlantic.com.
We want to hear what you think about this article. Submit a letter to the editor or write to letters@theatlantic.com.