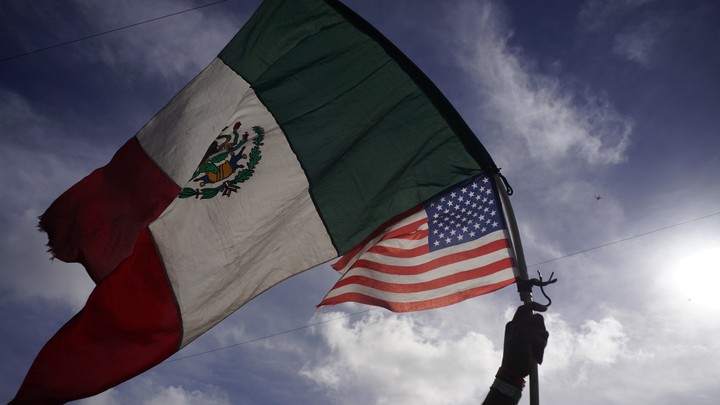 Masthead Weekly 05.31.19
If you can't keep up with the trade war, you're not alone. Fortunately, the Ideas writer Annie Lowrey is here to catch you up on what's been a dizzying 24 hours for the global economy. We'll also get you a jump on next week's news, with previews of a few big stories to come. (Who's ready for the Women's World Cup? Probably not Julian Assange. Confused? We'll explain.) And we share what's new in the Masthead community. Read on.
What to Know: Tariffs on Goods From Mexico
By Annie Lowrey
What we're watching: I feel like I have written this sentence a thousand times since Donald Trump became president, but here goes again: The trade war is heating up.
This week, Trump tweeted that the United States would impose a 5 percent tariff on all goods from Mexico "until such time as illegal migrants coming through Mexico, and into our Country, STOP. The Tariff will gradually increase until the Illegal Immigration problem is remedied." The White House later clarified that the tariffs would be implemented at 5 percent on June 10, bumped up to 10 percent on July 1 "if the crisis persists," and then worked up to a maximum of 25 percent.
The announcement of the new, dubiously legal, and potentially disastrous sanctions comes shortly after the Trump administration blew up trade negotiations with Beijing and implemented new rounds of tariffs instead—all the while insisting wrongly that tariffs were a tax on Chinese businesses, instead of American consumers.  
Why it matters: If Trump carries through with the Mexico tariffs—a big if—he puts the entire global economy at risk. The first round of tariffs would translate into a roughly $20 billion tax increase on American households, one that would hit lower-income families particularly hard. It would force any number of American businesses that rely on imported goods to scramble to rejigger their supply chains, likely leading to layoffs, increased prices, lower corporate profit margins, and some bankruptcies and closures. The markets do not like the Trump White House's threat, and this kind of action would likely risk slower growth around the world—particularly given that Trump is engaged in ongoing trade disputes with negotiators in Europe, China, and elsewhere.
If carried through, the tariffs would also embroil the United States in a legal fight, given that trade measures are meant to correct trade problems and are generally not used as economic sanctions and geopolitical bargaining chips.  
What we're wondering: The Trump administration is using tariffs as an all-purpose, fast-acting political cudgel—a dramatic break from the practices of prior administrations. But it is not clear that tariffs work very well this way. The White House has thus far failed to gain many concessions from China on trade issues, nor does the countries' security relationship look significantly improved. Likewise, it seems unlikely that Trump's tariffs will have their intended effect of spurring the Mexican government to stop the flow of migrants and ending undocumented entries on the southern border. Nor does it seem possible for Trump to decouple the American economy from the global economy, or to winnow the trade deficit.
What's next: All the while, Trump is risking a slowdown in the global economy. Already, international forecasters such as the World Bank expect growth to soften in 2019, due to tighter financial conditions, trade tensions, and other factors. If Trump's White House keeps waging a cavalier trade war, it might soften even more, this time with problems surrounding American exporters as one of the root causes.
The One Thing You Should Read to Learn More
What to Expect
Notes on the news to come
Global
President Trump will visit the United Kingdom next week, but that's far from the only thing on Britons' minds. The country is still reeling from the outcome of the European Union elections, in which the Conservative and Labour parties lost seats to smaller pro-Brexit and pro-EU parties, reaffirming how divided the country remains over Brexit. But that's not all: With Theresa May stepping down as the Conservatives' leader next Friday, Britain will soon need a new prime minister. The former Foreign Secretary Boris Johnson is widely regarded as the front-runner to succeed her, and he already has one key endorsement: the American president. On his last trip to the U.K., Trump said Johnson "would be a great prime minister."
Politics and Policy
A Swedish court will determine on Monday whether a case against the WikiLeaks founder Julian Assange can proceed. The case stems from rape allegations made by two women; Assange acknowledges having sex with the women on a 2010 trip to Sweden but denies that his behavior crossed legal lines. The statute of limitations has expired on one of the women's claims, but a Swedish prosecutor reopened the other's case after Assange was removed from the Ecuadorian embassy in London in April. The decision of where to extradite Assange, if at all, will rest with British authorities, who are also considering separate American charges. Heightening the tension in that decision is, as usual, Assange himself. Apparent health issues have rendered the normally voluble Australian incommunicado, according to his Swedish defense attorney, who visited him Friday. "It was not possible to conduct a normal conversation with him," the lawyer told Reuters.
Arts and Culture
"Come on, it sounds right, doesn't it?" The mantra of Saturday Night Live's version of Michael Wolff, played by Fred Armisen, seems to be almost indistinguishable from that of the real thing, judging by the reaction to Wolff's new book, Siege: Trump Under Fire, out June 4. CNN advised journalists to approach Wolff's work with caution. An NPR review highlighted the dubious nature of Wolff's sources: the former White House chief strategist Steve Bannon and "a cast of no-names." The Atlantic's David Graham wrote that "the tell-all genre is becoming a snooze," regardless of what Wolff reveals. Many stories questioning the veracity of Siege have noted that the most explosive claim revealed so far—that Special Counsel Robert Mueller had drawn up a three-count indictment of President Trump in early 2018—was promptly denied by Mueller's office. (Wolff stood by his reporting.) But whether or not it's a paragon of journalistic ethics, Wolff's book will probably sell. Fire and Fury sold 1.7 million copies. And as Armisen's Wolff said of that book, "You liked it? You had fun? Then what's the problem?"
Sports
The Women's World Cup doesn't kick off in Paris until June 7, but it's already the center of controversy. Soccer's global governing body, FIFA, has made attempts to address criticism over unequal treatment between women's and men's tournaments; those attempts aren't enough, says the U.S. soccer star Megan Rapinoe. "In terms of [FIFA's] capacity for change," she told USA Today, "I don't think it's been a huge change at all." The winner of this year's World Cup will take home $4 million—twice as much as the last tournament's winnings, but still meager compared with the $38 million prize for the men's World Cup. What's more, the women's final must compete for attention with several major men's championship finals, including those of the Gold Cup and Copa América, happening at the same time. At least this year the women are playing on grass.
Items this week by Yasmeen Serhan, Matt Peterson, Parker Richards, and Karen Yuan. Illustrations by Matt Chinworth.
What to Remember
Insights from Atlantic history
The public listing of Uber this month was ushered in with nationwide strikes by ride-share drivers in protest of what they see as poor wages and working conditions. Will the strikes prove effective? The strike wave of 1946 offers a possible precedent.
"Strikes must not be judged, however, too much in terms of wage increases. Some of their unintended results are among the most important and the most useful. Successful collective bargaining presupposes a fairly accurate estimate by each side of the other side's strength and willingness to fight. In steel, automobiles, electrical goods, and a few other industries, the employers and the new union have now each tested the other. Most of the tests were perhaps not long enough to be conclusive. Furthermore, the fact that the President had recommended a definite wage increase prevented the tests from being entirely satisfactory. Nevertheless, each side knows much more about the other than before and has more respect for the other's fighting qualities."  — Sumner Slichter, May 1946
What's New
Updates from the Masthead community
An Atlantic story that provoked members
"[James] Carroll implies that the sexual abuse of children (and women) in the Catholic Church would not have been as prevalent if there were not a priesthood such as that which currently exists in the Church. I disagree … These problems are particularly pernicious in the church due, in part, to its bureaucracy and the self-preservation instincts that appear to be intrinsic to bureaucracies. The Southern Baptist Church with its much more decentralized system of governance and more democratic selection approach for ministers is currently dealing with the fallout from the Abuse of Trust expose … [the Catholic Church's] hierarchy permitted it to be more effective in its cover-up than others due to the reach of its soft power."  — @kahudson, a member, writing on the forums about "Abolish the Priesthood"
What's happening in members' lives
"For the last three months I have been doing intermittent fasting—which basically means I skip breakfast. Much to the horror of my physician. I have found that I don't miss it very much! Although sometimes in business or social situations it's a bit awkward—as I will have a cup of coffee while my colleague will eat scrambled eggs and pancakes. For my regime, it is important to drink lots of liquid. When I'm home I drink tea with milk. When I'm out I drink coffee with milk. Probably 16 oz in the morning."  — @eric.mankin, a member, writing on the forums
Join a discussion
Here are a few of the active conversations on the forums this week. Join in, or start your own.
---
We want your feedback. Email us at themasthead@theatlantic.com.
We want to hear what you think about this article. Submit a letter to the editor or write to letters@theatlantic.com.