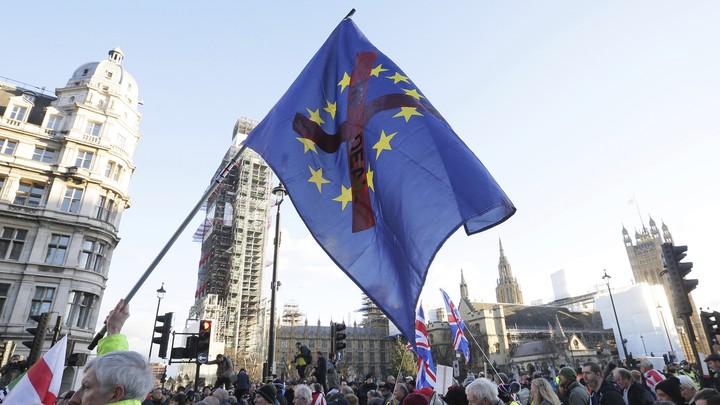 Masthead Weekly 05.03.19
Britain's inability to leave the EU on time is throwing a monkey wrench into the continent's biggest election, the global writer Yasmeen Serhan writes.
What to Know: Why Everyone Is Running in the European Elections
By Yasmeen Serhan
What we're watching: Nearly three years after the United Kingdom voted to leave the European Union, and more than two months since that exit was supposed to occur, the country suddenly finds itself gearing up for another round of European elections. The vote is scheduled to take place on May 23. It will give Britons the opportunity to elect their representatives to the European Parliament—a body that, until very recently, many incumbent British members assumed they would no longer be participating in. The elections will also introduce two newly established British political parties: the Brexit Party, led by the former U.K. Independence Party (UKIP) leader Nigel Farage, and Change U.K., a pro-European party led by a group of independent lawmakers who are advocating for a second referendum.
Wait, isn't the U.K. supposed to be leaving the EU? Technically, yes. But since the British Parliament has so far been unable to reach a consensus on how Britain should leave the EU, Prime Minister Theresa May was compelled to ask the bloc for a short extension to the country's original exit date … and then another. Now, the U.K. isn't due to leave the EU until the end of October, by which point Parliament must decide whether to agree to the prime minister's negotiated agreement with the EU (or a variation of it), commit to leaving the bloc without a deal, or cancel Brexit altogether.
May is hoping that the U.K. can avoid holding European elections by getting enough support to pass her Brexit deal through the House of Commons before May 22. But the chances of this happening seem pretty slim. Parliament has already rejected her deal three times (twice by historic margins). Without a significant shift in support from members of her own Conservative Party, or from those in the opposition Labour Party, a fourth try will be no different. So for now, Britain remains a member of the EU. As long as that continues, it will be legally and politically obliged to participate in European Parliament elections.  
Who's running? Frustrations over the Brexit impasse have prompted politicians and nonpoliticians alike to throw their hat in the ring. In addition to all of the traditional political parties—including the U.K.'s ruling Conservatives, the Labour Party, the Liberal Democrats, the Greens, and many more—the Brexit Party and Change U.K. have debuted their own lineup of candidates. So far those lists include: a former BBC presenter (Change U.K.), the owner of Britain's oldest salmon curer (Brexit), a former deputy prime minister of Poland (Change U.K.), and the sisters of two high-profile Conservative Party lawmakers. (Fun fact: Both candidates are running in a different party from their sibling's.) You can find the full list of candidates for all parties here.
Why it matters: Even if the new class of British members of the European Parliament only end up representing the U.K. in the EU for a short while, who they are—and what their parties represent—still matters. For British lawmakers in Westminster, the performance of parties such as Change U.K. and the Brexit Party could indicate where the British people stand on the current Brexit impasse. Even though turnout in European Parliament elections is relatively low in Britain (only 35.4 percent of Britons voted in the 2014 European elections, compared with 68.7 percent who voted in the last general election), those who do vote could reflect who is most mobilized to effect change in the country. "It is inevitable that these elections will be fought on the question of Brexit," Philippe Lamberts, a Green Party member of the European Parliament who sits on the Brexit steering group, told me. "It will give an indication of where people want to go."
What's next? In the (likely) event that the British Parliament is unable to pass May's Brexit deal before May 22, then all British political parties will have just under three weeks to campaign for the European elections. Though it's still early days—and polling can change—the projections suggest that voters are frustrated with Brexit and might be inclined to use the upcoming European election to say so. But regardless of which party comes out on top, this election won't affect the makeup in Westminster, where the British government's decisions on Brexit are actually being made. Only a general election can do that.
What to Expect
Notes on the news to come
Arts and Culture
The first of the Stranger Things trials begins on May 7 to determine whether Matt and Ross Duffer stole the idea for their hit Netflix sci-fi series. The filmmaker Charlie Kessler filed suit against the Duffers more than a year ago, saying that he pitched the brothers his sci-fi story when they met at a 2014 Tribeca Film Festival party. He claims that his story, like theirs, was set at a military base and dealt with a missing boy and a monster from another dimension. The Duffers assert that they already had a detailed outline for Stranger Things well before meeting Kessler. Moreover, at the Duffers' request, the judge has agreed to split the trial into two phases: the first to assess the merit of Kessler's claims and the second, if necessary, to evaluate the damages, thereby delaying, if not preventing, the public disclosure of the show's profits.
Global
Last month, the 29-year-old journalist Lyra McKee was killed while covering riots in Derry, Northern Ireland. Her death brought to mind memories of a darker time. In 1998, the Good Friday Agreement was signed to end the Troubles, 30 years of political and sectarian violence. It worked for a while. The two warring sides—Protestant unionists, who want Northern Ireland to remain part of the U.K., and Catholic nationalists, who want to leave and join the Republic of Ireland—agreed to a power-sharing government. But since 2017, that government has essentially stopped functioning because of disagreements between each side's more radical wings. McKee's murder might have changed the political dynamic: British Prime Minister Theresa May and the Irish leader Leo Varadkar announced talks, set for May 7, aimed at restoring that compromise of power.
Politics and Policy
How does a politician simultaneously own and disown his party's history? Cyril Ramaphosa, the president of South Africa and the leader of the African National Congress party, is trying to find a way. He has described the tenure of his immediate predecessor, Jacob Zuma, as "nine wasted years." (Zuma has defended his record.) But Ramaphosa was Zuma's deputy for some of that time, and both men are members of the ANC, which is angling to win a general election again on May 8. The ANC has made mistakes, Ramaphosa acknowledges, but he has no desire to abandon the party that Nelson Mandela led. Instead, he says, the ANC will return to its glory days. How? "We will use the Mandela magic," Ramaphosa told Time.
Transportation
Uber's initial public offering next week could value the company at upwards of $100 billion, turning many of its employees into instant millionaires and billionaires. But what's expected to be the largest IPO of 2019 will leave some notable members of the Uber family without a payout: its drivers. At noon on May 8, less than two days before the IPO, thousands of Uber drivers in seven cities across the U.S. plan to go on strike in order to protest what they regard as poor pay conditions. "We deserve a fair share of the millions that we make for Uber and Lyft each year," an Uber driver told The Hill.
125 Years Ago
"Let personality degenerate into the latter ignoble form of egotism, and it becomes an insidious but immensely effective force of disintegration. That is what it has become to-day in many fields of activity. We have in politics the perennially interviewed one, and in literature the 'popular' author with his frequent communications to the public as to his methods and his plans. How often, in the course of a year, is it not remarked by some writer of prominence (in response to a pressing inquiry, of course; as though any inquiry should be pressing enough to elicit such talk!) that his forthcoming novel will be one of the best, if not altogether the finest book he has ever written!"  — Royal Cortissoz, May 1894
Items this week by Rachael Allen, Gabby Deutch, Matt Peterson, and Karen Yuan. Illustrations by Matt Chinworth.
What's New
Updates from the Masthead community
In the News
"One of the subtle issues facing our society really is just the meaning of words … If two people maintain different definitions of fairness, for instance, they are likely to disagree on a matter of fairness, be passionate in their disagreement, and ultimately characterize their interlocutor as unfair. Multiplying these disagreements across such words as justice, freedom, racism, bigotry, rights, common sense, et cetera, and it easy to see how our very language can breed antipathy for one another."  — @jonathan.stensberg, a forum member, reacting to "Conservatives Have a Different Definition of 'Fair'" by Dan Meegan
In the Book Club
"The Parade, by Dave Eggers [is] the story of two men, known only as Four and Nine, sent by an unnamed company to build a road in a developing country that's recovering from civil war … when the real purpose of the road becomes clear, it overturns both Four and Nine's assumptions, and casts any lessons the reader might think they've learned in a new light ... The Parade strikes me as a kind of fable about foreign intervention, its dangers and limits, and how easily a well-meaning person can become a party to atrocity."  — Rosa Inocencio Smith, an editor on The Atlantic's culture desk
In Your Lives
"I am now cat-free for the first time in my adult life, I think … These cats joined me when I still had a kid at home and still worked full-time. They were with me as I stumbled into mid-life dating, took an early retirement package, and became an empty nester. They survived the terrier that came with the guy I fell in love with 12 years ago, fleeing to the basement on the weekends we spent together. Yet another era of my life is behind me. It doesn't end with the kind of sharp pain of earlier losses, but more of a wistful sadness."  — @Barb.Didrichsen, a forum member
In The Atlantic
The third season of Crazy/Genius, The Atlantic's podcast on tech and culture, returns on May 9. "Unbreak the Internet" is its theme—over the course of eight weeks, its host Derek Thompson will discuss surveillance capitalism, porn wars, totalitarian AI in Brooklyn and Beijing, and other ways digital technology has become a relentless force for greed, bad faith, and tyranny these days. Check out the trailer here.
Join a Discussion
Here are a few of the active conversations on the forums this week. Join in, or start your own.
---
We want your feedback. Email us at themasthead@theatlantic.com.
We want to hear what you think about this article. Submit a letter to the editor or write to letters@theatlantic.com.