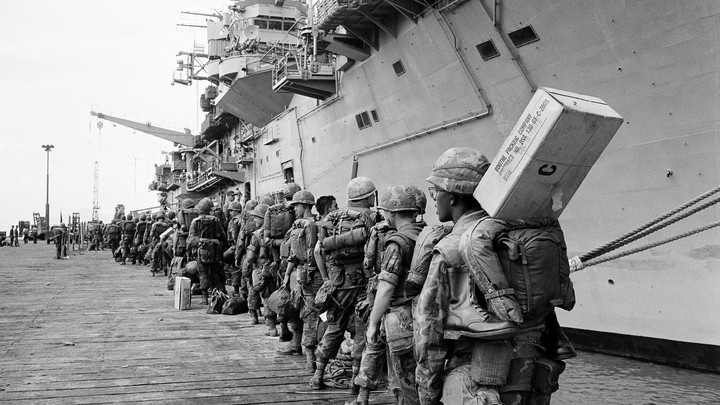 In honor of Memorial Day, The Masthead's May book-club theme is recovery from war. Today we're closing out our monthly discussion.
This edition of the book club was an experiment in crowdsourcing recommendations. We started off with one book and asked members to tell us about related titles, which were meant to inspire other readers to share other titles, and so on. We called it Amazon's "You might also like …" feature, but human.
You're a well-read bunch: So many of you responded, and together, we've created an expansive list of recommendations. Rosa Inocencio Smith, an editor on The Atlantic's Books desk, helped guide the conversation, and Kathy Gilsinan and Julie Bogen, Atlantic writers, offered their own picks.
In this issue of The Masthead, we share your titles, and Rosa reviews a book with one of the most compelling recommendations: Redeployment, by Phil Klay, chosen by the member Leslie Farnsworth.
---
What do you think of the book club? Share your feedback, as well as any suggestions for our next discussion theme, here.
The Masthead Recommends
Reflecting the community's rich literary diet, here are the stories you recommended on the theme of recovery from war.
Lifelines, Lies, or Both?
By Rosa Inocencio Smith
Redeployment, despite the prefix, doesn't mean shipping out for a second or third or fourth tour of duty. Instead, it means a transition in troops' activities; often, it means coming home. To my civilian ear, the term is confusing, and yet appropriate to the drawn-out wars of Iraq and Afghanistan. In these conflicts, as in the recall of soldiers' traumatic memories, the end is in some ways indistinguishable from the continuation.
Phil Klay's National Book Award–winning short-story collection takes its title from the word. I read Redeployment this month on the recommendation of the Masthead member Leslie Farnsworth, who "learned so, so much" from the book's portrayal of American troops serving in and returning from Operation Iraqi Freedom. Indeed, Klay, a former U.S. marine, immerses readers in the daily lives of characters in a combat zone, including those less visible to the public: the guys who process paperwork, the guys who collect the bodies, the chaplain who learns the names of men in his battalion only as they die.
These narrators' voices are vivid and real. Yet a current of ambivalence runs through them about the purpose and value of stories: lifelines, lies, or both? "It was bullshit," reflects one narrator, a marine who has taken credit at his friend's request for the killing of a teenager, "but … when I told the story, everything was clear … Even saying it was dark and dusty and fucking scary made it less dark and dusty and fucking scary. So … there were the memories I had, and the stories I told, and they sort of sat together in my mind, the stories becoming stronger every time I retold them, feeling more and more true."
Klay's characters are deeply conscious of the ways that stories can be manipulated; after all, as one Army specialist in Psychological Operations, or propaganda, puts it, "Perception is reality. In war, what matters isn't actually what's happening, but what people think is happening." Thus, the beleaguered Foreign Service officer whom my colleague Kathy Gilsinan mentioned in her comment about the book finds that the only way to deal with bureaucratic absurdities is to counter them with invented stories of his own. And an adjutant writing a citation for a marine killed in action learns to strip out the details of the man's character, turning his friends' "little grief-stricken monologues" into "the flat, regimented prose the Corps requires for its medals."
While reading, I was reminded of Jonathan Shay's book Achilles in Vietnam: Combat Trauma and the Undoing of Character, which uses The Iliad—Homer's ancient epic poem of battle—as a guide for understanding the psychological and moral injuries of war. Shay argues that "severe trauma explodes the cohesion of consciousness," including how a survivor of trauma understands his or her own character. Creating personal narratives of their experiences, Shay writes, can allow survivors to piece back together their fragmented memories, values, and self-image.
Despite their ambivalence about the trustworthiness of stories, Klay's narrators do find that storytelling gives them a chance to regain control over what's happened to them. In "Bodies," a marine who hates to talk about his experience processing people's remains in Iraq learns instead to tell a tall tale as if it's his own, adjusting the tone and the ending according to his audience. In "War Stories," an engineer disfigured by an IED shares an account of his recovery that insists upon his resilience.
Only some relief is gained from this control, however. The engineer can't make his listener accept his version of the story; she's more interested in how he was injured than how he has recovered. And the Mortuary Affairs marine finds that telling his adopted story does little to reduce his anger or his loneliness. As the member D. J. Bermont noted in our discussion, "No person, or country, ever really recovers from war." To put this in Shay's terms, consciousness might be rebuilt, but it can't ever be unbroken. This, perhaps, is why Redeployment leaves the reader with a sense of loss above all—a sense, as the PsyOps specialist puts it, "that the story hadn't been enough, that something was missing and neither of us knew how to find it."
An Atlantic Editor Recommends
While you're reading Redeployment, check out these relevant cultural works selected by Rosa.
🎵 For more on moral injuries, listen to Bruce Springsteen's "Devils and Dust," in which a soldier wonders what happens "if what you do to survive / kills the things you love."
📝 Read Phil Klay's article for our May 2018 issue on how the morale of American troops has declined over nearly 20 years of war.
📖 Read Will Mackin's short story "Rib Night," about life in an American outpost in Afghanistan, from our March 2018 issue.
🎨 And for another view of war's impact, look at the artist Tiffany Chung's exhibition "Vietnam, Past Is Prologue," which focuses on the experiences of South Vietnamese refugees displaced by the Vietnam War.
---
Forward this newsletter to someone who might appreciate it. If you were forwarded this newsletter, learn more about the membership program here.
We want to hear what you think about this article. Submit a letter to the editor or write to letters@theatlantic.com.