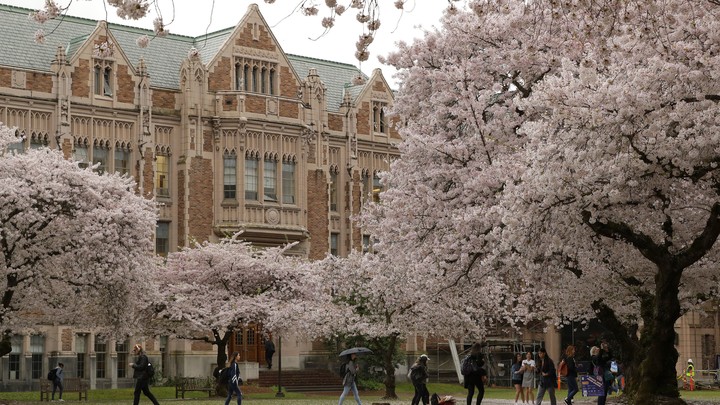 Masthead Weekly 05.10.19
What does the public want to do about race in college admissions? A legislative fight in Washington State is putting that question front and center for the education writer Adam Harris this week.
What to Know: Washington's Repeal of a 20-Year Ban on Affirmative Action
By Adam Harris
What we're watching: All eyes in the college-admissions world—at least of those thinking about race in admissions—have been trained on the East Coast: at Harvard and the University of North Carolina at Chapel Hill, institutions that are being sued over their use of affirmative action. But changes are under way across the country. In a Sunday-night vote in April, state lawmakers in Washington passed an initiative that would end the state's 20-year ban on affirmative action. It was an unprecedented move; while voters in California, Michigan, and other states have banned the use of race in college admissions, Washington's legislature is the first to overturn that ban.
The legislation will take effect in a year, assuming nothing changes, but the opposition to the initiative, led by a group called Washington Asians for Equality,  has already begun. Those who oppose overturning the ban have until July 27 to collect enough signatures in order to begin another referendum vote to once again ban affirmative action in the state.
What we're asking: What is the public's opinion on affirmative action when it's put plainly in front of them? The Harvard and UNC cases will decipher the legal merits of how those institutions are using race in admissions, but the Washington example presents something completely different: the fundamental question of whether or not people support the use of race in college admissions.
As I've reported, when race cannot be used as a factor in admissions, the percentages of underrepresented minorities on campus drop. The declines are particularly acute for black and Latino students. In the case of the University of Michigan, for example, after the state's affirmative-action ban took effect, black enrollment declined steadily from 9 percent of the student body to 4 percent.
Will opponents of the initiative in Washington be able to get the 129,811 signatures (an amount based on the number of votes cast for governor in the last election) necessary to get a referendum on the ballot? If they do, are there enough people in the state who support ending the practice (again) for it to pass? Washington voters supported Hillary Clinton in 2016 by a 500,000-vote margin, and Democrats largely support affirmative action. And, if Washington does ban it again, what does that mean for a potential reversal of the ban in a state such as California, where, according to CNN exit polls, 34 percent of voters in the midterms identified as liberal and 37 percent as moderate?
What's next? We're on to the not-so-fun but necessary part where we wait and see. I have July 27 marked down in my calendar to assess whether or not those Washingtonians opposed to the use of race in admissions can get nearly 130,000 unique signatures. (In the meantime, I'll be keeping my eyes on Boston, where a decision in the Harvard trial could come anytime in the next couple of months.)
What to Expect
Notes on the news to come
Politics and Policy
The confrontation between Congress and the Trump administration over subpoenas related to Special Counsel Robert Mueller's investigation will ratchet up next week. The biggest question remains whether—and when—Mueller himself will appear before the House Judiciary Committee. The panel had proposed Wednesday, May 15, as a date for the special counsel to testify, but whether the Justice Department will clear him to speak to Congress remains unclear. Meanwhile, the Judiciary Committee could consider other contempt resolutions after it voted along party lines to hold Attorney General William Barr in contempt for refusing to turn over Mueller's unredacted report. Across the Capitol, the Republican-led Senate Intelligence Committee surprised the president when it subpoenaed his son Don Jr. for its own bipartisan probe into Russia's interference in the 2016 election.
Arts and Culture
The secret's out: On Saturday, the International Spy Museum opens its new and expanded facility in Washington, D.C. This museum balances a sober assessment of state-backed espionage with Hollywood flourish: Picture a presentation on the raid of Osama bin Laden's compound in Abbottabad, Pakistan, but also an exhibit of the Aston Martin DB5 that James Bond drove in Goldfinger. The museum's appeal to its target audience of tourists and school groups is at times disquieting; for example, a an interactive exhibit asks visitors to vote on whether the U.S. should condone torture. The highlight might be the imposing trapezoidal building itself, conceived as a black box behind a structural glass veil and designed by the architectural firm whose principal created Paris's Pompidou Centre.
Global
Prime Minister Viktor Orbán, the leader of Hungary's self-proclaimed "illiberal democracy," tried for years to win approval in Washington. The Obama administration disliked Orban's attacks on the rule of law. Orbán's government tried to spend its way into favor, according to The New York Times: It put $15 million into a Delaware company that sought influence in D.C. policy shops and paid a former Republican congressman $2.5 million to lobby for it. Perhaps all Orbán needed was patience. President Donald Trump will welcome him to the White House on Monday, where the two are expected to hit it off. "Knowing the president for a good 25 or 30 years … he would love to have the situation that Viktor Orbán has," Trump's ambassador to Hungary told The Atlantic.  
Transportation
The latest in high drama: Tennessee's SkyBridge, located 140 feet above a valley in the Great Smoky Mountains, is opening to the public on May 17. At 680 feet long, developers and press are calling it the longest pedestrian suspension bridge in North America. The Knoxville News Sentinel isn't convinced, noting that the pedestrian suspension bridge at Canada's Kelowna Mountain is longer, with a span of more than 800 feet. Team SkyBridge has countered that the claim depends on whether you measure just the suspended part of a bridge or the total distance between its anchors. (In the meantime, Switzerland's gargantuan Charles Kuonen Suspension Bridge looms over both at 1,621 feet.)
50 Years Ago
"In the Kenwood district, which adjoins Woodlawn, the police dispersed a black-power rally on September 15. The crowd then moved to a local high school, where bottles were thrown and two shots were fired by a sniper. The situation seemed to have been too tense for the police, when Herbert Stevens, leader of the Four Corners Rangers and a member of the Main 21 (known as 'Thunder'), was said to have stood before the crowd and said, 'All you who are willing to die, step up now. Otherwise, let's go home.' And as he turned to leave he said, 'When I come back, I don't want to see anybody on the streets. I want these streets cleared.' When he returned in five minutes, the story goes, the crowd had broken up."  — James Alan McPherson, May 1969
Items this week by Russell Berman, Kriston Capps, Matt Peterson, and Karen Yuan. Illustrations by Matt Chinworth.
What's New
Updates from the Masthead community
A story that moved our members
"I was struck by the relationship between men having that emotional support and in turn being better partners. For example, one man shares that the group meets later in the evening so men can help with dinner and bedtime for kids, and that if his wife is busy on a men's group night, he'll hire a babysitter instead of assuming she's available. It might seem small, but in my world that's huge."  — @annapwilde, a forum member, on "Men Have No Friends and Women Bear the Burden" in Harper's Bazaar
An Atlantic writer shares a story with the Book Club
"I'm pretty sure I've read [Catch-22] more times than any other [book]. What gets to me most about it is its portrayal of the absurdity of the whole war endeavor, starting in the very first scene. Yossarian, who is laid up in the hospital censoring letters from enlisted men home, invents games 'to break the monotony.' 'Death to all modifiers, he declared one day, and out of every letter that passed through his hands went every adverb and every adjective. The next day he made war on articles' … The intricacies of the game pile up, but the game itself never quite makes sense, which is a pretty apt stand-in for the book's view on war in general."  — Kathy Gilsinan, a staff writer on The Atlantic's global desk
What's happening in members' lives
"I can say that in my father's case (and it will likely be true in mine), that when you have lived for decades in a place, and have come to derive much of your sense of self-worth and meaning (note that in his case, nearly every memory of his wife, in addition to the place per se, was tied up in [their farm]) in life from what you have done there, leaving is a form of emotional death. If you do it on your own terms, thus an emotional suicide. It does eventually become necessary, just as our complete death is inevitable."  — @walnutclosefarm, a forum member
What's happening in our newsroom
The third season of Crazy/Genius, The Atlantic's podcast on tech and culture, returned on May 9. "Unbreak the Internet" is its theme—over the course of eight weeks, its host Derek Thompson will discuss surveillance, porn wars, totalitarian AI in Brooklyn and Beijing, and other ways digital technology has become a relentless force for greed, bad faith, and tyranny these days. In the first episode, Derek reviews the 200-year history of privacy in America and explains what the new age of "surveillance capitalism" means for everyone. Check out the trailer here.
Join a discussion
Here are a few of the active conversations on the forums this week. Join in, or start your own.
---
We want your feedback. Email us at themasthead@theatlantic.com.
We want to hear what you think about this article. Submit a letter to the editor or write to letters@theatlantic.com.