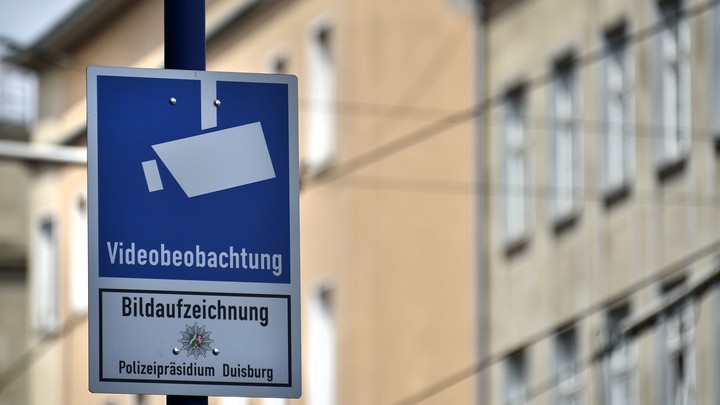 Masthead Weekly 04.26.19
Within the next decade or so, the tech writer Sidney Fussell predicts, "you are being surveilled" notices will have popped up in every public space. In today's Masthead Weekly, he shares how their spread has already begun.
What to Know: Surveillance Notices Everywhere
By Sidney Fussell
What we're watching: Last month, I wrote about a Florida man finding a hidden camera in the Airbnb he was staying in and the nightmare that unfolded. His host had betrayed his trust and surveilled him. Airbnb's response was conciliatory, yet confused: They refunded him his money, but also told him to get back into contact with his host in order to return the man's keys. Even the local police, possibly confused about how the rental service works, initially sided with the host. Airbnb has a convoluted and ineffectual system for informing guests if there might be a camera in their rental, and guess what? So does society.
What I see happening around the world is a trend of weird and authoritarian notices of pervasive surveillance popping up in public places. You know how, sometimes, when you're browsing a website, you'll see a pop-up that reads, "By continuing to use this site you agree to our terms and services"? Imagine that, but in public: By simply being somewhere, you've agreed to being recorded, analyzed, and monitored.
What Big Brother is watching: You. A few examples: Hudson Yards in Manhattan is a gorgeous public square. Its massive centerpiece, the Vessel, sorta looks like a giant beehive created using the special effects from Inception. It's an Instagram magnet. But days after it became publicly accessible, media picked up on its truly bonkers data-collection and image-licensing policy. Anyone taking photos or videos inside the Vessel automatically granted its parent company the "irrevocable, unrestricted, worldwide, perpetual, royalty-free" right to use the images however it would like. The company reversed the policy after some backlash.
While traveling through Japan, a privacy engineer at Google took a snapshot of the tablet screen on the back of her taxi driver's seat, and then posted it to Twitter. A very polite message had popped up telling her that the camera in the tablet was using facial recognition to estimate her gender "in order to deliver the most optimized content." The only way to opt out of this was to turn off the tablet. Her tweet went viral.
Last week, Sidewalk Labs, a Google subsidiary trying to transform parts of Toronto into a sensor-filled "smart city," created mock-ups of public notices of data collection. These bright, hexagonal signs would notify people as they walked through the city whether they were under some kind of surveillance: whether cameras or audio were nearby, whether pedestrians could be identified, and so on. And residents could download an app for even more details: whether that data are available to vendors, how long the information is retained, and where residents could access it themselves. Of course, informing the public how their data are used is a good thing, but it frames this discussion around how your data are being collected, and not whether it's fair that the data are collected in the first place.
What you should be watching: Why do corporations set the bar so low for notifying people that they're enriching massive data banks simply by going outside to walk their dogs or pick up a bagel? I often feel that if people are discussing issues of consent regarding the sharing of personal information, then they've already lost the game. Private citizens shouldn't just ask, What's the fair way to obtain consent in tech-augmented spaces? They should be asking whether they want the technology at all and whether it offers any benefit to anyone.
What's next? My brother's 17. My honest prediction is that by the time he's 30, public notices informing you that you're being watched, and your movements recorded and analyzed, will be like the health grades given to restaurants: unremarkable and ubiquitous, tucked away in a corner somewhere. Researchers call indifference to this "privacy nihilism," the psychological state of accepting you're being watched all the time and there's nothing you can do about it. I wonder whether today's proliferation of privacy notices isn't causing this already.
What to Expect
Notes on the news to come
Arts and Culture
A British woman who claims to read the future using asparagus predicted that Meghan Markle will give birth to twins within the week. Jemima Packington, the self-described "asparamancer," appeared on the British daytime show This Morning on Wednesday to make the prediction. The 63-year-old threw a handful of asparagus onto a tray, and, based on how they landed, said she was certain Markle would have twins: "It will be one boy and one girl." Packington was less certain on the exact date Markle would give birth, but said it would be "by the end of April." Markle and her husband, Prince Harry, have broken from royal tradition by choosing to keep details of her birth private. At least for now, the asparamancer's predictions are the best that royal fans can get.
National
A rally last year in support of educators drew nearly 20,000 people to Raleigh, North Carolina. On May 1, North Carolina's teachers will be back in the capital, and this time, they're expecting even bigger crowds. The state's four largest school districts will be closed that day, according to the The News & Observer. The districts say they're unable to field enough teachers to their classrooms due to time-off requests. The Republican leader of the state Senate dismissed the rally as an attempt to "elect more Democrats." Organizers' goals include raising the salaries of nonteaching school staff and expanding Medicaid statewide—but they also credit last year's event with galvanizing voters in the 2018 state-Senate elections. "Remember, remember," marchers chanted last year, "we vote in November!"
Global
Schools in Sri Lanka will reopen Monday following terrorist attacks that killed some 250 people. The country's education minister, Akila Viraj Kariyawasam, ordered all schools and state universities to stay shut after the violence. Kariyawasam told The Independent that schools would be searched before they reopened, but the newspaper found that parents were still worried. "I don't think I'll be sending my daughter to school for at least a few weeks. I just don't feel safe any more," said the mother of a 10-year-old student at a Christian school in the capital, Colombo.
Politics and Policy
She's the subject of an upcoming comic book mythologizing her journey to Congress, and now Netflix is making a documentary about her. On May 1, the streaming service will release Knock Down the House, a film that follows Alexandria Ocasio-Cortez's time on the midterms campaign trail. The movie also profiles the primary campaigns of three other progressive women (Amy Vilela, Cori Bush, and Paula Jean Swearingen), but Netflix lists Ocasio-Cortez as the "starring" cast member. "If I was a rational person, I would've dropped out of this race a long time ago," the trailer features her saying. Her pop-cultural influence continues to grow.
Religion and Values
The Japanese emperor is 85 years old and feeling frail—so frail that he has decided to abdicate the throne. On April 30, Emperor Akihito will be the first monarch in Japan to step down in more than two centuries. His son Crown Prince Naruhito will succeed him. The occasion isn't as somber as it might seem: "The last time we had a new emperor was because his father had died," Eiichi Miyashiro, an imperial family historian, told The Guardian. "But no one has died this time, so it's perfectly fine for the Japanese people to celebrate." And in his retirement, Akihito might be able to pursue his hobby of studying the diminutive goby fish in earnest.
100 Years Ago
"The truth was that the farmer was late in awakening to enthusiastic war spirit. Partly it was due to his environment. As he drove up and down the dusty furrows, he heard no bands playing, no parades passed along the country highways, no street orators stirred his emotions. In a sense the rumbles of war were remote. His occupation had, as it has in all lands, predisposed him to ways of peace. But when his boy was called to the training-camp and war came close home, he, figuratively, took off his coat and put all his energy into the task."  — Charles Moreau Harger, April 1919
Items this week by Madeleine Carlisle, Matt Peterson, and Karen Yuan. Illustrations by Matt Chinworth.
What's New
Updates on your Masthead membership
One Thing You Should Know: "The [Chinese government] does react more sensitively to labor than to other social forces," the scholar Elizabeth Perry told us about when China cracks down on popular dissent. [Read the conversation.]
Where You Can Dive In: "It's the journalist in me that doesn't always trust when a celebrity writes their own autobiography," Jemele Hill wrote in this month's book-club discussion on celebrity. Join in before it wraps up. [Then share your feedback.]
What's Coming: Next week, the staff writer Yasmeen Serhan writes a dispatch from the U.K., where they're gearing up to vote in the European Parliament elections—a body that, until very recently, most Britons thought they were leaving.
We want to hear what you think about this article. Submit a letter to the editor or write to letters@theatlantic.com.
Sidney Fussell
is a former staff writer at
The Atlantic
, where he covered technology.