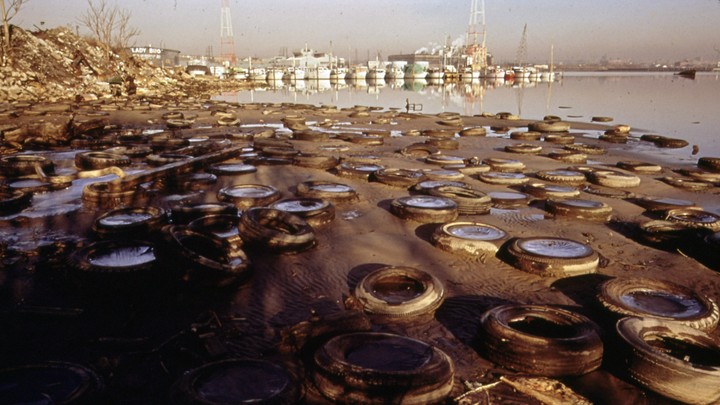 Masthead Weekly 04.12.19
What does it take to get city dwellers to go from caring about environmental issues to acting on them? CityLab's Linda Poon is here to bring you the latest answer to that question, but first, she wants to introduce you to someone special.
What to Know: Cities' Environmental Nudges
By Linda Poon
What we're watching: Mr. Trash Wheel in downtown Baltimore is as lovable as floating garbage wheels get, with his big googly eyes and his witty humor. His cause is admirable, too. Since 2014, he's cleaned out more than 1.5 million pounds of garbage from the Inner Harbor, which city officials are trying to make swimmable by 2020. So imagine my incredulity when a local environmentalist confessed to me, with fervor, that he hates Mr. Trash Wheel.
That's because despite its popularity, the trash interceptor hasn't actually charmed city residents out of throwing all that garbage onto the ground in the first place. From there, rain carries the trash into streams that lead right into the harbor and the Chesapeake Bay. Like many other cities, Baltimore still has a litter problem. Nationwide, cleanup efforts cost the U.S. $11.5 billion each year. On top of that, the country's recycling rate has been stagnant at about 34 percent for nearly a decade (and China's decision to import much less of America's recyclable waste only complicates things).
Environmentalists are trying to close the gap between attitudes and behavior as the urgency of protecting not only American cities, but also the natural world, grows. A 2017 Pew survey found that while 75 percent of Americans say they are worried about the environment, only 20 percent act on those concerns in their daily life. Look no further than how we travel. Cars and trucks, collectively, account for a fifth of all U.S. emissions, and yet even as more people believe climate change needs to be addressed, more than three-quarters of Americans still commute alone by car.
What we're asking: What does it take to get everyday citizens—urban dwellers in particular—to care enough about the environment to alter their habits? As a friend over at PBS writes, you need to target the brain. That means fighting barriers such as apathy and discounting, in which people ignore climate change because it is not an immediate problem, as well as the lack of awareness and internal motivation. Perhaps a stunning documentary that makes viewers uncomfortable about their role in the decline of nature might do the trick?
In some cases, inspiration comes in the form of viral trends. Last year, the Swedish art of plogging, which combined running and picking up trash, was hailed as the most 2018 fitness trend in the U.S. and abroad. And earlier this year, the viral #trashtag challenge on Instagram and Twitter had teens and Millennials alike cleaning up beaches and parks, if only for the sake of a good before-and-after photo.
Cities and researchers have been experimenting with behavioral science on a grander scale. That included giving people feedback on their electricity usage relative to that of their neighbors as a way to lower energy consumption (results were mixed). There have also been attempts to gamify public transit and to "nudge" drivers out of their cars, and reward them for leave their cars behind. European cities in particular have taken a more direct approach to the driving issue by banning cars or introducing gas taxes to cut down on congestion and pollution—though not without pushback.
What's next: Policy makers are still looking at what works and doesn't work, what lasts and what won't. Some researchers are looking to new technology. At Stanford University, researchers are considering using virtual reality to connect people to faraway environments such as the ocean. In one experiment, they "turned" students into pink corals experiencing ocean acidification, which results from the water's absorption of CO2 from the atmosphere.
Whether that experiment will necessarily translate to action is still up in the air, even by the researchers' own admission. But given the urgency of climate change, every little action counts.
What to Expect
Notes on the news to come
Arts and Culture
HBO's hit fantasy series Game of Thrones returns April 14 for its final season. But as the audience waits for the series' revelations, the actors have already started moving on with their post-GoT lives. Kit Harington shaved off his character Jon Snow's iconic beard. Maisie Williams, who played Arya Stark, has announced she will produce her own short film. Meanwhile, Kristian Nairn, a.k.a. Hodor, is performing electronic dance music. He will headline at Rave of Thrones in Brooklyn the day before the premiere. But while the actors are moving on with their lives, HBO will keep the franchise going. The prequel is coming.
Business
America's chief trade negotiator, Robert Lighthizer, is deep in discussions with China, the world's second-largest economy, behind the U.S. Before those wrap up, he will open up a new front with No. 3 as well. Japan's economy minister is expected in Washington, D.C., on April 15 to start talks. This pact would be Lighthizer's second redo of a deal with the erstwhile members of the Trans-Pacific Partnership, following the as-yet-unratified revisions to NAFTA. But can he do better than the TPP? Japan expects to give up no more than it agreed to in that deal, and wants more in return, according to the Financial Times. Lighthizer's trade strategy was to use America's economic might to force concessions from its opponents one-on-one. If that strategy works with any country, it will have to work with Japan.
Global
Ukraine will hold a presidential election soon, but first, the candidates must debate. The two contenders—Ukrainian President Petro Poroshenko and his actor-turned-politico opponent Volodymyr Zelenskiy—have disagreed on just about all the details of the face-off, including the venue and the timing. The country's national broadcaster has put its foot down: A debate will be held on April 19 with whoever shows up. The vote will be two days later, and Ukrainians will decide whether to return Poroshenko, a chocolate tycoon, to power, or to overturn the system in favor of a man who plays the president on TV. If they pick Zelenskiy, whom polls favor, it will hardly be unprecedented. Guatemala, Italy, and, yes, the United States have all empowered outsiders from the entertainment industry at the expense of the political class.
Technology
India might soon ban TikTok over concerns that the video app might make children vulnerable to sexual predators. The Madras High Court, in the state Tamil Nadu, has petitioned the government to make the app unavailable to download, citing the "dangerous aspect" of "pornographic and inappropriate content" accessible through the app as well as "a possibility of the children contacting strangers directly." (Other social-media platforms such as Twitter and YouTube aren't banned in India; neither is Pornhub, one of the largest pornography sites on the web.) The app is intensely popular in India, with more than a billion downloads and 54 million active users. On April 15, India's Supreme Court will hear a plea filed by ByteDance, TikTok's parent company, challenging the Madras High Court's order.
100 Years Ago
"When the President says, 'It is a solemn obligation on our part, therefore, to make permanent arrangements that justice shall be rendered and peace maintained,' it is Wilson's way of saying, 'We cannot go away from this place before we have made permanent arrangements that justice shall be rendered and peace maintained.' Nor is the President indulging in psychological analysis when he declares that the United States 'would feel that it could not take part in guaranteeing those European settlements unless that guaranty involved the continuous superintendence of the peace of the world by the associated nations of the world.' He is uttering a threat."  — Simeon Strunsky, April 1919
Items this week by Andrew Henry, Matt Peterson, and Karen Yuan. Illustrations by Matt Chinworth.
What's New
Updates on your Masthead membership
One Thing You Should Know: The outlook for humanity is brighter than you might think. The state of the world is trending toward more peace among nations, less poverty, and longer life spans, the development economist Charles Kenny tells The Masthead. [Listen to the conversation.]
Where You Can Dive In: Last week, members in the book club shared reading recommendations. This week, we challenge you to read someone else's pick and share your thoughts. [Choose from this list.]
One More Thing: The Atlantic's video team has been nominated for a Webby Award for its animated series Home School. The video with the most votes from the public wins. [Cast yours.]
What's Coming: So far, we've invited the Atlantic writers Taylor Lorenz and Megan Garber to join the book-club discussion. Don't miss Jemele Hill joining in next Friday. [She'll appear in this thread on the forums.]
We want to hear what you think about this article. Submit a letter to the editor or write to letters@theatlantic.com.
Linda Poon
is a staff writer at
CityLab covering science and urban technology, including smart cities and climate change. She previously covered global health and development for NPR's Goats and Soda blog.