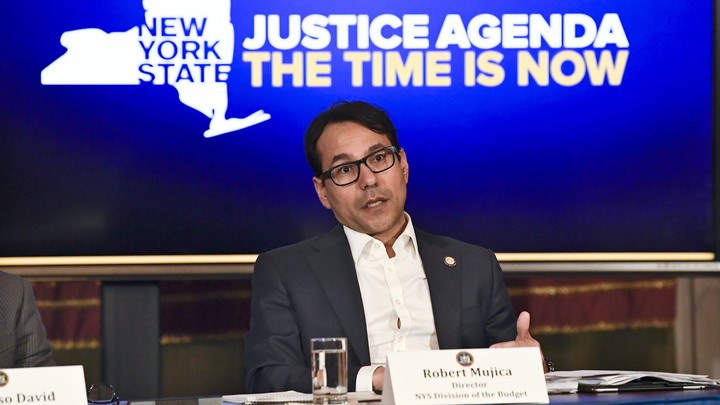 Masthead Weekly 04.05.19
In five states, Democrats won a midterm trifecta, taking the governor's office and both legislative chambers. How are they using that power? The politics writer Russell Berman reviews lessons from one state's struggle to meet its own progressive goals.
What to Know: The New York Budget Battle
By Russell Berman
What we're watching: New York was the biggest state where Democrats wrestled a final legislative foothold away from Republicans, and I wrote about their ambitious agenda back in December. Under Governor Andrew Cuomo, who was reelected overwhelmingly to a third term, Democratic legislators envisioned overhauling the state's election and criminal-justice laws, legalizing recreational marijuana, enacting a state version of the DREAM Act, and tightening campaign-finance laws. This week, the governor and legislative leaders announced a major budget agreement that capped a busy three months of policy making, backroom negotiations, and no small amount of intraparty squabbling.
The bottom line: New York is turning bluer, but not nearly as blue as many progressives have hoped—at least not yet. The first three months of all-blue New York government yielded historic progressive legislation. And Cuomo has demonstrated in the past that many policies that fall short one year stand a good chance of passing in the next. But the disappointment over unmet goals from the young progressives elected through primary challenges last year is evidence that the standard of success for many Democrats has shifted, and that incremental progress and half-a-loaf compromises aren't enough.
Democrats succeeded in
passing legislation back in January to implement early voting and protect undocumented immigrants known as Dreamers;
limiting cash bail and instituting other criminal-justice reforms in the budget agreement; and
approving an infusion of much-needed funding for the faltering New York City subway, paid for, in part, by a first-in-the-nation congestion-pricing scheme for drivers in Manhattan—a long-sought victory for both environmentalists and millions of riders of the nation's largest public-transit system.
Yet they fell short in other areas.
Like their neighbors in New Jersey, New York Democrats could not close the deal on legalizing recreational marijuana.
Nor did the state legislature enact a public-financing system for political campaigns that progressives had prioritized, instead punting the decision to a commission.
What we're asking: Is this the sum total of what New York Democrats can accomplish with the unfettered power voters delivered to them last fall? Or is it only the beginning of a broader progressive push in the state? Cuomo has vowed to pass a bill fully legalizing pot by the time the legislature adjourns in June, but there are concerns among marijuana advocates that by excluding the issue from the budget, Democrats have missed their best opportunity to enact legalization—especially over the objections from leaders of suburban counties on Long Island. Progressives were also upset that their dream of securing public financing of elections across the state was kicked to a commission rather than enacted outright.
Why it matters: Other Democratic-led states are currently having many of the same policy debates as New York Democrats. New Jersey's push to legalize recreational marijuana, for example, stalled despite support from the party leadership. These state-level stumbles should be a cautionary tale to Democrats eyeing sweeping policy changes if the party succeeds in winning the White House and full control of Congress next year.
What's next: The dynamic shaping progressive politics in New York is also similar to that animating the 2020 Democratic presidential primary: a battle not merely over ideology, but over the scope of change that's needed, and whether certain political reforms are necessary to achieve the party's most ambitious policy goals. Newly elected progressives in New York fought with the more moderate, business-friendly Cuomo, a potential preview of clashes to come in Congress between Democratic congressional leaders and insurgents such as New York's own Representative Alexandria Ocasio-Cortez over issues such as a Green New Deal or Medicare for All. If Democrats retake power in 2020, the stakes of those disputes will be that much higher.
What to Expect
Notes on the news to come
Global
Israel's national elections on April 9 will end a tumultuous campaign that has seen Prime Minister Benjamin Netanyahu face corruption allegations amid a tight race against the former military chief Benny Gantz. The turmoil has only increased: On April 2, Twitter took unspecified "action" after the Israeli newspaper Yedioth Ahronoth published a watchdog group's report alleging that social-media bots were actively spreading propaganda in support of Netanyahu. Gantz accused Netanyahu of "trying to steal the election," which the prime minister decried as "libel." In an interview on April 3, Netanyahu argued that Yedioth was denying his supporters' humanity, saying, "We were once called riffraff or baboons and now people call us bots." Researchers at the Big Bots Project, on the other hand, say they discovered a network of hundreds of fake or duplicated Twitter accounts, run by a smaller number of real people.
Politics and Policy
The U.S. will "never be a socialist country," President Donald Trump declared in his February State of the Union. Conference-goers in New York might beg to differ when they gather starting April 13 for Socialism in Our Time, a conference sponsored by the magazine Jacobin. Journalists, academics, and activists will speak on topics that have gained prominence in the 2020 presidential campaign: open borders, single-payer health care, and the Green New Deal. Several panels aim to strategize future political organizing, such as "What Would Happen if Bernie Won?," which will feature Jacobin writers addressing potential opportunities for the socialist movement. Socialists have reason to be optimistic: The membership of the Democratic Socialists of America has jumped following Trump's election from 6,000 to 56,000 people.
Business
The leading lights of German finance are busy studying up for a high-stakes math exam. The top question: Does one plus one equal two? Corporate leaders at Commerzbank face a decision next week on whether to continue merger talks with Deutsche Bank, according to the German news outlet Wirtschaftswoche. Both banks have their problems, and the decision to consider joining the two is driven in part by a political desire to create a German national champion to rival America's Wall Street titans. Unions are concerned about job cuts, and some clients served by both banks would need to look elsewhere to  reduce risk to their finances. Not to worry, says one Deutsche executive—clients of the firm's core transaction business "would get twice the attention going forward." That hasn't allayed all shareholders' concerns. One told the Financial Times, "Combining two sick men does not create a healthy one."
National
April 7 will be a Statewide Day of Prayer in Nebraska and South Dakota following proclamations by their governors. Floods in the Great Plains states have destroyed roads, taken lives, and ruined harvests. Nebraskans are facing more than $100 million worth of highway damage; the rising waters have forced evacuations from South Dakota reservations. "As Nebraskans roll up our sleeves and work together on recovery efforts, we ask God for wisdom in seeing and best responding to the needs around us," Governor Pete Ricketts of Nebraska said in a press release. He was quickly echoed by Kristi Noem of South Dakota, who said, "By the grace of God, our communities will emerge from this challenge stronger than ever."
100 Years Ago
"And yet, in every year and month and on every day in which these millions were coming, there were idle workmen on the streets of every city in America. Abundant supplies of land, rich natural resources, and expanding industries continually called for labor for their utilization. Nevertheless, every morning of the year found idle men at tens of thousands of factory-gates, hanging around employment offices, or pacing the streets. Labor surplus has been as ever-present as labor shortage. Investigation after investigation of employment conditions has demonstrated a continuing supply of idle men in America. Employers have lacked men at the same time that men have lacked work."  — Don S. Lescohier, April 1919
Items this week by Madeleine Carlisle, Andrew Henry, Matt Peterson, and Karen Yuan. Illustrations by Matt Chinworth.
What's New
Updates on your Masthead membership
One Thing You Should Know: "The entire basis of authoritarian control in China is the subjugation of women," the feminist scholar Leta Hong Fincher told The Masthead this week. [Listen to the conversation.]
Where You Can Dive In: We've launched our April book club. This month, we're discussing any and all literature on celebrity and stardom. Got a book recommendation? [Share it in the discussion.]
One More Thing: The Atlantic's video team has been nominated for a Webby Award for its animated series Home School. The video with the most votes from the public wins. [Cast yours.]
What's Coming: "Scarcity, crime, overpopulation, tribalism, and disease are rapidly destroying the social fabric of our planet," declared the headline of a much-read 1994 essay by Robert D. Kaplan. How did Kaplan's predictions play out? On Monday, The Masthead revisits "The Coming Anarchy" with Charles Kenny of the Center for Global Development.
We want to hear what you think about this article. Submit a letter to the editor or write to letters@theatlantic.com.